With Braxton Miller returning for his senior season, there's no question who will lead the Buckeyes at the quarterback position in 2014. But, for the first time in roughly four years there will be a debate when it comes to the backup spot. Gone is the smooth jazz of Kenny Guiton, another victim of senseless graduation.
If it were up to me, Kenny would roam the OSU sideline for the next five years. Alas, it's not to be. Guiton will go on to be a success wherever he ends up, but his departure leaves Ohio State with a competition for next man up.
Stepping in to fill that role will be Cardale Jones, J.T. Barrett, or incoming freshman Stephen Collier. Each knows earning the spot will ensure playing time in 2014 while paving the path to the starting position in 2015. So, let's take a look at the case for each player.
Cardale Jones

Jones will be a sophomore this season and is the only player of the three who has in-game experience. He came in to spell Kenny Guiton and Braxton Miller in blow-out wins vs. Florida A&M, Penn State and Purdue. In those games Cardale's role didn't span far beyond rushing the football to the tune of 17 attempts for 128 yards and one touchdown. In that capacity, Jones was incredibly effective chewing up over 7 yards a carry. With that said, Buckeye Nation never got a chance to see what Jones could do through the air as he only attempted two passes completing one for three yards.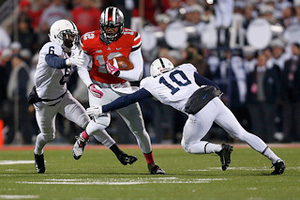 While Jones didn't air it out in 2013, there's no denying the kid can toss it. As a Cleveland Glenville senior Cardale passed for nearly 1,700 yards and 22 touchdowns. In his junior year he eclipsed the two thousand yard mark, throwing for 2,168 yards and 18 TDs.
Jones is a physical specimen standing at 6'5'' 250 lbs. (for reference, Carlos Hyde is 6'0'' 242 lbs). He's established himself as an effective runner who can break tackles and move the chains, but the jury's still out on his ability to sling it at the college level. Proving he can hang in the pocket and make reads will go a long way in making the case for Cardale in the Fall.
Stephen Collier

Collier is a three star quarterback out of Leesburg, GA, but coming in at 6'4'' 208 lbs he's got all the look of a blue chip. Collier impressed Tom Herman and Urban Meyer out of the gate and received a scholarship offer not long after a June 9th camp in Columbus. He was the lone quarterback commit in the class of 2014.
Collier is a true dual-threat who spent his senior season churning out 2,300 passing yards with 24 TDs while rushing for 1,021 yards and 20 touchdowns. He's already graduated and recently moved North to enroll early. The extra time on campus should give him ample opportunity to mesh with teammates while allowing strength coach, Mickey Marotti, to bend his ear in the weight room.
Collier will likely come in with a chip on his shoulder and an impressive drive to make a name for himself in the locker-room. Size, stats and shoulder chips aside, it's hard to count out a guy who says something like this:
"Ratings can't judge work ethic, character, and the will to succeed, and that, it seems to me, is a far more important thing. The priority for me was uniting my team in order to make this year one of the best in school history. We fell short last year and I take responsibility for that, so the focus was — and is — striving for greatness as a team. I knew if I did the right things offers would come."
J.T. Barrett

Barrett is the potential back-up many Buckeye fans have their eye on in 2014. Hailing from Wichita Falls, TX, Barrett was rated as the third-best dual threat quarterback in the nation and the No. 11 player in the state of Texas. He committed to the Buckeyes in 2012 after a junior season where he tossed for 1,605 yards and 14 touchdowns while rushing for another 1,521 yards and nine scores.
Unfortunately he tore his ACL nearly halfway through his senior year, but in that time he was able to throw for 784 yards and five touchdowns with another 569 yards and seven touchdowns on the ground.
Barrett redshirted during the 2013 season and served as the scout-team quarterback for most of the year. The move allowed J.T. a full season to learn the offense while affording him time in meeting rooms with Braxton Miller and Kenny Guiton, who showed him how to prepare for the game at the college level.
Barrett says his knee is fully recovered, if that's true he's going to be hard to beat out this year and for years down the road.
---
At the end of the day, the Buckeyes have three very good options at the back-up quarterback position. But, in my opinion there's no question who will win the job. Simply put, J.T. Barrett is the heir to Braxton Miller's throne.
He was the most impressive player in high school, he's got a year under his belt with the offense and he's a born leader as evidenced by his impromptu speech to James Clark and Dontre Wilson during their recruiting visit to Columbus. With Barrett the Scarlet and Gray have a supreme talent who should usher in the next generation of Buckeye greats.