I've never actively followed recruiting but I still remember the first time I heard Braxton Miller's name.
The scene was the Louisiana Superdome and I was watching the Buckeyes warm up for the BCS title game against LSU - which means Miller was four months removed from 8th grade. No driver's license. That mustache he currently grooms was still mustache seeds.
A Buckeye fan seated in front of me was watching Todd Boeckman throw and mumbled something to his friend about Ohio State being set at QB for the next eight years.
Eight years. Eight years?
"I'm sorry," I said, abruptly barging into their conversation, "did you say eight years? How could you possibly know that?"
To appreciate how bold of a statement this was January 2008, consider that Terrelle Pryor was in the middle of his senior basketball season with the Jeannette Jayhawks and he was still undecided on a college one month before signing day.
This Braxton kid's voice was probably still changing as awkwardly as Pryor's college choice was. 
Pryor was a name you couldn't avoid hearing then, even if you were that college football fan intent on not getting caught up with recruiting. He was a one-man football team. He was a one-man basketball team.
Every single superlative was appropriate. Pryor was that guy in the Class of 2008.
Kirk Herbstreit was even on ESPN openly campaigning for him to go to Michigan and play for the newly-hired Rich Rodriguez suggesting Rod had the perfect system for him to flourish in and get better (Herbie was both correct about this and super annoying).
Buckeye fans saw Pryor as a freak who could mask the maddening shortcomings of Tresselball, effortlessly turning those routine 3rd and nines into 1st downs with his legs. [SPOILER ALERT: This unequivocally happened in every single game for three consecutive seasons - Buckeye fans see and know everything.]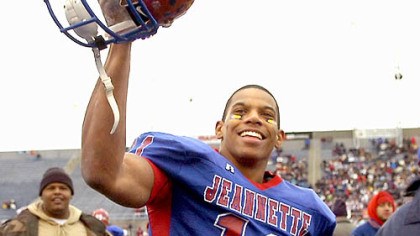 Ohio State absolutely had to have Pryor. Its scholarship quarterbacks in 2007 were Boeckman, Joe Bauserman, Antonio Henton and Robbie Schoenhoft. Had. To. Have. Him.
But Penn State, heading into 2008 already having lost four or more games eight times (!) in the young century had to have him too. How badly did Penn State want Pryor?
Joe Paterno actually bothered to get off his couch to visit Jeannette and meet with Pennsylvania's best high school athlete. He had been recruiting exclusively by phone or on campus for several years prior to that little road trip. That's how important Pryor was to the Nittany Lions.
And since he was so ubiquitous even as a high school senior, Pryor was the only Ohio State recruit taking up space in my head during that 2007 season. But Braxton Miller? I immediately had Unbreak My Heart playing in my head upon hearing his name.
"Pryor is coming," deadpanned the guy, not at all weirded out by my eavesdropping, "and he'll stick around for at least three years before Braxton comes in and takes over. He started as a freshman in Dayton and he's already ridiculous. Ridiculous. And he's all Buckeye."
"Okay, sure," I said, briefly suspending belief that high school boys could be predictable for four years, "but who's going to be quarterback after Braxton Miller?" He wasn't impressed by my sarcasm. Our brief interaction then ended, and Ohio State lost to LSU that night.
Pryor officially committed to Ohio State two months later; a month after signing day. However, he texted Tressel right after the LSU game: Don't worry about it, Coach. We're going to get it done in the future. He knew that night he was going to Ohio State.
And so Pryor - and his high school freshman successor Miller - are both emblematic of why I don't actively follow the high school recruiting sagas: Teenagers, man.
That's not to say I don't enjoy some recruiting sagas, though. I treat them similarly to movies: Wait for the ones with good reviews to hit Netflix and watch them then.
I selectively and retroactively follow Ohio State recruiting - as in, looking back on the recruitment of players who eventually proved to be interesting. Actively following these kids can be both time-wasting and depressing, like paying to see a shitty movie in the theater.
Like Seantrel Henderson, the Pryor of his class, whose father openly encouraged him to play somewhere most conducive to his own pursuit of a rap career: Time-wasting. Not interested.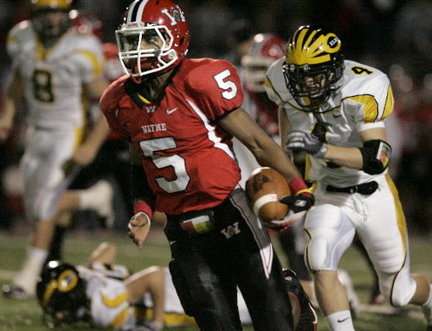 Or Trey DePriest, who came from a very humble upbringing in Springfield, choosing Alabama over Ohio State while his family members allegedly arrived at his announcement in newish-looking Land Rovers: Depressing. Not interested.
Then there's Cam Newton, whose recruitment by Auburn was so spectacularly shady it resulted in the NCAA enacting The Cam Newton Rule. Newton was facing expulsion when he transferred from Florida, where his head coach was...right. I'm sure he chose the Gators for free before heading to Auburn for the price of a wholesale church renovation.
I've playfully deluded myself into believing this sport we all love is almost pure for so long. Looking too closely at recruiting isn't unlike lifting up a giant rock to see what lies beneath, and that's a little too gross for me. I'd rather look away and whine endlessly about how far away September is - or hear some fun, not-depressing story after the fact.
After the fact. That's when recruiting stories are fun, because - frankly - that's when I know that I actually give a shit about the kid. I guess failing to get too worked up over a name and a high school highlights on YouTube set to ear-raping music makes me weird. 
Fun stories, like the one about the tight end prospect who was on campus for his official Ohio State visit in December 2006 and cheered with his Buckeye hosts as Troy Smith was awarded the Heisman on television. That cheering kid was future all-pro Rob Gronkowski.
I had no idea who Gronk was or would be in 2006 and neither did you. It's a cool story now only because man it would have been cool to have Gronk catching passes blocking at Ohio State instead of Arizona.
Or Jason Winrow, who told me he hadn't given Ohio State much of a thought before John Cooper arrived at his home prior to his senior year and spent time with his father. After Coop left the house Mr. Winrow told his son, "yeah, sorry, you have to go to Ohio State."
Or how Woody Hayes never stopped recruiting Michigan legend Rob Lytle even a full decade after he finished playing for the Wolverines.
Those recruiting stories - the ones with substance that aren't fleeting, time-wasting or thoroughly forgettable - take significant time to marinate. The answer to so how did his visit go this weekend requires significant incubation to garner my interest.
It's not that I don't care about Ohio State's talent pipeline. It's just that - and there's no delicate way to put this - teenagers are generally vain and boring. I know this because 1) I once was one, and 2) Instagram now exists specifically to remind former teenagers just how vain and boring they used to be.
Only once Miller announced his collegiate intentions, arrived at Ohio State and shined despite the circumstances he inherited did I realize that Superdome exchange would be one of those recruiting stories I would end up holding onto.
I have no idea how Miller's visits went but I'm still thrilled he's a Buckeye, and I'm looking forward to reading about a few of the kids signing their letters today - once they emerge from that list of names as more than just a name.
After COACH CoopER left the house, Mr. Winrow told his son, "yeah, Sorry, you have to go to Ohio State."It's guaranteed to happen every year: Almost 30 seasons prior to Miller's arrival William Roberts, Cedric Anderson, Doug Hill and Rowland Tatum all visited Ohio State. They all hailed from Florida except Tatum, who came in from California.
The four players immediately hit it off, eventually became Buckeyes and because of their home states nicknamed themselves "The Sunshine Boys" - which isn't unlike "Dream 14" or "Block O" or any of the other nicknames Ohio State recruits collectively give themselves these days.
Tatum had also been recruited locally by UCLA, which put him up at the posh Beverly Hills Hilton on his visit. That weekend he was escorted around campus in a fancy limousine. Then he visited Columbus and shacked up in student housing with Tim Spencer. They ate at Buckeye Donuts and visited the library. They traveled on foot.
Looking back on his recruitment long after he graduated from Ohio State, Tatum said of his Columbus visit, "that was real. That was my style."
Yeah, that's my style too. Welcome, OSU Class of 2014. May you all someday make it real.