Some people like to talk about what might have been, but around here we prefer to dream about what might be. This is especially the case when it comes to our favorite college football team and its future players. Heroes of the gridiron all of them will someday be, we hope.
Recruiting has long been an obsession in Columbus in January and early February, going back to the days of amateurish newsletters with names of local gurus long forgotten. Now in the modern age of up-to-the-nanosecond coverage of every mood swing and eye-twitch of these 17-year old wunderkinds the focus is sharp indeed.
With so much more information available, and with the commitments coming earlier and with (mostly) firm intentions, it is possible to not only catalog the players, but also to analyze the haul more closely in order to divine the mindset of the coaches involved. 
Here, with a hearty dose of speculation added, you can find my thoughts on the composition of parts of the incoming class and what it means for the direction of the program. Feel free to add your own thoughts or to let me know that I'm off my gourd.
linebackers

Yes, we've got some linebackers here. Four of them to be exact. Included in that group is the centerpiece of the recruiting class, the consensus #1 inside linebacker in the country, Raekwon McMillan. Also checking in at this all-important position are Dante Booker, Kyle Berger, and Sam Hubbard.
That's four new competitors at a position where at most three players start (I say "at most" because they often start two against pass-happy teams). Add in the two highly-touted LBs from the 2013 class and you have six first or second year players at a position that loses only one player from the two-deep. Clearly, the coaches were keen on shoring up this position.
It would seem to be a no-brainer considering the amount of missed tackles we saw last season combined with the lackluster pass coverage from the group, but then again I would have said the same thing after the 2012 season. So why the renewed (and re-doubled) emphasis this time around? 
Psst....'backers in the 2012 recruiting class (Perry, Marcus, Williams)....you're on notice. Produce more or get used to the sidelines. 
defensive secondary

Four new defensive backs will come in with the 2014 class (including Marshon Lattimore, who is currently labeled as an "athlete"). Not especially noteworthy, you say, since the team loses three starters in the secondary.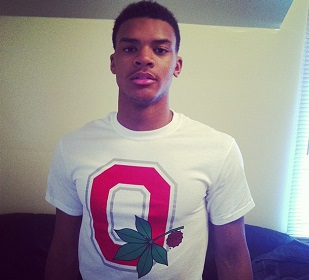 But keep in mind that they welcomed in six new DBs in the 2013 class (including converted LB Chris Worley) and none of them have transferred. Two of those, Vonn Bell and Cam Burrows, received playing time this season. 
Bell will almost certainly be a starter at one of the safety positions. I would be shocked if Tyvis Powell is not the starter at the other. So we're basically looking for a new starting CB and a nickel and dime.
Eh, this one is not as cut and dried. Still, I don't think Armani Reeves (or even Doran Grant) should be resting easy this winter, especially with the talent that a guy like Damon Webb brings to the table. 
offensive line

I talked extensively about this last week. Five players coming in, four going out. Five starting positions overall. And this is a position that requires long-term planning. Nothing out of the ordinary here but it's good to see that the coaches are planning well.
Receivers

As profiled by Jeff a couple weeks ago, this is a position that is apparently in transition at Ohio State. The presumed starters at the position, Devin Smith and Evan Spencer, are anything but safe when spring ball starts. 
As the season wore on, the passing yards became harder and harder to come by. Some have targeted quarterback Braxton Miller for criticism, but others have noted that the receivers were not exactly streaking wide open all of the time. 
The team's most reliable target in 2013 was Corey Brown, and he is moving on. There are four new receivers in the 2014 class (including "athlete" Noah Brown). James Clark, Corey Smith, and Jalin Marshall were all redshirted members of the 2013 class. 
While Marshall and 2014 recruit Curtis Samuel will be competing with Dontre Wilson, the others, plus 2012 recruit Michael Thomas, will compete with Smith and Spencer. Will Urban Meyer give preference to seniors the same way that his predecessor did?
This is going to be an interesting spring and fall.