Ohio State's magical 2002 championship run was not immune to the finicky Buckeye fan base finding reasons to whine.
There were two primary culprits en route to not fully-enjoying that historic 14-0 run: First was the Tresselball philosophy which provided maddening drama to victories over mediocre teams (think about how much cooler Holy Buckeye might have been if it happened against a worthier foe than sucky six-loss Purdue).
The second was co-captain and four-year starting safety Donnie Nickey, whose signature play as a Buckeye was...well, you decide.
Was is getting spun around like a top shortly after Holy Buckeye only to get bailed out by Chris Gamble? Awkwardly batting Ken Dorsey's final pass into the air where it could have been caught for a game-tying TD?
The perfectly-executed fake punt roll-out pass to him which might have transformed the 2000 Michigan game that basically hit him in the face before hitting the ground?
Nickey was the only reliably invisible player on that insane defense. Your prevailing memories of him are mostly likely his consistency in arriving at the scene of a tackle shortly after the whistle. Following games on grass you would have a hard time finding a cleaner jersey on a starter. 
Aiding in creating the scrutiny around his play was the fact his fellow safeties were Mike Doss and Will Allen, both of whom were highlight machines. On top of that, he and Doss replaced Rob Kelly and Damon Moore, both of whom were all over the field for four years. 
But Nickey was a relative non-factor on a defense overflowing with game-changers. His real value to the team was that of a solidifying force in the locker room, not unlike the comfort Jim Bollman brings to Michigan State as Team Grandpa with play-calling privileges and roster management obligations safely out of his reach.
Yes, Nickey was persona non-grata on one of Ohio State's most legendary defenses. And in 2014 you would take him back in a second, because at the very least Nickey could actually find the pile before jumping on it.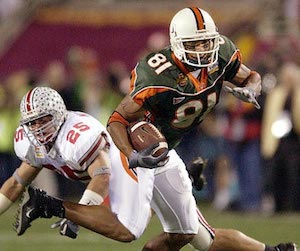 It's been a dozen seasons since Nickey graced play-ending whistles with his presence. Try to name any Buckeye safety since then - with no regard to role specificity (star, FS, SS) - who had greater impact (on the field) than he did.
Donte Whitner? Kurt Coleman? Jermale Hines? Christian Bryant? Sure, they're arguable. That's also four guys in 12 years whose awards of distinction - collectively - could fit on a modest shelf.
Tyler Everett, Orhian Johnson, Brandon Mitchell, Anderson Russell, Rocco Pentello, Zach Domicone, CJ Barnett? Probably not. You might need OJ Simpson's legal team to win that argument.
[deep inhale] Pitt Brown, Sirjo Welch, Thomas Matthews, Nick Patterson, Curt Lukens, Aaron Gant, Nate Oliver, Jamie Wood, Chad Hagan, Grant Schwartz, Najee Murray, DerJuan Gambrell? [crickets]
All of those guys were scholarship safeties. Some of them even saw the field. Oh, and there were others too.
Eugene Clifford never made it to Columbus. Jeremy Cash's star is still shining, but at Duke. Jamario O'Neal was a five-star film junkie can't miss recruit and is now Ohio State's flagship example of peeing in the recruiting ratings punch bowl.
Of course it's unfair to blame the players entirely for how lean quality safety play has been. Coaching matters too, right? That's why Ohio State's position gurus make hundreds of thousands of dollars to mentor just a handful of athletes to become better at, uh, safetying.
It's been a full system failure. Since Nickey left the Buckeyes have managed to develop some ferocious defensive lines, linebacking corps and corners. But over those past dozen seasons they have steadily accumulated a collection of absolutely mediocre safeties.
At the very least Ohio State annually deserves a Doss or a Moore-caliber stopper who is smart, aware, agile and devastatingly violent. Moore was the ballyhooed Quarterback of the Defense for his final two seasons, calling the plays and reading field. Imagine an Ohio State safety in that role today.
Jack Tatum-type hits are now cause for ejection, but the threat of a Jack Tatum hit is still legal, for now. That threat is only possible through field awareness, and what the Buckeyes have had recently at his position are lost-in-space Indiana-caliber defenders getting exploited in game after game.
Ohio State's scheme features a star, a traditional strong safety in run support and, well - Ross can best explain how the Buckeye secondary operates. It returns Ron Tanner and Vonn Bell, both of whom have shown promise in their brief careers, although ol' Pitt somehow played ahead of both of them last season.
Ohio State ANNUALLY deserves a Doss-caliber STOPPER who is smart, aware, agile and devastatingly violent.They'll also have Devan Bogard (multiple torn ACLs) Jayme Thompson (broken ankle) and newcomer Erick Smith, as well as redshirt freshmen Darron Lee and Christopher Worley (whose parents, Chris and Michelle, named both him and a sister Chris and his other sister Chrishelle) (I felt this was important enough to mention).
So there's depth and potential, but that's it as of now. When Bryant went down that effectively killed Ohio State's title hopes. The reality is the Buckeyes have been both thin and mostly pitiful at the position for the better part of a decade.
That's what made getting Vonn Bell so critical to last year's recruiting class. As a five-star recruit he's already better than O'Neal was, which isn't exactly the highest hurdle on the track, but it's a start. Ohio State's safety play has to improve if this defense is going to ever find its way out of the wilderness again.
Nickey wound up playing in the NFL for nine seasons almost exclusively on special teams, exploiting that treasured locker room glue-talent of his for millions of dollars. And he never missed the opportunity to jump on a pile, largely because he was actually talented enough to find it.
Ohio State could use another guy like him. Hopefully he's on the team right now.