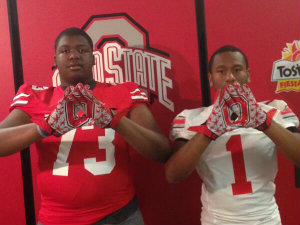 With less than nine days left until National Signing Day, some fans are wishing it had already passed after hearing the latest news that Jamarco Jones plans to visit Michigan State. 
Ohio State fans aren't the only ones worrying about decommitments. Indiana, Minnesota and Rutgers each lost prospects this week. 
In the past week, Penn State landed four commitments under James Franklin. Indiana, Iowa, Minnesota, Nebraska, Rutgers and Wisconsin each landed two pledges. The latest movement pushes the Cornhuskers up to sixth in our rankings.
Ohio State fans have begun to panic with rumors of Demetrius Knox visiting UCLA and reports that Jones will visit Michigan State. While we will have to wait and see what happens with Jones, Knox appears to be solid with his commitment to the Buckeyes. 
Kerry Coombs paid a visit to 2014 defensive tackle Daniel Cage, but Ohio State is running out of time to offer the Cincinnati native. One prospect the Buckeyes are poised to land is three-star athlete David Njoku. He plans to officially visit next week and a Gray Box could come soon after. 
Now, on to the rankings.
14. Minnesota

While the Gophers managed to add two commitments into the fold, one of their top commitments decided to take his talents to Vanderbilt. Three-star safety Khari Blasingame received an offer from Vandy's new coach, Derek Mason, and decided to flip his commitment from Minnesota. Jerry Kill still has to worry about four-star running back Jeff Jones flipping, although it appears they are becoming more confident that he will remain with the Gophers. 
Four-star offensive tackle Frank Ragnow will decide this week and indications are he will stay close to home and play for Jerry Kill. 
Commitments: Minnesota added two prospects to their small recruiting staff. Three-star running back Rodney Smith chose the Gophers over East Carolina. Minnesota also picked up a commitment from unranked linebacker Jonathan Celestin. Celestin held offers from Valdosta State and Western Carolina. 
Visitor news: Three-star safety Christian Campbell is expected to visit Minneapolis. Missouri appears to be the favorite over Minnesota. Alex Egurbide, a two-star receiver, is visiting and could be in-line for an offer. He currently is favoring Harvard. 
13. Illinois

Tim Beckman has struggled to bring talent to Illinois, which is a major reason why he will start the 2014 season on the hot seat. After losing out on a two-star prospect to Rutgers, it's not looking like a good finish for the Illini. 
Commitments: No new commitments this week.
Visitor news: Three-star App. State commit Kiante Walton will visit Champaign this weekend. The corner has not been offered, but he could join the Fighting Illini, if offered on his visit. 
12. Purdue

Offensive line continues to be the top priority for Darrell Hazell in his first recruiting class. Purdue has about three spots left and would like to take two more lineman. JUCO three-star A.J. Allen was a candidate to take one of the remaining spots, but he decided to commit to Kansas State over Purdue. 
Commitments: No new commitments this week. 
Visitor news: Things are getting quiet as we approach Signing Day. Four-star defensive lineman Poona Ford could visit Purdue, today, but it's a long shot that he will be a Boilermaker. 
11. RUTGERS

Rutgers now has 10 decommits in this recruiting cycle after three-star defensive tackle Pete Mokwuah flipped to Notre Dame and top recruit Saeed Blacknail flipped to Penn State. That is an unheard amount of decommits in one year. This class was once ranked third in the Big Ten.
Commitments: The Scarlet Knights managed to add a commitment from two-star corner Isaiah Wharton. While only being rated as a two-star, Wharton held Illinois and Indiana offers. Rutgers also managed to land a commitment from underrated quarterback Giovanni Rescigno.
Visitor news: Unranked athlete, Caleb Perez, will visit Rutgers. He has been offered as a preferred walk-on by many schools. Three-star receiver Melvin Holland Jr. will visit, as well. It's a battle between Minnesota and Rutgers for his services.
10. Maryland

It's not clear how the Terrapins will finish come Signing Day. While they appear to be the favorite for five-star Damian Prince, there is little buzz surrounding any of their other top targets. The once promising class now finds itself below MAC schools in the recruiting rankings. 
Commitments: No new commitments this week. 
Visitor news: Five-star offensive lineman Damian Prince made a surprise visit to Maryland. The Terps remain the favorite and it appears to be a battle with Florida for his commitment.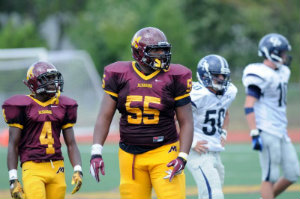 9. Iowa

Kirk Ferentz went into last weekend with two spots left and leaves with two new commitments. It appears Iowa's 2014 recruiting class is complete, but we'll see how things shake out over the next week. 
Commitments: The Hawkeyes managed to land a commitment from unranked guard Ross Reynolds over the weekend. Iowa also flipped Georgia Tech safety Miles Taylor.
Visitor news: It should be quiet with Iowa's class being pretty much full. 
8. Indiana

Kevin Wilson kept the recruiting momentum going by adding two more commitments. There was some talk a third prospect, three-star receiver Sam Boyd, committed, but that doesn't seem to be the case. 
With only a few spots remaining, the Hoosiers are looking for a good finish. A pledge from four-star Lukayus McNeil would help Indiana move up our rankings. 
Commitments: The Hoosiers stay hot with a pair of pledges. Tony Fields, a three-star corner from Florida, committed to Indiana over the likes of Georgia Tech, Kentucky, Louisville, Michigan State and other offers. Also pledging to the Hoosiers was three-star safety Zeke Walker. He held offers from App. State, Citadel, Coastal Carolina and Youngstown State. 
Visitor news: No official visits are scheduled for the last recruiting weekend, but things can change in a hurry.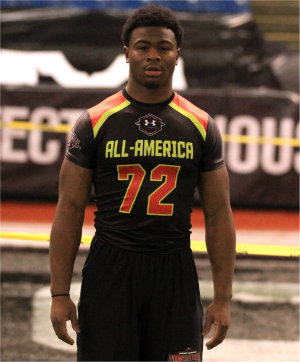 7. Northwestern

The Wildcats still have one remaining spot after a recent decommitment, although it's not clear if they plan to use the available scholarship. Despite only have 14 prospects, Pat Fitzgerald has this class rated in the top half of the Big Ten. That should change with many of the teams behind NU expecting to add a few more commits. 
Commitments: No new commitments this week.
Visitor news: Recruiting has been quiet in Evanston with Northwestern taking a small recruiting class. 
6. Nebraska

James Franklin leaving Vanderbilt could help Bo Pelini land four-star running back Mikale Wilbon. Nebraska has been pursing players committed elsewhere, but many of those prospects have firmed up their pledges. 
Commitments: Four-star offensive tackle Nick Gates is a big addition to the Cornhuskers' class. Originally considered a long shot, Gates picked Nebraska over Arizona, Oregon and Texas A&M. He also had an offer from Alabama. Glenn Irons, a two-star receiver with small school offers, also secured his spot in Nebraska's class. 
Visitor news: Three-star linebacker Kevin Bronson will soon visit Lincoln, but the Huskers will have to make up ground quickly. Virginia Tech, Rutgers, Miami (FL) and Vanderbilt are all fighting for the Florida native. 
5. Michigan State

Michigan State has been hot on the recruiting trail, but they must close down the stretch. Five-star defensive end Malik McDowell visited and the Spartans are the favorite here. Wisconsin four-star commitment Craig Evans also could be headed to Michigan State. Daniel Cage is another defensive lineman leaning hard towards the Spartans. 
The talk is Mark Dantonio has three spots left in this class. Jamarco Jones could make things interesting. Who gets left out?
Commitments: No new commitments this week. 
Visitor news: Ohio State commit Jamarco Jones will visit East Lansing, this weekend. It's a huge visit for the Spartans and there could be some reason to worry about him flipping. 
4. Wisconsin

Gary Andersen could lose four-star Craig Evans, one of their top prospects, to Michigan State. That won't prevent Wisconsin from penning one of their best classes. Three-star D'Cota Dixon could soon join the fold. The Badgers are trying to fight off the likes of Florida State and Missouri for three-star receiver George Rushing. 
Commitments: The Badgers flipped three-star corner Derrick Tindal from Indiana during his official visit. Gary Andersen also landed three-star Tennessee athlete Cornelius Sturghill over UCLA. 
Visitor news: Two-star Utah commit Tavaris Williams will visit Madison and there is a decent chance he could flip. Florida recently offered.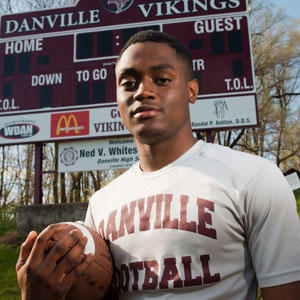 3. Penn State

Penn State is currently on their way to strong finish. Three-star safety Amani Oruwariye is a good bet to join the class. He was committed to Vanderbilt. Many think the Nittany Lions can take two more commitments, but it could only be one spots left. 
Commitments: James Franklin continues to do well on the recruiting trail since being hired. Four-star safety Koa Farmer pledged to Franklin and PSU over Washington, Wisconsin and Vanderbilt. Earlier in the week, Penn State flipped Grant Haley and Trace McSorley from Vanderbilt. Both prospects are of the three-star variety. The Nits landed one of their top recruits yet with the addition of high four-star Saeed Blacknall, who was once a Rutgers' pledge. 
Visitor news: Three-star Vandy commit Trent Sherfield was expected to visit Happy Valley, but he recently reaffirmed his commitment to Vanderbilt. Lamont Simmons will visit but it appears he is a long shot. Auburn, USC and Virginia Tech are pursuing him hard. 
2. Michigan

It could be a very disappointing finish for the Wolverines. Malik McDowell was once considered a Michigan lean, but now it seems like MSU is the overwhelming favorite. Brady Hoke wanted to add another running back to this class, but Michigan has struck out this far. We'll see where UM turns. 
Commitments: No new commitments this week.
Visitor news: Minnesota four-star commitment Jeff Jones was scheduled to visit next week but that visit has been canceled. It will be interesting to see where the Wolverines turn. 
1. Ohio State

At this point, Ohio State fans are more worried about keeping this class in tact than they are worried about adding to the highly-rated class. Losing Jamarco Jones would be a major blow and it would be almost too late to add another lineman. 
It was once thought the staff would definitely add another defensive lineman to the mix, but none are favoring Ohio State. Things can change in a hurry and I refuse to count Urban Meyer and company out. 
Commitments: No new commitments this week.
Visitor news: Ohio State will host three-star David Njoku. The hybrid tight end prospect could commit to the Buckeyes if everything goes well on his visit. Miami (FL) is the main competition. You'll want to stay tuned to Eleven Warriors for the latest. 
---
Rankings Overview

| No. | School | Commits | Scout ★ AVG | Rivals ★ AVG | 247 ★ AVG | ESPN ★ AVG | Overall ★ Avg |
| --- | --- | --- | --- | --- | --- | --- | --- |
| 1 | Ohio State   | 22 | 3.82 (3) | 3.77 (2) | 3.77 (2) | 3.77 (6) | 3.78 |
| 2 | Michigan  | 16 | 3.56 (23) | 3.44 (27) | 3.56 (15) | 3.75 (12) | 3.58 |
| 3 | Penn State  | 23 | 3.09 (22) | 3.18 (21) | 3.18 (20) | 3.27 (25) | 3.18 |
| 4 | Wisconsin  | 26 | 3.15 (18) | 2.92 (28) | 3.04 (30) | 3.12 (31) | 3.06 |
| 5 | Michigan State  | 20 | 3.15 (30) | 3.10 (29) | 3.05 (34) | 3.31 (39) | 3.15 |
| 6 | Nebraska  | 21 | 3.15 (34) | 2.95 (33) | 3.00 (36) | 3.19 (40) | 3.07 |
| 7 | Northwestern  | 14 | 3.07 (52) | 3.13 (50) | 3.21 (42) | 3.42 (34) | 3.21 |
| 8 | Indiana  | 22 | 2.86 (40) | 2.90 (39) | 2.95 (47) | 3.05 (NR) | 2.94 |
| 9 | Iowa  | 21 | 2.95 (42) | 2.74 (53) | 2.94 (48) | 3.12 (NR) | 2.94 |
| 10 | Maryland  | 16 | 2.92 (59) | 3.07 (63) | 3.00 (46) | 3.21 (NR) | 3.05 |
| 11 | Rutgers | 22 | 2.82 (50) | 2.82 (45) | 2.91 (50) | 2.91 (NR) | 2.87 |
| 12 | Purdue  | 18 | 2.67 (61) | 2.56 (61) | 2.94 (63) | 3.00 (NR) | 2.79 |
| 13 | Illinois   | 17 | 2.65 (64) | 2.80 (64) | 2.88 (62) | 3.06 (NR) | 2.85 |
| 14 | Minnesota  | 14 | 2.77 (65) | 2.77 (72) | 2.92 (70) | 3.00 (NR) | 2.87 |
Number in parentheses is national rank