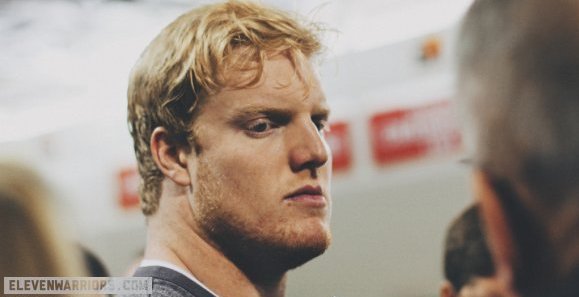 Jack Mewhort, offensive line resident, doesn't quite create the same fan-buzz as his fellow NFL-bound Buckeyes, Carlos Hyde and Bradley Roby, if for no other reason than the fact those two play significantly sexier positions. It makes total sense. To fans parked in front of a television or being shouted at to sit down in Ohio Stadium, it's far easier to notice – and by extension evaluate – the performances of skill players versus trying to understand what's happening in the trenches.  
As a result, Mewhort may not jump out to fans of NFL teams prepping for the Draft (May 8-10) but when it comes to the business of winning football games, Mewhort's versatility, physicality and intangibles project to be of significant value at the next level. 
A three-year starter for the Buckeyes, Mewhort is reportedly grabbing the attention of observers at this week's Senior Bowl practices and continues to project as a 2nd or 3rd round pick. 
The emerging thought is Mewhort will not only evolve into a starter in the NFL but can do it at either guard or right tackle. Here's Dane Bugler of CBS Sports with a balanced analysis that is right in line with what other draft experts are saying thus far:
"That offensive line for Ohio State was definitely a strength last year, and Mewhort was the leader. He's clearly the best of the group. He's a big-bodied guy, strong balance, he'll run lanes, he's physical, he's mean, has strong hands, he's under control. He can be a little heavy-handed and needs to improve his placement with his hands to better combat rushers and their hand moves. He'll allow rushers into his body."

"But he absorbs contact very well. He has such a stout anchor to hold his ground. Not many rushers will be able to move him from his spot. I think he has a chance to shine at the Senior Bowl and be a starting-caliber right tackle, a physical presence in the NFL."
Mewhort's versatility isn't news to Buckeye fans. The 6'6", 308 pounder out of Toledo came to Ohio State ranked as the #2 ranked center in the 2009 class by Rivals before starting five games at left guard and seven at right guard during his sophomore season. By far the best lineman on the team, Mewhort switched to left tackle as a junior and senior, charged with not only protecting Braxton's blind side but also paving the way for Ohio State's vaunted rushing attack.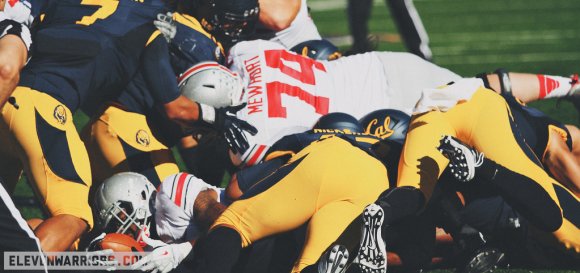 With much of the ground damage starting in the vicinity of Mewhort and left guard Andrew Norwell, the Buckeyes ranked 10th nationally with 242 rush yards per game in 2012 before going HAM in 2013 to the tune of 308 rush yards per game, good for 5th in the country. Even more amazing, the Buckeyes rushed for a ridiculous 6.8 yards per carry on the way to a school-record 45 rushing touchdowns. 
Mewhort knows he may not be a combine darling when it comes to the various measurables but at the same time, his run blocking ability and physical style of play should translate and that's exactly what he has set out to prove at the Senior Bowl:
"I think that's why we're here this week, so I can show on the football field that I am a tough football player. There's no stat for toughness and you can't measure it with a ruler or tape measure, but when you turn on that film and see me in practice hopefully that's what they think of me this week."
While Mewhort will rely on those strengths to earn a job at the next level, he knows improving his feet on pass protection is imperative to sticking long-term even if he slides inside to a guard spot. 
Complementing his versatility and physicality, Mewhort boasts a bevy of intangibles that should also allow him to impress NFL brass and maybe even move up draft boards following the combine and Ohio State's Pro Day.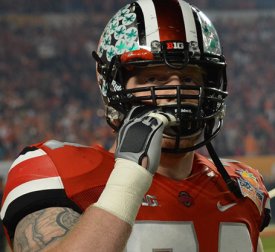 Beyond being the dominant lineman on one of the best units in the nation in 2013, Urban Meyer continuously touted Mewhort's leadership as a key factor in the offense's success and went so far as to guarantee Jack would be a captain even if the team vote didn't correlate (it did). 
Rewind a few years ago and Meyer wasn't singing that same tune after Mewhort and a teammate were caught taking a late night leak behind the Bogey during the week of The Memorial Tournament and briefly ran from police. Not that anyone dealing in reality views that incident as much of big deal but Mewhort did have his scholarship pulled for a spell and ever since he's been more than a model citizen both on and off the field for Meyer's Buckeyes. 
Today, Mewhort will look to cap a productive week with a strong performance in the Senior Bowl which kicks off at 4 p.m. and will be televised on the NFL Network. Next, he'll focus on preparation for the NFL's beauty contest otherwise known as the combine held in late February in Indianapolis then turn his attention to Ohio State's Pro Day event slated for March 7th. 
From there, it's just two months until the Draft; a life-changing event that Mewhort is sure to take in stride. And when a certain team pulls the trigger bringing Mewhort into the fold, like some OSU fans before them, that team's fanbase may not realize real-time how good they've got it but they'll figure it out soon enough.