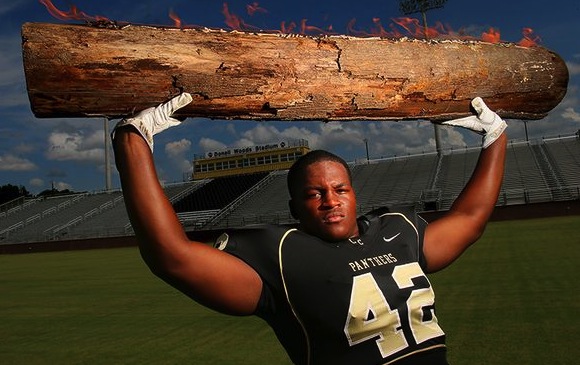 When Maurice Clarett enrolled at Ohio State during the winter quarter of 2002, many onlookers ruffled their noses. Why would a high school student graduate early and enroll at a college football powerhouse? It had the perception of athletics trumping academics.
Those views are all based on opinion. But it's not like football players are trading high school for college with partying and fun in mind. Early enrollees find themselves on unfamiliar campuses, oftentimes in unfamiliar states, making a sacrifice to further themselves. In Clarett's case, he won the starting running back job and helped guide the Buckeyes to their first national championship in 34 years. 
The pros and cons have been debated for more than a decade. But one thing is certain, early enrollees have become the norm in a sport where gaining any advantage is sought. In 2002, 15 players enrolled early at Division I colleges. That number is 10 times bigger today, with more than 150 players getting a head start on their college football careers. 
The Big Ten alone has 50 early enrollees with every school being represented. It's not just reserved for football powers. Illinois leads the way with nine and Indiana has six. Seven members of Ohio State's highly touted 2014 recruiting class are already on campus in Columbus. The most notable is Raekwon McMillan, rated as the No. 1 linebacker in the country. His presence is significant due to the Buckeyes' well-documented struggles at linebacker in recent years.
His black stripe won't come off for months, but McMillan's impact looms large. Starters Curtis Grant and Joshua Perry return, and beyond them, there isn't much experience. Trey Johnson played sparingly as a freshman, while Mike Mitchell redshirted. Depth is trying to be identified. 
The expectations are McMillian will play when Ohio State travels to Baltimore for the season-opener against Navy. If he didn't enroll until the summer, those hopes would be tempered. At 6-foot-2, 242 pounds, McMillan already has the size of a college linebacker, though Mickey Marotti is sure to add muscle to his frame.
The advantages for early enrollees are many. In the classroom, they're able to immerse themselves in the complex world of college. When it comes to football, they can get their bodies right, develop on the field and become comfortable with teammates. Coaches can also manipulate scholarship numbers to their advantage. It's become such a popular path that high schoolers begin charting their course to early enrollment during their sophomore years.
Competing in spring practice doesn't guarantee first-year success or even a star-studded career. But it helps get players in a groove well before they appear in games. A majority of those who skip senior prom are skill players. Robert Griffin III and Matt Barkley are two quarterbacks who went from early enrollee to freshman starter.
"You get the kid in school, get him acclimated to the college environment, entrenched in the workout program and you get to participate in spring football before anything is truly expected of you," ESPN recruiting analyst Tom Luginbill said. "And by the time the fall rolls around, you're not the same as the rest of the true freshmen."
Athleticism and game-changing speed are the easiest avenues to playing as a true freshman. Consider wide receiver Johnnie Dixon the crown jewel of Ohio State's seven enrollees. He's got a combination of speed and toughness that coaches love. Quarterback Stephen Collier won't see the field anytime soon – at least three years – but becoming acclimated with the offense he'll run and developing as a passer remain important, even in 2014. The one early enrollee guaranteed to play next year is kicker Sean Nuernberger, who will take over for the departed Drew Basil.
College football has never been more demanding. Athletic directors feel pressure from the Board of Trustees to hire a championship-caliber coach, and he feels the heat to produce from the outset. That's why recruiting is done with immediate results in mind.
Urban Meyer's "we don't redshirt" line has become famous at Ohio State. Meyer's recruiting philosophy involves targeting players who can contribute right away. Since his days at Florida, a portion of those freshmen difference-makers have been early enrollees. The most prominent: Tim Tebow.
"Nowadays you need freshmen in college to play an active role on your team," former Florida State safety and Rhodes Scholar Myron Rolle said.
Former Georgia quarterback Eric Zeier is credited with being the founder of the craze. He enrolled early for the Bulldogs all the way back in 1990. A quarter century later, he said he'd tell his son to do the same thing. However, not every coach agrees with the growing trend.
Steve Spurrier and the late Joe Paterno are the most famous holdouts. It seems that opinions are shaped by age. Most old-school coaches don't approve of high school seniors giving up the final months of their freedom. But some recruits choose to enroll early so they don't have to be a part of the frenzied final month of recruiting season.
The NCAA states the practice isn't for everyone while adding "being in a position to graduate early and be admitted to college means you have worked hard in high school, and that's a good thing." Regardless, it's here to stay. Titles will be claimed more frequently with the help of first-year players and high schoolers will see the benefits of graduating early and enrolling at Old State U. 
"I think it's a heck of an advantage," Meyer said in 2012, "but we don't ever force that."