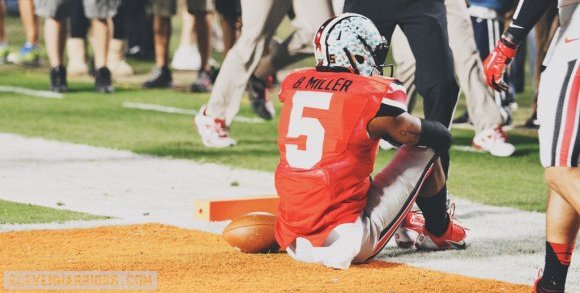 It was just over a week ago that Braxton Miller caused every Buckeye coach, player and fan to exhale in delight as he announced he would return for his senior season. 
Miller was coming off two-straight losses, had openly lamented the number of hits he was taking and had more than once made it known he felt he had the goods to excel at the next level. 
Factor in the reality he was fully aware a senior campaign would unfold behind four new starters on the offensive line and potentially incorporate a bevy of unproven receivers and it was far from certain he wouldn't move on to the next phase of football life. 
But just like that, he quietly announced he would be back and now Ohio State should once again be poised to make noise in the national championship race. 
Bare minimum, the reigning two-time B1G offensive MVP will be a preseason Heisman favorite and should have little trouble passing Art Schlichter as Ohio State's all-time career leader in Total Offense (-505 yards) and touchdowns (-1) in addition to surpassing Bobby Hoying's career touchdown passes mark of 57 (-6). He's also 11 victories away from being the winningest signal-caller in school history. 
But frankly, Miller's resume is not without its warts if he has any designs on not just being recognized as one of the great Ohio State quarterbacks but the greatest Ohio State quarterback. 
As such, how Braxton's senior season ultimately pans out will go a long way toward defining his legacy in Columbus no matter how many career records he claims along the way. 
The warts that rightly or wrongly come with the territory of being an elite player at a football powerhouse Miller will hope to address in 2014 include zero bowl wins, zero conference championships, a struggle to stay on the field for a full season and a two-year history of late season failings in the passing game. 
Of course, the lack of conference titles and bowl wins are a team thing but it's no secret the quarterback position often gets too much credit for wins and too much blame for losses.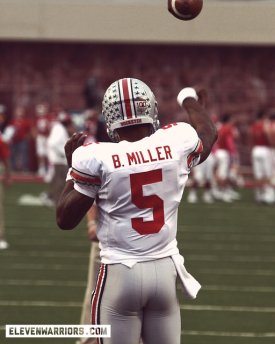 Additionally, a struggle to stay upright doesn't necessarily mean a player lacks toughness – just ask Greg Oden – but it also doesn't mean the player won't be the subject of criticism, fair or not, if he is perceived by some to occasionally be particularly finicky or comes off as a tad dramatic when dealing with the bumps of bruises that come with accounting for 44% of his team's yardage output. 
Focusing on which he has the most control, my personal belief is Miller must evolve as a passer to a degree that the last two late-season slumps become a distant memory, not only for the good of Ohio State but for the benefit of his draft stock because he won't get another do-over. 
After a throwaway freshman season under the tutelage of Jim Bollman and a video coordinator / quarterback coach who shall not be named, Miller finally received some coaching in his sophomore season but it was still season one in a new offense under the watchful eyes of Tom Herman and Urban Meyer. 
Miller absolutely made strides in the passing game compared to his freshman season, adding over four points to his completion percentage but gave everyone a glimpse of unfortunate things to come as his passing numbers over the final five games of the year fell off a cliff in comparison to his production over the first seven games. 
SOPHOMORE SEASON PASSING STATS: FIRST 7 GAMES VS. FINAL 5 GAMES
PERIOD
COMP
ATT
COMP%
TD
INT
FIRST 7 GAMES
96
159
60.4%
11
4
FINAL 5 GAMES
52
95
54.7%
4
2

 
The drop in production through the air was complemented by a similar decrease in rushing production as Miller generally became skittish in the pocket, abandoning his slowly improving mechanics and often held the ball too long as the Buckeyes faced much tougher defenses in much colder weather.
After a full offseason to further grasp the offense while spending time with quarterback guru George Whitfield Jr., expectations for Miller were sky high as he entered his junior season. Despite missing nearly three games due to injury, Miller looked like a completely different passer, showing improved command of the offense, an improved ability to stick with his mechanics and a desire to go through his progressions, often scrambling to buy time to throw instead of tucking and running at every opportunity. 
But again, over the final five games starting with a shaky 13/29 passing effort at always-windy Illinois in which some gave Miller a pass even though his counterpart, Nathan Scheelhaase, completed 66% of his throws, Braxton struggled mightily to get dialed in through the air. 
JUNIOR SEASON PASSING STATS: FIRST 7 GAMES VS. FINAL 5 GAMES

| PERIOD | COMP | ATT | COMP% | TD | INT |
| --- | --- | --- | --- | --- | --- |
| FIRST 7 GAMES | 108 | 149 | 72.5% | 15 | 3 |
| FINAL 5 GAMES | 54 | 106 | 50.9% | 9 | 4 |
Miller's passing bottomed out over the final two games against conference foes as he went just 6/15 against Michigan with a touchdown and a pick before throwing up an 8/21 stinker against Michigan State, indoors, as Ohio State basically abandoned the aerial attack in favor of letting him try to make plays with his feet.
His accuracy rebounded a bit in favorable conditions provided by the Orange Bowl as he connected on 16/24 with two touchdowns but he also registered two picks, one off a fluky sack in which the ball came loose but with another that looked more like freshman Braxton as he completely overlooked an awaiting linebacker in coverage over the middle to kill Ohio State's last chance at a comeback win. 
Despite his late season nosedives, Miller's overall progression as a passer has grown leaps and bounds since his arrival. The trick now is to sustain it over the long haul, against better defenses and in unfavorable conditions. If Miller can crack the code on consistency, he can make a run at the Heisman and be the catalyst to a conference championship and potentially a national championship that would cement his legacy in Columbus.