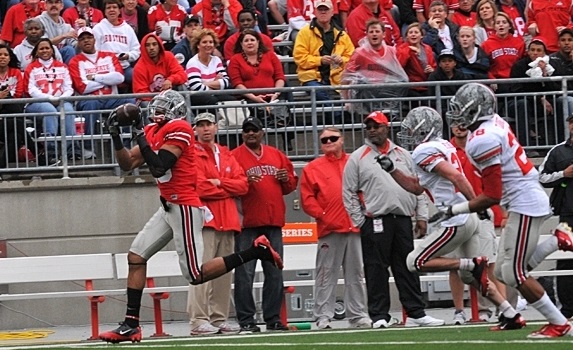 The 2010 Ohio State football recruiting class featured some of the most important cogs in the machine that rolled over 24 consecutive opponents over a two-year span before finally crashing against Michigan State and Clemson.
1,000-yard rusher Carlos Hyde, offensive lineman Andrew Norwell, cornerback Bradley Roby, receiver Corey "Philly" Brown, safety Christian Bryant, kicker Drew Basil, massive defensive tackle Johnathon Hankins, reserve lineman Darryl Baldwin, special teams standout J.T. Moore, and reserve running back Rod Smith were all part of the class.
Ten players from that team stayed at least three years and made some contribution to all of the victories. One of them is already in the NFL – several more might be there next season and three of them are still around and might be even more valuable in 2014. But those 10 out of the 19 players in that recruiting class were the only ones who actually stayed three years with the program. The others all either transferred, were kicked off the team, or had their careers ended by injury.
In terms of futility for a recruiting class, the 2003 class is probably the standard in the modern era, with only five of 14 recruits making any kind of impact. The 2010 class is not quite at that level, but it does kind of make you wonder why it is that almost half of the class ended up having a marginal impact or no impact at all on the program. Let's take a look at the "lost" members of the class and find out what happened to them.
david durham
Durham was listed at defensive end when he arrived but was a bit small for the position at 228 pounds. When he arrived, he was moved to fullback and seemed to excel at the position in practice. He was redshirted his first year, and then came the awful 2011 season. When Urban Meyer was hired, Durham saw that there would not be many opportunities at fullback in the new offensive scheme and in January of 2012 announced his intention to transfer.
He ended up at Pitt, attracted by the Wisconsin-style offense that head coach Paul Chryst prefers. However, he is now listed as a defensive lineman and is up to 255 pounds. It doesn't look like he's gotten much playing time but there is still a chance he could have an impact there.
Taylor graham
The son of former Ohio State quarterback Kent Graham was a pocket passer, and thus was another player who thought that Meyer's preferred offensive scheme would not be a good fit for him. Graham transferred to Hawaii and was named their starting quarterback prior to the 2013 season. He was expected to excel in the pro-style offense of coach Norm Chow. Despite leaving, he says he still gets up early on game days to watch Ohio State.
Graham struggled to start the season, completing less than 50% of his passes in losses to USC and Oregon State. He was playing pretty well in the third game against Nevada before he left with a shoulder injury. When he was finally cleared to play, he had lost his starting job to former starter Sean Schroeder. Hawaii finished 1-11 on the season and Chow is now under fire, although it looks like he may survive for one more season.
adam griffin
No need for a "where is he now" section on Adam Griffin because he is still at Ohio State; he just isn't playing football anymore. A fourth-year junior who played in all 12 games in 2012 on special teams, Griffin had earned the 2013 "Iron Buckeye" award for his toughness and determination during the winter. However, after shoulder surgery in August it was determined that he could no longer play football. Whatever he ends up doing, I am sure the son of Archie Griffin will succeed. It kind of runs in the family.
chad hagan
Hagan was a linebacker prospect from Pennsylvania who was apparently converted to defensive back after his redshirt season in 2010. There isn't much information about Hagan that I can find, other than that he left the team for some kind of medical issue. As far as I know, he hasn't turned up anywhere else. If you know anything about where he is, let me know.
James louis
Louis was a highly-regarded receiver out of Delray Beach, Fla. but he never lived up to the hype at Ohio State. In fact, he seemed more interested in his Twitter feed than his game. Louis transferred to Florida International prior to the 2012 season, and so I would have expected him to play in 2013. However, I cannot find any stats for him, and I'm not sure if he is still on the team. I can't even find his old twitter account. MIA, it appears.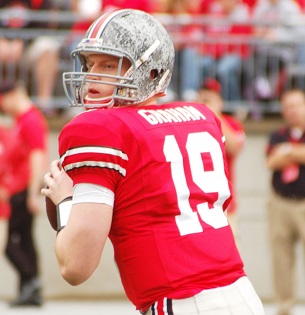 SCott mcvey
McVey was a linebacker from Cleveland who redshirted his first year in 2010. He had suffered a shoulder injury his senior season at St. Ignatius high school and re-injured it prior to camp. The same thing happened in 2011 and McVey had surgery for the third time. After the season, he applied for medical hardship and gave up football.
verlon reed
The Columbus Marion-Franklin quarterback became a receiver at Ohio State. After a redshirt in 2010, he emerged as a starter in 2011 and had his best game in a loss to Michigan State with four catches for 43 yards. Unfortunately he also tore his ACL in that game and was out for the season. He went through fall camp in 2012 and actually caught a pass in the opener against Miami, but he was passed by others on the depth chart and never played again.
In December, he left Ohio State to go play football at Findlay, a division II school. He is back at quarterback, battling former Eastern Michigan quarterback Devontae Payne for the starting job. We wish him well.
jamel turner
Turner's story has already been chronicled in detail here so I won't go over it again. Turner played in six games for Akron in 2013, registering 17 total tackles and one fumble recovery. We wish him nothing but success as he moves forward.
t.y. williams
Williams was a receiver out of Cleveland who was expected to be a red zone terror at Ohio State due to his elite size and good hands. Unfortunately, the latter part of that equation never emerged and Williams ultimately could not adjust to the ways of one Urban F. Meyer. After some unspecified violations of team rules, Williams was dismissed from the team.
There was some talk of him transferring to Ohio Dominican, but he doesn't show up on the current roster and so I cannot confirm that he is there. Wherever he is, I hope he gets things straightened out, both on the field and off.