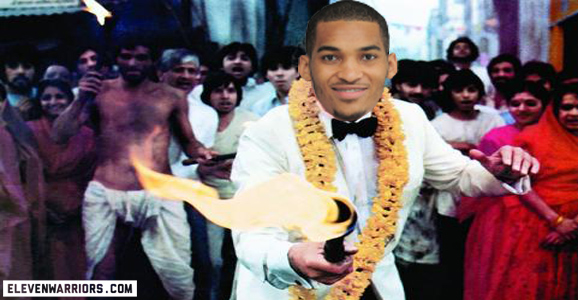 Ohio State junior forward LaQuinton Ross has been Ohio State's most maddening player this season, and that's a testament to the talent that drips from him during large portions of the game. It's also unfortunate to Ross because it means his bad stretches are as bad as his good stretches are good. 
The up-and-down campaign of LaQuinton has been picked up by the national media. From College Basketball Talk:
On Sunday, you saw the best and the worst of Ross. He was terrific on the offensive end of the floor, finishing with 22 points, seven boards and three assists. But he also committed three back-breaking turnovers in the final four minutes, allowing Iowa to regain the lead.

Here's the catch: Matta really has no choice but to play Ross. If he's not the most important player on the Ohio State roster, he's not all that far behind Aaron Craft. They need his scoring simply because they have no one else on their roster that is as much of a threat on that end of the floor. Think about it like this: when Ross is on the bench, Ohio State's best five is probably Craft, Shannon Scott, Lenzelle Smith, Sam Thompson and Amir Williams.

Who, out of that group, scares you offensively if you're an opposing coach?
Like it or not, it appears Ohio State's hopes will ride on LaQuinton Ross' shoulders.