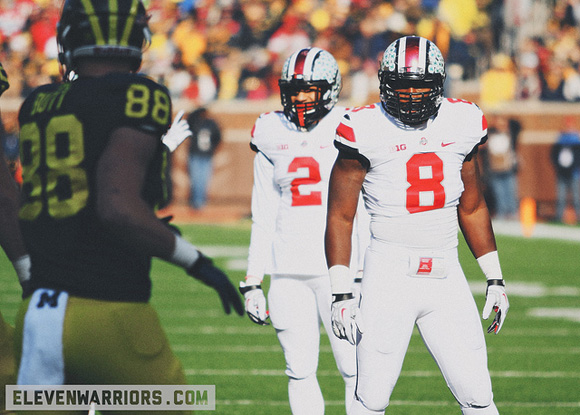 Defense wins championships. That's how the saying goes. But it's deeper than that. Leadership wins championships. Without leaders a team can have talent for days but no one to focus that ability. In any year Ohio State has seen success, one can quickly recall the leaders on the field that made it all possible. In 2012 it was John Simon, Zach Boren and Nathan Williams. 
In 2013 things become a little less transparent. Who were the leaders? Who were those players keeping everyone centered? I don't doubt they existed to some extent in the locker-room, but at times it didn't manifest itself on the field. To be clear, players like Jack Mewhort, Corey Linsley, Christian Bryant and Ryan Shazier played admirable roles on the 2013 team, but were they the individuals everyone looked to when the going got tough? I suppose only the players can answer that, but I guess that's my point. In 2012 you could see it happening on the field. Did you see it happening this past season?
2014 will have to be different. Particularly because there's a youth movement on both sides of the ball. Gone is the entire senior offensive line and the defense will likely feature 4-5 underclassmen starters. These players are talented and will perform, but they're also green. Who will these young pups look to on the road at East Lansing, or in Happy Valley? Here are the players I feel need to step up and play that role in 2014.
Braxton Miller
This just makes sense. He's the senior QB. He's been in the system for 4 years, he's seen just about everything there is to see in college football, from terrible seasons, to undefeated seasons to verge of National Championship seasons. The only problem? Braxton needs to become more vocal. Last offseason reports indicated Miller was doing exactly that, even going so far as to get in the face of Noah Spence during an April practice.
I'm not saying yelling at a teammate is leadership, but it's a step in the right direction for Miller. Whether he wants the role or not, the offense will be his in 2014. There wont be a Carlos Hyde in the backfield with him come August, so Braxton needs to be the leader players look to in crunch time. I believe he has it in him. Hopefully he does too.
Devin Smith
With the departure of Philly Brown, the WR corps will be thirsty for a steadying hand. Smith could play that role quite nicely (we already know he's got a great set of hands). The confident Michael Thomas coupled with a sterling group of playmakers from the 2013 and 2014 recruiting classes should have loads of talent, but someone will need to keep them focused and guide them both on and off the field.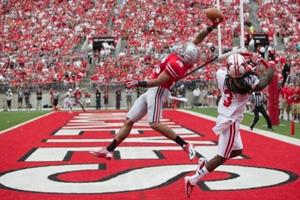 Much like Miller, Smith has been there, he's made big plays, and he's kept himself out of trouble off the field. Smith can and should impart that wisdom on a young group of impressionable playmakers.
Noah Spence
Given the nature of his suspension to start the 2014 season, some might cringe at Spence's inclusion on this list. I'm not one of them. It's hard to believe Noah will be an upperclassmen next season, but he'll be a junior in 2014. Spence led the team with 8.5 sacks, and ranked second on the squad in tackles for loss with 14.5. He's got a motor that doesn't quit and has clearly done all of the work on the fundamentals side of the ball to emerge as one of the biggest headaches in the conference for opposing offensive linemen.
His suspension remains unresolved as reports state his family will sue the B1G. If that route does not bear any fruit, Spence will have to sit out for the first two games of the 2014 season. If it does occur, Spence should position the experience as a teachable moment for his teammates while filling the position of sideline leader; much like Christian Bryant did for most of the 2013 campaign.
Suspension or not, the kind of production Spence has generated earns you respect in the locker room. What Noah does with that respect is up to him.
Curtis Grant
Grant will almost NEED to step up and be a leader in 2014. Gone is All-Everything LB Ryan Shazier. Replacing him will undoubtedly be an underclassmen. When Grant looks around the meeting room next year, he'll realize he and Josh Perry are the only veterans with in-game experience at the table. Young talent like Trey Johnson and Mike Mitchell are in the system and more help is on the way in the form of 5-star Raekwon McMillan, and 4-stars Dante Booker and Kyle Berger, but they'll need an upperclassmen presence to act as a beacon. We're looking at you Curtis.
Doran Grant
Last but certainly not least is Doran Grant. It's no secret the Buckeye backfield was the most maligned unit in 2013, and they're only getting younger next season. With the departure of Bradley Roby, C.J. Barnett, Christian Bryant and Corey Brown, there will only be one other upperclassmen with starting experience on the squad (Armani Reeves).
The picture isn't as bleak as it initially sounds. Young players like Vonn Bell and Tyvis Powell saw meaningful snaps in 2013, but much like the LB corps, there will be a ton of new blood in the meeting room. I believe Grant will have to assert himself as a leader next season if the backfield hopes to get better in 2014.
---
Leaders define a team. They're the coaches on the field when it's all going down. If the 2014 team is to find success, it will be due to on and off-the-field leadership. The players listed above are primed and positioned to become the next great Buckeye leaders. Will they answer the bell? That's up to them.