Last week Michigan hired offensive coordinator Doug Nussmeier away from Alabama in what is easily the most fascinating staff shakeup of the offseason.
First, despite finishing the season with consecutive losses (hey, that's nothing to be ashamed of) Alabama is a fully operational dream-shredding football terrorist. If a Nick Saban coordinator makes what's - at best - a lateral move, it's natural to wonder why. Normally assistants depart from dynasties for promotions.
Second, Alabama quickly replaced Nussmeier with Lane Kiffin, a coach who has left each of his previous four jobs on what could most kindly be described as disastrous circumstances, proving that dominoes don't always fall as you expect them to.
Third - and speaking of dominos - Brady Hoke had just publicly said he wasn't planning on making any changes to his coaching staff. Yet there he was barely a month later with ubiquitous Michigan athletic director Dave Brandon holding a press conference to introduce Nussmeier.
Brandon even stuck around after the presser and fielded questions from the press corps about the Michigan football team. But why?
Try to imagine Ohio State athletic director Gene Smith crashing a press conference announcing a staff hire. Try to imagine Smith - who played at Notre Dame and isn't a football slouch by any stretch - discussing position coaches and football minutiae with the press.
Try to imagine Ohio State holding a conference to announce a new assistant, period. Non-head coaching hires are generally announced via email with canned remarks distributed by the OSU SID. Press conferences are kind of a hassle.
Anyway, Brandon probably felt his presence was required at this curious presser to quell any grumbling that he is micro-managing the football program, so he proceeded to speak in great detail about the team, Nussmeier's tutelage of AJ McCarron at Alabama, the energy required to elevate the Wolverines' offense and...oh dear.
He also provided a glimpse into that classic Michigan delusion exceptionalism that Buckeye fans know all too well:
...an important element of (Nussmeier's hiring) is the way Brady (Hoke) and his staff become a family, and the way they connect as a family, and I think that's something that Michigan brings to the party that may be a little different for Doug.
Nussmeier couldn't possibly have experienced camaraderie among his colleagues at Alabama, Washington or Michigan State. This is uniquely a Michigan job perk. Coaches who work for paychecks need not apply.
In related family news, Al Borges is Fredo Corleone. Also: Brandon has worked with exactly zero athletic departments and football programs outside of Ann Arbor, so he's uniquely qualified to publicly discuss The Michigan Difference™.
A member of the Wolverines' beat then pointed out to Brandon that "it's not often a program calls a presser to announce a new coordinator." He responded brusquely with, "why are you here?" (SPOILER: Michigan beat writers have to attend Michigan press conferences - their jobs require it; ergo press conferences are kind of a hassle).
You can watch the entire exchange for yourself.
Brandon is the highest-profile athletic director in the country, partially due to his employer but largely by his own making. On the surface he's a meddling, mildly annoying administrator who's just a little too visible where Michigan football is concerned. 
Look a little deeper and he's a career corporatist infiltrating academia who ballooned Michigan's athletics budget by over 37% while getting rid of those pesky faculty controls put in place to keep reigns on spending. He also earns triple what his predecessor made. Michigan football attendance is declining on his watch.
It's very difficult to write a consumable yet comprehensive article about Brandon's history without a) leaving out a lot of important context, or b) egregiously violating 11W's no-politics rule, so instead let's awkwardly segue to this blog post from last week in strong support of Brandon:
First let me state that I am a big fan of David Brandon. I have known him for a long time and dealt with him in his pre-UM days in business.
Think about the people you have listed as references in your own career. They probably carry a combination of important titles and impressive presence, because God forbid a prospective employer actually calls those references - those special friends need to be both influential and convincing on your behalf.
So convince your fellow Wolverines, Brandon fan: Why should Michigan stakeholders feel comfortable with your guy leading their beloved university's athletic department?
Because Brandon comes from a business background, he understands the concept of being in a "results oriented" business.
Brandon came to Michigan after running Domino's Pizza for over a decade. He took the company public in 2004 and left in January 2010 to run Michigan athletics.
Here is the entire stock price history of Domino's from Initial Public Offering through last week: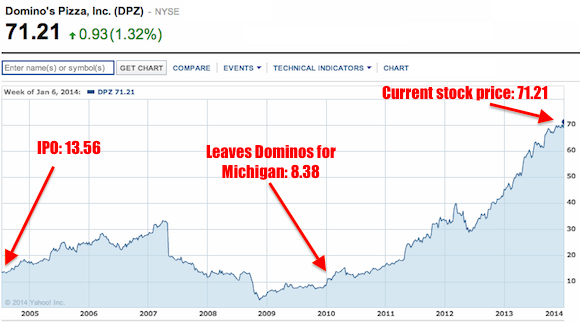 Michigan fans who celebrated Brandon's hiring in 2010 by buying 1000 shares of stock from the company he left are $62,830 richer today. Michigan fans who whine about buying seat licenses and the rising costs of tickets simply didn't jump on Domino's when they should have.
Domino's stock shed about 40% of its worth under Brandon's leadership, while its value has since increased 850% following his departure. B-SCHOOL REFRESHER: Publicly traded companies are in business to create shareholder wealth.
This was explicitly why Brandon took Domino's public in 2004. His core product was rated dead last in quality, tied with Chuck E. Cheese - whose target consumers' palates can be contented indefinitely by powder cheese macaroni and frozen dino nuggets.
You may even remember the self-deprecating, apologetic commercials about Domino's shitty, shitty pizza. The star of those ads is Brandon's successor, whose results-driven measurement can be seen on the right side of that stock price graph above.
If you read Brandon's official Michigan bio you'll see that it only focuses on the 2004 IPO, rather than the results-oriented aspect of his career there, which leads us back to Nussmeier's hiring. One year and one day into Brandon's tenure at Michigan, he fired Rich Rodriguez and hired Hoke.
See, that's the "took Domino's public" component of his U-M résumé. The stock price is what comes after that, because football is the pizza of Michigan athletics - which is no different from most universities, except you should think of Michigan pizza as a family operation rather than a sterile, corporate enterprise.
Michigan fans who celebrated Brandon's hiring by buying 1000 shares of stock from the company he left are $62,830 richer today
Rodriguez, if you didn't notice, has since turned a shaky 4-8 Arizona program into a competitive 8-5 one fairly quickly and has a couple of bowl wins to show for it. The trajectory is similar to what he pulled off at West Virginia before Brandon's less-expensive predecessor poached him.
Rod's Arizona offense was also in the top 25% among FBS programs this past season. Meanwhile, Michigan just fired its offensive coordinator and held a presser for the new guy. 
So if you thought Nussmeier's hiring was strictly a function of Borges failing to deliver (by the way, his universally-ridiculed 86th-ranked unit was still ranked 21 spots higher nationally than Jim Bollman's 2011 offense - for eternally depressing, historical context) then you probably didn't know the Brandon back story.
Hoke has to succeed - both for Michigan's sake in failing Rodriguez possibly worse than he failed Michigan - but especially for Brandon, whose signature accomplishment outside of his department's ballooning finances and branding adventures is Hoke's hiring.
He has every reason to be successful in Ann Arbor too, but fans are impatient - both with him and Brandon. Bo went to the Rose Bowl in his third season. Gary Moeller went undefeated and won it. Lloyd Carr did too, and got a national title. If you can't coach Michigan to Pasadena in your third season, something's wrong.
Rodriguez and Hoke both went 7-6 in their third seasons. Rod didn't survive his, and now Borges is gone. That history of results-oriented success - both Michigan's and Brandon's - is not lost on the the most well-informed Wolverines.
As they say in finance, past performance isn't always indicative of future results. But sometimes it is.