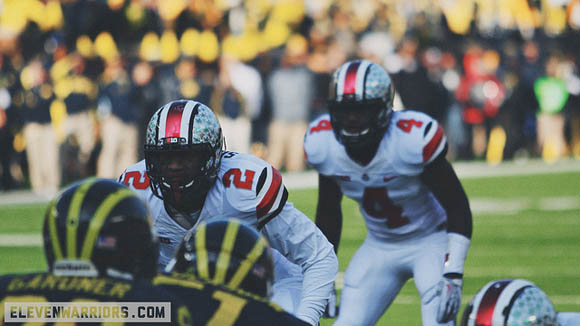 Ryan Shazier made it official last night.
He'll join fellow junior Bradley Roby, and a dozen Ohio State seniors, including Carlos Hyde, Jack Mewhort, C.J. Barnett and Kenny Guiton, who now turn their focus toward the 2014 NFL Draft.
Some, like Shazier, Hyde and Roby, all expected to go within the first three rounds, will begin working with private trainers ahead of the NFL Scouting Combine, held Feb. 22-26 in Indianapolis. There, they'll be poked, prodded, measured, timed, asked funny questions, and otherwise have their character put to the test as NFL teams determine whether to invest millions of dollars in them.
Tackle Jack Mewhort will look to improve his stock at the Senior Bowl. All will get a chance to impress scouts at Ohio State's Pro Day, held in early March.
Despite their proliferation on the web, mock drafts are still a fuzzy science at this point. Underclassmen still have 10 days to declare for the draft and the order won't be set until after the NFL playoffs conclude.
Still, we thought it would be interesting to survey the landscape to get an early handle on when Buckeyes may go in April's draft.
Let's start with Shazier. Although he received a second round evaluation from the NFL Draft Advisory Board, many analysts like the linebacker to go in the first round, particularly if the scheme is appealing.
ESPN's Mel Kiper has him 16th ($) on his linebacker heavy "Big Board" that places Shazier behind UCLA's Anthony Barr, Buffalo's Khalil Mack, Alabama's C.J. Mosley, and Clemson's Vic Beasley (who may or may not still be playing a role in your nightmares):
Versatile, quick, instinctive and a strong tackler, Shazier can do pretty much everything. He anticipates, plays sideline to sideline and will track tight ends and running backs in coverage with the burst and agility to stay with them. In the mold of a Lavonte David, Shazier is a linebacker who looks like an oversized safety but does a great job of tracking and making tackles from the weak side.
Bleacher Report's Matt Miller, who will inherit Kiper's throne some day, has Shazier going No. 22 to the Saints. Like most analysts, Miller thinks Shazier needs to add size, but he loves what he sees and thinks Shazier can play an important role in the 3-4 defense New Orleans rolled out this season:
The junior linebacker has the best first step in college football, and he's proven to be a menace coming off the edge. While Shazier isn't the big, heavy pass-rusher some teams prefer in a 3-4 set, he's quick enough and strong enough to shed blockers and still make plays in the run game.
Dan Brugler of NFLDraftScout.com and Rob Rang of The Sports XChange also have Shazier going in the first round, 20th to the Cardinals and 25th to the Bengals, respectively, although Kiper's colleague at ESPN, Todd McShay, does not have Shazier in his first 32.
Hyde may be the Buckeye that's done the most to help his stock down the stretch, stringing together an impressive run of 100-yard games and earning tough yards when defenses knew he was getting the ball. He's moved all the way up to No. 19 on Kiper's board ($) as his top-ranked running back:
Close to unique in this class, Hyde has a great combination of elite size for the position plus quick feet and an ability to accelerate quickly through the hole. He's devastating on the second level because he has a downhill style that makes him a punishing runner who can run through and bounce off contact. Has above-average hands and can catch what you throw his way.
Miller, meanwhile, has Hyde going behind Tre Mason as the second back selected in the draft, in the third round to Houston. New coach Bill O'Brien has seen enough of Hyde to know what he brings to the position.
None of the analysts surveyed have Roby going in the first round, though Miller does have him going early in the second round to the Bears. In Miller's mock draft, Roby is the third cornerback off the board, behind Oklahoma State's Justin Gilbert and Michigan State's Darqueze Dennard.
Roby missed the Orange Bowl with an injury, which in hindsight may have been the best thing for him, considering Sammy Watkins is still catching screens on the Ohio State secondary. Still, a fast 40-time on the turf in Indianapolis has a way of making team executives – particularly those from the Raiders – forget about bad outings against Jared Abbrederis. If you'll recall, Ohio State said Roby ran a 4.26 while in school.
Miller is also the only major analyst with a mock draft projecting the full seven rounds. In his world, safety C.J. Barnett goes in the sixth round, while Kenny Guiton earns Mr. Irrelevant honors as the last player taken. Although it would delight Ohio State fans to see Guiton selected in the draft, he's likely looking at an undrafted free agent offer (though we strongly advise the starting quarterback of the team that does give him a shot to stay healthy).
It will be interesting to see whether any of the members of Ohio State's offensive line work themselves into the first four rounds. Collectively, they didn't have the best outing in the Orange Bowl, but guys like Mewhort and Marcus Hall will earn strong consideration. With strong showings in Indianapolis, both, along with Andrew Norwell, could force their way into the top five rounds.