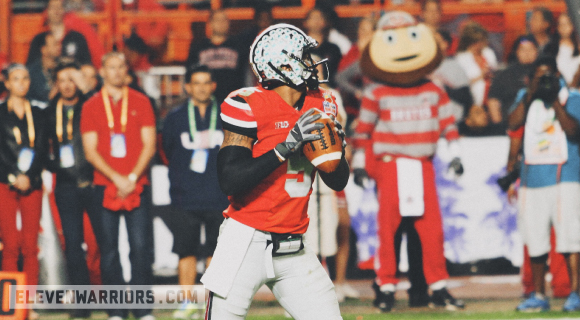 MIAMI GARDENS, Fla. – If that was the final image of Braxton Miller, how will he be remembered?
Will it be as the electrifying playmaker who helped lead Ohio State to 24 consecutive wins, or the quarterback who couldn't quite seal the deal in what would be his final two games as a Buckeye? Well, it appears he'll be able to add more to his legacy, as Sports Illustrated's Pete Thamel is reporting Miller will return for his senior season. 
For a long night and early morning, Miller became a close acquaintance with the plush Sun Life Stadium grass field. An offensive line that had kept him in an upright position and his jersey scarlet had trouble corralling the athletic front four of the Clemson Tigers. It left Miller frequently writhing in pain on the turf.
"The first sack they had against me, I injured my shoulder. I landed on my elbow, but it shot right up to my shoulder," Miller said. "It hurt real bad. On a scale of 1-10 it was a 9.5. It affected my running, planting on my back foot and scrambling."
When all was said and done the scoreboard read Clemson 40, Ohio State 35. Miller was sacked five times and planted on the ground umpteen others. His three second-half turnovers, all in the game's final 20 minutes, played a massive part in the Buckeyes' second defeat in as many games.
But then there was Miller dashing 33 yards for a touchdown and using stutter steps to avoid Tiger defenders. There was a beautifully thrown 57-yard touchdown pass to Jeff Heuerman and several crucial completions to Philly Brown.
It was vintage Miller and the all-too-familiar inconsistent Miller wrapped into one. He completed 16 of 24 passes for 234 yards with two touchdowns and two interceptions. Five sacks contributed to his 35 yards rushing. Otherwise, it would have stood at 84. Thamel's report noted Miller's draft stock among the 2014 quarterback class is a major factor in his decision.
The 60-minute thrill ride wasn't quite what Miller envisioned. He drops to 0-2 in bowl games and the aura of bring indestructible faded. It almost seems impossible that Miller and head coach Urban Meyer could fall in consecutive games with such significance linked to each outing.
Suddenly, the 24-game win streak will be looked at through a different prism. Asked about the luster being removed, Miller smiled and gave a diplomatic response.
"That's kind of tough," he said. "You might want to ask Coach Meyer about that one. I don't want to say too much about it."
Many already have. The national media is in the process of removing shine from Meyer's coaching acumen and Ohio State's brand. Miller is suffering from the same critical response. One night showed why Miller wants to bolt for the NFL and why he's nowhere near the level needed to succeed as a quarterback in professional football.
It's no secret the hits are taking a mental and physical toll on the signal-caller. But he held the ball too long at times, remains an inconsistent passer and doesn't have the wherewithal of a top-line NFL starting quarterback.
"I thought I had Philly on a bender and it was my mistake," Miller said of the game-ending interception. "I'm not going to complain about anything. I've just got to fix it."
Whether he fixes it in an NFL training camp or Ohio State's spring practice is anyone's guess, despite current media reports. He has 11 days to make a decision. According to Miller, the procedure will include his parents, Meyer and Mickey Marotti. He enters decision-making time not leaning in either direction.
"I'm just going to think it out throughout the whole process and how it will go," Miller said. "I don't want to make a decision I didn't do my research on."
Moments later, Meyer ushered Miller into his office deep in the bowels of Sun Life Stadium. And with that, Miller was gone.