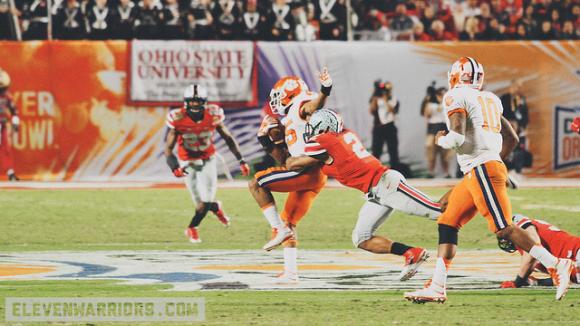 After a major loss, there is a tendency to point the finger at one person and blame him for all the team's troubles. In the aftermath of the Orange Bowl, that scapegoat is defensive coordinator Luke Fickell.
Certain statistics tend to bring that bloodlust to the surface. For the first time in program history, Ohio State lost when scoring 35 or more points. Clemson ran 76 plays for 7.5 yards per play, and Ohio State's defense has given up 115 points and 1,617 yards in the last three games. All in all, the statistics show a defense in regression.
Ohio State's defense struggled against Clemson. This is not an attempt at a novel or witty observation; this is a fundamental statement, an axiom that must be accepted before advancing any further in criticism.
Decisions about staff changes have their appropriate times, and five hours after a tough loss is not that time. What we can do, though, is to sift through the Orange Bowl to find patterns. Given that the defense was pretty bad in the Orange Bowl, the question is – why?
Urban Meyer was not in the mood to discuss why in the postgame press conference. Asked about how far the defense was from being championship caliber, he responded as such:
"The one thing you're going to find out, the more that you're around me, I'm not a big blamer.  We've got to get better.  And so our defense certainly made some plays to help us go win a game.  Is it what we expect?  No, we expect top ten defense at Ohio State, top ten offense, and top ten special teams, and I don't believe we accomplished any of those."
Bradley Roby's injury and Noah Spence's suspension had big impacts on the defensive game plan. Without OSU's top corner and top pass rusher out, Clemson was able to send Sammy Watkins – who is pretty good, you know – on bubble screen after bubble screen for easy yardage.
Though each player was sorely missed, their absence alone did not doom the defense. In the place of Noah Spence, Jamal Marcus had the game of his life; if Spence were eligible, Marcus would have seen limited time on the field as a backup. Roby may have been able to prevent some of the bubble screens to Watkins and get away with vanilla coverage, but he would have had the same size disadvantage Armani Reeves and Doran Grant had. After a rough start, Vonn Bell gave the Buckeyes solid safety play, intercepting a pass in the red zone and stopping Clemson on a fourth down.
The lack of defensive depth has hurt Ohio State this season, but the injuries and absences suffered before the Orange Bowl didn't affect the Buckeyes any worse than the ones during the rest of the season. It was the two injuries during the game, to Joey Bosa and Braxton Miller, that had a larger impact.
Furthermore, bubble screens are supposed to be a constraint play that only works when the defense is misaligned or cheating toward the run. In Ohio State's case, the bubble screen was a play Clemson was able to exploit all night long, essentially becoming Clemson's base play.
Soft coverage prevented Clemson from connecting on vertical pass plays, but in the process Ohio State gave up 16 catches for 227 yards to Watkins, an Orange Bowl record for receiving yards. Clemson used bubble screens at the beginning of most drives, effectively giving the Tigers a short field every time.
Even in the fourth quarter, after Ohio State had time to adjust to it, Clemson was still able to pick up big chunks of yardage with lateral passes. The fear was clearly that if Ohio State played too close on Watkins or other Clemson receivers, they would beat the secondary vertically, but Clemson's ball control was just as devastating.
In the postgame interview, Clemson coach Dabo Swinney explained why so many bubble screens were called:
This was the seventh best team in the country versus the rush, so we felt like that was our best chance to run the football, mixed in with hot rod, a little bit of what they do, to be honest with you.  And then take what's there in the passing game.  They gave us a lot of soft coverage towards Sammy, and we were just trying to just take advantage of what's there.
Guys did a great job of blocking on the edge and on the perimeter.  We had enough to where we hit some plays down the field, but that's what was there.  And so, no, we didn't really come into the game thinking we were going to throw as many screens as we did, but once we kind of got them on their heels a little bit, we just kept taking it.
The inability to deal with screens and other misdirection has been a persistent problem over the last two years. As early as the 2012 Cal game, opposing offenses have been able to shred OSU with jailbreak screens. Against Michigan this year, the tunnel screen gave the Wolverines several huge gains, and both Michigan State and Clemson used throwback passes to great effect.
Another concerning part of the game is the passivity in response to Clemson's early success. Similarly to Fickell, Clemson defensive coordinator Brent Venables knew his base defense was outmatched by the opposing offense. Unlike Fickell, Venables called blitzes throughout the game to create pressure and force errors by Braxton Miller. That resulted in some open throws, but it also resulted in Miller taking several hard shots that could have contributed to his two turnovers on the final two drives.
For the Orange Bowl, the vanilla approach to defense didn't work. The Buckeyes threw a couple of corner blitzes at Tajh Boyd early, and they were destroyed; after that, even five man blitzes were uncommon.
Other defensive issues like the inability of the corners to contest balls with Clemson's wide receivers and shed wide receivers' blocks contributed to Clemson's passing dominance. There were some schematic issues like putting Vonn Bell alone on Sammy Watkins for Clemson's first touchdown, but there's not much a defense can do against a future first-round draft pick. Though the defensive line couldn't force Boyd into bad decisions often enough, they did a decent job pressuring him; most of the frustration with the defense comes from the underneath passing.
The frustration with the defensive game plan stems from some of the issues from the past couple of years being repeated. With a deeper secondary and linebacker corps, maybe those issues will go away; if not, maybe it would be time for a change.
Judging by his postgame comments, Meyer is dissatisfied with the state of the defense. Just know that there are a number of steps of diligence between dissatisfaction and somebody losing his job, that the the defensive coaches aren't there yet, and if you want to put your fist through something right now you're not alone.