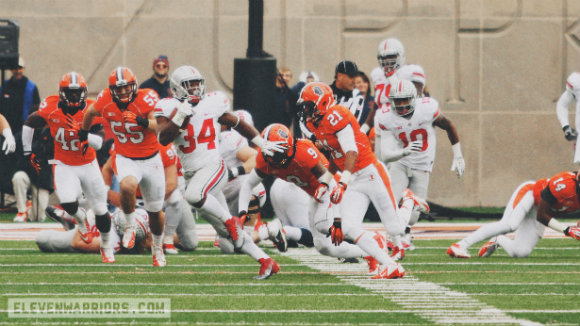 While Clemson's offense is inconsistent but excellent, Clemson's defense should give Buckeye fans less anxiety. 
However, that might be because of the lack of an immediately obvious matchup problem (i.e. Sammy Watkins for the defense). Clemson's defensive F/+ is actually ranked higher (13th) than their offensive F/+ (17th).
Below we'll dive deeper in to how the Tigers became highly ranked on defense and attempt to figure out if this is a statistical artifact or some legitimacy in those numbers.  
|   | Pts/Play | Yards/Point | Yards/Play | Pts/Poss | Ex. Plays | Turnovers |
| --- | --- | --- | --- | --- | --- | --- |
| Ohio State | .647 | 11.2 | 7.24 | 3.47 | 80 (14th) | +7 |
| CLemson | .298 | 16.6 | 4.96 | 1.41 | 51 (35th) | +4 |
Merely comparing the points per possession, a metric that (as it sounds) captures the average number of points scored or allowed per drive, it's easy to see the disparity between Clemson's offense and defense.
Clemson's defense is actually the fifth-best of all BCS Bowl teams in terms of defensive points per possession, but tied for third-worst in offensive points for possession. Then again, Baylor's defense (the fourth-ranked team in defensive points per possession) allowed Blake Bortles and company 52 points last night, so take the numbers as you will.  
What is certain is that Ohio State's offense is among the top teams in the country and will score points tomorrow night. Both the points per possession and offensive F/+ numbers have the Buckeyes second overall in the country. 
One of the most predicative metrics thus far has actually been in explosive plays. Offensive explosive plays are highly correlated with winning percentage. The Buckeyes don't have a huge advantage here according to the raw numbers, but there is some disparity between the rankings. However, Clemson lost two of its three games against teams in the top 20 in offensive explosive plays (Florida State and South Carolina) and was close to losing the third (Georgia to start the season). 
Coaches also love looking at turnover margin, but there also isn't a lot to say about this matchup. Both teams are positive in turnover margin overall and ranked highly in interceptions lost. The Buckeyes have a slight edge in interceptions thrown. 
Let's move to some bullet points: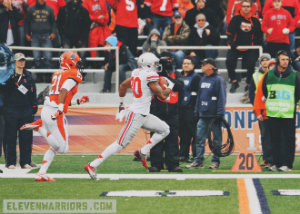 One really interesting thing is that the Clemson defense doesn't stay on the field for very long per drive. The defensive FEI has the Tiger defense as third in defensive first down rate, which measures the percentage of drives that the defense allows the opponent to gain at least one first down. Clemson is among the best in the country with only 53% of opposing drives gaining a first down or more. 
Clemson's first down rate is supported by a sister statistic, defensive plays per possession. Clemson is second among BCS bowl teams with an average of five defensive plays per possession. These two stats indicate both a high number of three and outs forced and a high number of explosive plays for a touchdown (unfortunately the former more than the latter). However, Dr. B over at Shakin' in the Southland did note that Clemson allowed many points this year when the two deep safeties screwed up in some way and allowed big plays. 
Clemson's opponent-adjusted explosive drive rating is much more mediocre than its raw total. About one in ten of Clemson's defensive drives average over ten yards per play (48th in the country). 
On the flip side, Clemson is excellent in preventing long, methodical drives, with only ten percent of defensive drives lasting ten or more plays. This is actually good for the Buckeyes, who are among the worst in the country in methodical drives, but among the best in the country in explosive drives. 
Hyde should find some running room against the Clemson defense. Again, these numbers are not opponent-adjusted, but Clemson owns the 51st-ranked rushing defense. Their passing defense is much better using dummy statistics, at 15th in the country. UGA's Todd Gurley has 154 yards on just 12 carries against the Tigers. 
For the offense to be successful, it must do what it does in every game – achieve a good push from the offensive line, have Miller be effective in the run game, and Hyde create explosive plays when they are available. However, the key might be in also sprinkling in a few explosive passing plays against the Clemson pass defense.