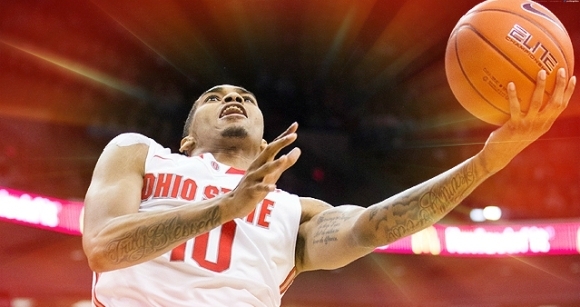 We're just two days away from Ohio State tipping off the B1G slate, looking for their 6th regular season crown in 10 years under Thad Matta. 
The Buckeyes have breezed through a non-conference schedule loaded with cupcakes, going 13-0 with a scoring margin of +20.8, with the biggest victories coming at Marquette, at home over Maryland and on a neutral floor against Notre Dame but now things are about to get real as the Buckeyes get set to run the physical gauntlet conference play always brings. 
With the Buckeyes poised to hover near the top of the standings, here are five predictions for how things might play out over the next three months. 
LAQUINTON ROSS WILL LEAD THE TEAM IN SCORING
Through the non-conference slate, Lenzelle Smith Jr. earned the distinction of being Ohio State's leading scorer as he posted 13.4 points per game compared to 12.9 for Ross. 
Smith Jr.'s production has been the result of much improved marksmanship – so much improved in fact that it's hard to believe he will be able to keep it up. A career 45% shooter over his previous three seasons in Columbus, Smith Jr. is connecting on 53% of his shots so far this season including 45% from distance. Smith Jr. was a 37% long distance shooter coming into this season. 
Meanwhile, Ross, while still adjusting to the expectations that come with being the most offensively gifted player on the floor for the Buckeyes, has seen his field goal percentage go from 47% last year to just 44% through 13 games.
My belief is that as he continues to get more comfortable with his role, he'll realize a slight uptick in his shooting percentage and if Matta can get him more focused on getting to the line, he should emerge as Ohio State's leading scorer by two points or more over Smith Jr. 
SCOTT WILL PUT UP BETTER DEFENSIVE NUMBERS THAN CRAFT BUT WON'T GET HIS DUE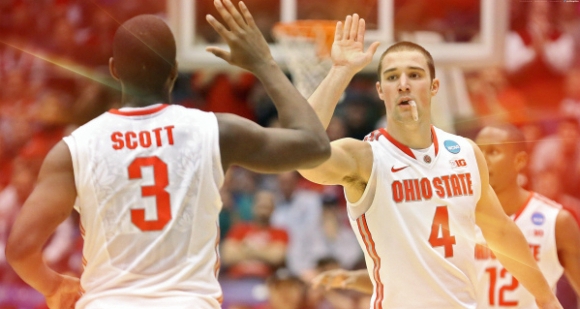 Before you get your panties is a wad, notice I didn't say Scott is a better overall defender. I'm just saying that statistically, I think it's highly possible Scott will average more steals per minute than Craft and that he'll most certainly average more rebounds per minute.
Craft is unquestionably the best on-ball defender in the college game – he has been for three-plus years – and he's probably a little more adept at not getting beat off the bounce than Scott but that doesn't mean Shannon isn't a defensive freak in his own right.
He's certainly a more versatile defender than Craft in that he can guard multiple positions, rebounds and plays the passing lanes arguably better than the living legend.
Through the non-con slate, Scott is winning the defensive statistics battle with Craft and I don't see that changing in league play. 
2013 DEFENSIVE STATS: CRAFT & SCOTT
PLAYER
MPG
TOT MIN
RPG
RPM
SPG
SPM
CRAFT
33
431
3.2
.09
2.3
.069
SCOTT
27
354
4.2
.15
2.3
.084

 
But because Craft is who is, a legendary Buckeye worthy of every bit of gloss he gets, Scott's impact on games will continue to be largely under-celebrated.
LIKE ALWAYS, MATTA WILL SHORTEN HIS BENCH IN LEAGUE PLAY 
I've never had much of a problem with how Matta shortens his bench once conference play begins because I've always believed playing your five best players for as many minutes as they can handle isn't too much to ask from 18-21 year old kids and gives you the best chance to win.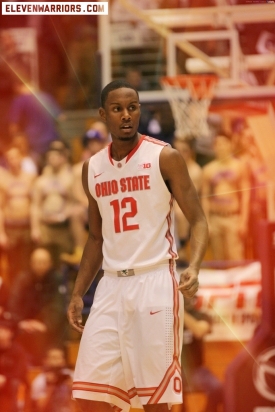 Interestingly, people talk about this team being much deeper than last year but really, Matta is playing just one additional guy. Last year, Scott, Ross and Ravenel came off the bench to play a combined total of 54 game minutes per outing, or 27% of a game's total minutes. Through 13 non-conference games this season, Sam Thompson, Amedeo Della Valle, Marc Loving and Trey McDonald are averaging a combined 62 game minutes, or 31% of a game's total minutes. 
I look for Matta to obviously keep Thompson as the 6th man (more on him in a sec) and play him about 20 minutes a night but I don't see both Loving (12.5 mpg) and Della Valle (14.5) continuing to total 27 game minutes. Instead, I think Matta will do exactly what he did against Notre Dame by giving each of them their normal rotation fairly early in the 1st half but then he'll ride his starters unless one of the two is feeling it offensively. Against the Irish, Loving (4) and ADV (7) totaled just 11 minutes. As an aside, I believe that by season's end Loving will have cut into a huge percentage of ADV's minutes. 
A starter last year, Thompson has seen his minutes go from 25.1 last season to 22.8 through 13 games. It wouldn't surprise me at all if that number sits closer to 19-20 for the balance of conference play unless he turns it on. Despite the feel good alley-oops, it feels like Thompson is very much struggling with the adjustment to his new role and spot in the rotation and the numbers certainly help support the thought:
SAM THOMPSON: STAT COMPARISON OVER LAST 2 SEASONS

| YEAR | MPG | FG% | 3FG% | FT% | PPS | RPG |
| --- | --- | --- | --- | --- | --- | --- |
| Sophomore | 25.1 | 50% | 40% | 70% | 1.34 | 3.5 |
| Junior | 22.8 | 42% | 31% | 66% | 1.17 | 3.1 |
The good news is that he's shown himself to be a much better player than we've seen so far this season but as of now I think this is a bigger issue than many think. We saw what can happen if Ross or Smith Jr. doesn't have it going offensively and Thompson was supposed to be one of the guys that took a big offensive step forward. If anything, he's gone backward and he's done it against lousy teams. Hopefully, he's just in a slump because despite possessing strong leadership and athleticism, at 42% from the floor and 31% from deep, his value is severely diminished on a team that will be starved for offense at times. 
Finally, McDonald will obviously be in the rotation as the lone big to spell Amir. He looks a little better than last year but with the growth we've seen from Williams, it makes little sense to not have Amir on the floor for as many minutes as he can handle. 
So, Matta will still likely play one additional guy than last year but I bet the total minutes absorbed nightly by the bench will be very similar to what we're used to. 
OHIO STATE WILL FINALLY LEAD THE B1G IN SCORING DEFENSE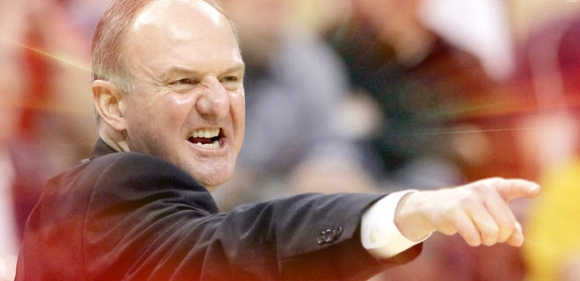 It's interesting that while Ohio State under Thad Matta has largely carved its national identity on the premise of playing lockdown defense, the Buckeyes haven't lead the conference in Scoring Defense in over five years, ranking anywhere from 2nd to 9th during the most recent five-year cycle.
OSU Scoring DEF in B1G

| YEAR | SCORING DEF | CONF RANK |
| --- | --- | --- |
| 2013-14* | 54.0 | N/A |
| 2012-13 | 59.5 | 2 |
| 2011-12 | 60.9 | 4 |
| 2010-11 | 64.1 | 2 |
| 2009-10 | 60.5 | 2 |
| 2008-09 | 64.3 | 9 |
Obviously the sparkling 54 points per game yielded so far this season is an aberration as it comes against pathetic competition but I don't think there's any question this team knows that if they want to have a shot at winning the league, they'll have to rely on stellar defense because scoring close to 70 points a night isn't going to happen against the better B1G teams especially on the road. 
Of course, they'll struggle on the glass like they seemingly always do but the trio of Craft, Scott and Smith Jr. patrolling the perimeter just might be enough to hold league foes to an average under 60 or 61 points. 
If Amir can stay out of foul trouble and provide a security blanket around the rim, giving the wings even more freedom to extend both their on-ball pressure and denial of passing lanes, then Ohio State can help out its mediocre offense by creating run-outs at the defensive end of the floor. 
Michigan State Will Win the B1G Regular Season Crown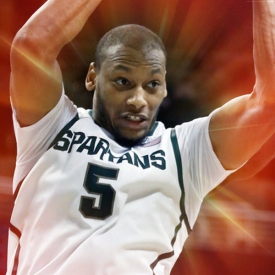 While it wouldn't shock me if Ohio State found a way to win the regular season crown, I think the more likely scenario is that the offense sputters in just enough games for the Buckeyes to finish in a 2nd place tie with Wisconsin or possibly 3rd if the Badgers capitalize on only playing Ohio State and Sparty once each, both at home. 
The Buckeyes do benefit from only having to play Wisconsin once themselves though it's in Madison as part of their toughest back-to-back roadie sequence of the season in which they play at Iowa three nights later. 
The league title could very well be on the line as Ohio State hosts Michigan State to close out the regular season Sunday, March 9th. 
Beyond the potential scoring droughts that could cost the Buckeyes a game or two they didn't expect to lose, I see Adreian Payne as the key reason why the Buckeyes could fall just short of achieving league supremacy. Even with Amir's improvement, the thought of Payne dragging him out top and potentially either scoring over him consistently or getting him in foul trouble feels like it might be too much for Ohio State's offense to overcome. 
That said, even if the Buckeyes don't win the regular season, they'll still be a high seed in the conference tournament and a lock for 3-seed or higher in the Dance. Let's get it on.