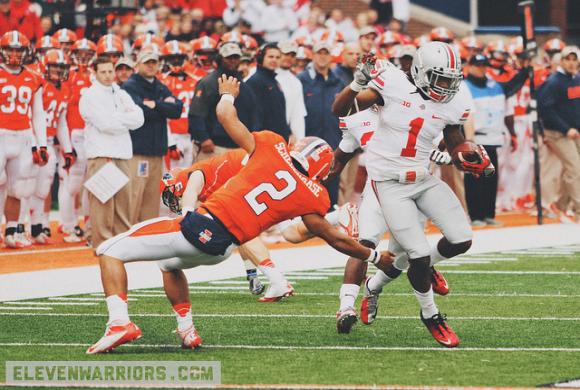 In Clemson's two losses, there was one dominant theme: turnovers. The Tigers turned the ball four times against Florida State and six times against South Carolina. After defeating then-No. 5 Georgia in the season-opener, expectations at Clemson soared. But disaster compounded itself in each loss.
At the Orange Bowl, the Tigers meet an Ohio State team ranked 28th in turnover margin. The Buckeyes have recovered eight fumbles and intercepted 14 passes. In its most recent game, a 31-17 loss at South Carolina, Clemson handed out turnovers as if they were Christmas presents – three fumbles, three interceptions. The Gamecocks ended up with 21 points off turnovers after the Seminoles scored 24 the previous month.
"You sit and preach it, and you coach it, and you talk it all the time. At some point, you've just got to take care of the football," offensive coordinator Chad Morris said.
Redemption could come in several ways Jan. 3. For one, the Tigers could get another marquee win, this time in a bowl game. And not just any bowl, but in the Orange Bowl, the scene of an embarrassing 37-point defeat two years ago. On that night against West Virginia, Clemson committed four turnovers, including a 99-yard fumble return that resulted in a Mountaineer touchdown and a 14-point swing the Tigers never recovered from.
Rest assured, they won't be in the same giving spirit in a week's time.
"When we win the turnover margin, we win. That's just the fact," head coach Dabo Swinney said. "But when we go out there and make critical mistakes and lose that turnover margin, we get beat. We've proven that we're not good enough to beat good teams when we turn it over. That's what we have to get done to have a chance to beat these guys."
The stats prove Swinney correct. Clemson is 32-3 during his career when it's on the plus side of the turnover margin. During the 2013 regular season, the Tigers averaged one turnover in their 10 wins and five in two losses. It was a tale of two seasons.
Clemson only turned the ball over six times in the first six games while forcing 15 turnovers. But the final six games saw 16 turnovers committed and just 11 created. Not surprisingly, both defeats came in the second half of the season.
Junior safety Robert Smith said it's not just the offense at fault, the defense also has to hold up its end of the bargain. When they don't generate turnovers, it puts more pressure on the offense to perform on what's usually a longer field.
"Turnovers can kill any team," Clemson offensive lineman Brandon Thomas said. "You can't win by turning the ball over, and that's what has happened in our losses. Our wounds have been self-inflicted."
That's why Swinney is preaching a message to his team that they're the focal point, not Ohio State. If the Tigers can avoid beating themselves, they're confident a win is probable. But Morris realizes just how difficult a challenge that is because of how sound the Buckeyes have been.
"I think Tajh needs to play well," Morris said. "After coming off of the South Carolina game, I think he needs to play well. He had a great bowl performance last year against LSU. I think he's done a good job to this point. He's a competitor."
Boyd threw two interceptions in both losses this season. He finished his career going 0-4 against South Carolina with five interceptions. His performances versus LSU and Georgia are proof Boyd can be at his best against quality competition, but other games are evidence of his unraveling when the pressure reaches a breaking point.
"You look at the story of what's really wrong, go look at the turnover stat," Boyd said.
He will have one more chance to right a wrong.