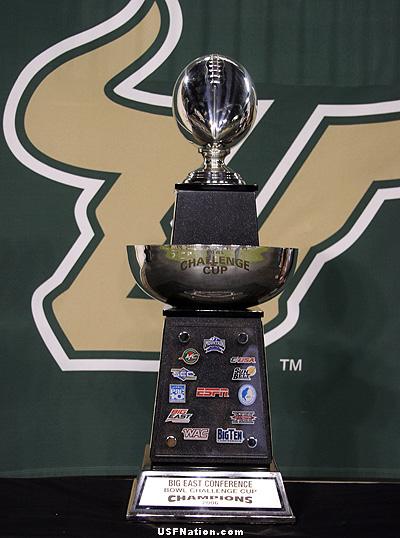 Enter bowl season; enter an underwhelming performance by the Big Ten. Arguably the best football conference of the 1990s, and the winner of the Bowl Challenge Cup in 2002 (Ohio State's national title year), the reputation of the league has taken a well-documented nosedive since Ohio State's loss to Florida in the 2007 BCS National Championship Game.
Subsequent regular season games (e.g. Michigan losing to Appalachian State) and further bowl letdowns have only solidified the Big Ten's status as a mid-tier conference among the BCS leagues.
Can 2013 be any different? In this feature, I give a cursory glance to the six bowl games featuring Big Ten teams, not including Ohio State and its game in the Orange Bowl. I provide a limited preview of what to expect these games, which may not do much, in the broad scheme of things, to cleanse the Big Ten's damaged bowl reputation. Most of the wins for the Big Ten this season may come early into the bowl schedule.
Texas Bowl (Minnesota vs. Syracuse)
Minnesota hopes to conclude one of the better stories of the entire Big Ten season with a bowl game win. Sitting at 8-4 this season, Minnesota returns to the Texas Bowl in which, last season, it debuted its more run-heavy offense complemented by Power O off Maryland I (a personal favorite of the author). That game ended in a close loss to Texas Tech to give Minnesota a losing 6-7 record for the season.
The stakes in 2013 are a little different. Jerry Kill has been celebrated for legendary "year three" turnarounds. Minnesota's turnaround in Kill's third year falls short of similar feats at Northern Illinois and Southern Illinois, but the stakes are still big relative to Minnesota's recent football history. At 8-4 to date, Minnesota is pursuing what would be only its second nine-win season in its last 108 years of football. Minnesota has not won a bowl game since 2004, a 20-16 win against Alabama in the Music City Bowl.
Minnesota is favored (-4) in this game and with good reason. Syracuse's season under first-year head coach Scott Shafer has been uneven. Minnesota's schedule has not been particularly challenging, nor has its wins been all that impressive (all things considered). However, Minnesota passes every look test against Syracuse and holds two victories over mutual opponents (Penn State, Northwestern). Minnesota's win against Penn State, relative to Syracuse's somewhat clumsy loss to the Nittany Lions in Week 1, speaks loudly.
The Texas Bowl will air at 6 p.m. ET, December 27th, on ESPN.
Buffalo Wild Wings Bowl (Michigan vs. Kansas State)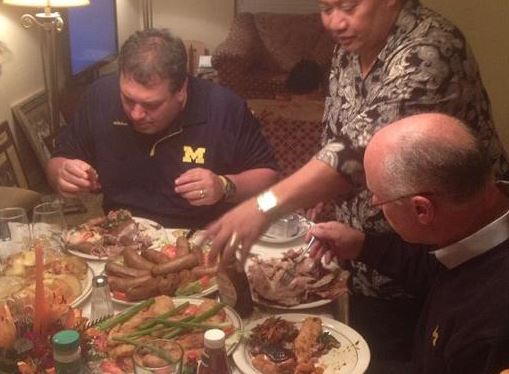 "Little Brother" is going to Southern California for the holidays and will drop off "Big Brother" in Tempe while en route. I know Michigan State gave us a thumping in the Big Ten Championship Game to get the Rose Bowl bid outright, but I feel some level of happiness for Sparty knowing how much its fans must be loving this turn of events.
Both Michigan and Kansas State are 7-5 entering this contest. We've seen how lousy Michigan can be at its worst. At its best, it can beat the likes of Notre Dame and raise hell for an undefeated Ohio State team. At its worst, it should have lost to both Akron and Connecticut.
With that in mind, it still feels almost incomprehensible that Kansas State is actually favored this game (-3.5). For as bad as Michigan is, I'll take an underachieving power team from the Big Ten over a mid-level team from the Big XII almost nine times of ten. Further, Kansas State, not Michigan, has a loss to an FCS team on its record for 2013.
Kansas State as Buffalo Wild Wings Bowl favorite may be a function of the status of Devin Gardner, who nearly crumpled to pieces at the end of the regular season finale against Ohio State. Gardner will not play in the Buffalo Wild Wings Bowl. Shane Morris, a true freshman, will start in his place.
While I'm still inclined to select Michigan to win this contest, a true freshman quarterback in Al Borges' offense should be candy for Kansas State's secondary. For its various flaws, Kansas State's defense is presentable, especially in the back four. Safety Ty Zimmerman was a preseason All-American. Zimmerman missed the final two games of the season but should return to action against the Wolverines.
The Buffalo Wild Wings Bowl will air at 10:15 p.m. ET, December 28th, on ESPN.
Gator Bowl (Nebraska vs. Georgia)​
This might be the dumbest Big Ten bowl game of the season. This is no small statement, considering the Buffalo Wild Wings Bowl is a thing that exists.
Nebraska and Georgia will meet for the second consecutive season on January 1. However, this is not the Capital One Bowl from last year, the marquee Big Ten-SEC bowl game. Nor, for that matter, will either team be playing because it has "much to prove". Really, I think both teams just want this awful season to be over. The Gator Bowl announcement was met with an audible groan from both fan bases, and I think both Mark Richt and Bo Pelini, as well.
Both teams sit at 8-4 with a slew of injuries and colossal disappointments highlighting its 2013 season in retrospect. Nebraska's four losses have been total meltdowns, which have led to considerable intrigue over whether Bo Pelini would be fired in a season that features head coaching vacancies at places like Southern California and Texas. Four-year starting quarterback Taylor Martinez has been oft-injured and will likely not play this game.
Georgia sits at 8-4 and its season was almost over after it started. The loss at Clemson put Georgia behind the 8-ball as it hoped to follow last season, in which it was one goal line play removed from a trip to the national championship game, with a national championship for a talented and veteran squad. Subsequent losses against Missouri, at Vanderbilt, and at Auburn were all soul-crushing. It too will be without starting quarterback, Aaron Murray, who tore his ACL on senior day against Kentucky.
As cliché as it is to say, the figurative "want to be there" may play a role in this game. The mismatch between Georgia's offense and Nebraska's woeful defense may also play a role. Georgia has scored 183 points in its last four games. Nebraska's defense is improved from last year, but still prone to deep cuts.
Georgia is listed as the favorite (-9) in this game. I think it covers comfortably.
The Gator Bowl kicks off at noon ET on ESPN 2 on New Year's Day.
Outback Bowl (Iowa vs. LSU)​
Maybe I should not be as intrigued by this game, given how sizable a favorite that Louisiana State is (-7). Perhaps memories of the 2005 Capital One Bowl are shaping my expectations for Iowa in this bowl game. That said, I think Iowa has a good shot in this one.
Iowa's team can still be given to fits of mediocrity, and outright stupid. I still don't think the loss to Northern Illinois to begin the season can be considered a "good loss". Further, it was mauled in its own place by Wisconsin and needed to bank on Michigan being a dumber team than it on Iowa's Senior Day.
At 8-4, though, Iowa's offense is at least back on track. Ferentz will still punt on 4th and 4 inside the opponent's 40-yard line. There will still be three-yard outs on 3rd and 7. Nonetheless, the overall quality has significantly improved from last year's admittedly basement-level benchmark. Iowa's offense in 2013 looks like what I would expect from someone as credentialed as Kirk Ferentz, warts and all.
That said, LSU is a touchdown favorite in this contest despite throwing a true freshman quarterback to the wolves against the country's seventh-ranked total defense. Zach Mettenberger will miss this game after suffering a knee injury late in November. Anthony Jennings will get the start in Tampa.
So, why isn't Iowa even a favorite this game, let alone a touchdown underdog? I wonder if Iowa's loss at Ohio State this season is shaping expectations for Iowa's Outback Bowl fate. Iowa's offense did a lot of damage to Ohio State's defense. For all its glory the past two years, LSU's defense in 2013 falls well short of its yearly expectations.
However, LSU's offense has overpowered the competition most of the time. Likewise, Ohio State used its athletic prowess on offense to run Iowa's defense off the field in the October meeting in Ohio Stadium. I think that might be the expectation for the Outback Bowl.
Does that merit Iowa being a touchdown underdog against a true freshman quarterback on a team coached by Les Miles? I'm not convinced. LSU may win, but not by a touchdown or more.
The Outback Bowl starts at 1 p.m. ET on ESPN on New Year's Day.
Capital One Bowl (Wisconsin vs. South Carolina)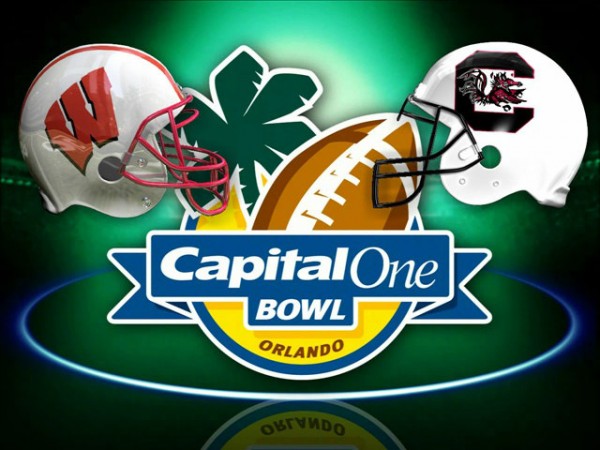 The Big Ten is actually favored (Wisconsin, -1.5) in the highest profile Big Ten-SEC bowl game. The Big Ten has some Vegas bragging rights.
That Wisconsin slid to the Capital One Bowl is a little surprising. The common assumption midway through November was that Wisconsin, not Ohio State, would be the trendy at-large Big Ten selection to the Orange Bowl, ostensibly to play the same Clemson team that Ohio State will play.
The assumption was built on Ohio State winning the Big Ten Championship Game, but being frozen from the BCS National Championship Game by Alabama and Florida State. Neither scenario materialized and Ohio State took the Orange Bowl bid with Michigan State en route to the Rose Bowl.
Further, Wisconsin torpedoed its chances at a BCS at-large selection when it lost on Senior Day to Penn State. The manner by which it lost was eye-opening too. The no. 6 total defense (and no. 12 passing defense), Wisconsin was lit up by Penn State's true freshman phenom quarterback. Christian Hackenberg finished with 339 passing yards and four touchdowns to zero interceptions. Zach Zwinak, more infamous for his fumbles this season than his rushing, had 115 yards on 22 carries.
With that in mind, why is 9-3 and BCS no. 19 Wisconsin a favorite over 10-2 and BCS no. 9 South Carolina of the mighty SEC? Is it defense and the universal regard for Chris Borland? Wisconsin may be no. 6 in total defense, but South Carolina is no. 18. It's a difference 55 yards per game.
Is it how meek South Carolina's offense has been under Connor Shaw, or how disappointing megastar Jadeveon Clowney has been? We could probably excuse South Carolina for playing tougher competition than Wisconsin, if we wanted to go down that road.
The Capital One Bowl, which I still want with all my heart to call the "Citrus Bowl", starts at 1 p.m. ET on New Year's Day. It will be shown on ABC.
Rose Bowl (Michigan State vs. Stanford)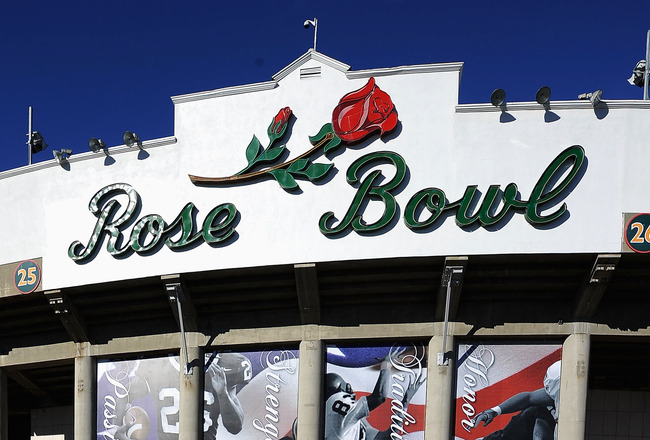 Michigan State earned its first trip to the Rose Bowl since the 1987 season with a convincing performance against previously undefeated and BCS no. 2 Ohio State, overwhelming (and regrettably confusing) Ohio State's defense with misdirection and play-action. Defensively, its secondary smothered Ohio State's wide receivers, imposing the vaunted "no-fly zone" that allowed for several coverage sacks for Michigan State's front seven.
Its prize? The defending Rose Bowl champion Stanford Cardinal, the BCS no. 5 team in college football.
The fulfillment of a perhaps farfetched promise Dantonio had been making to Michigan State's players and recruits for the past several years, I'm some what pessimistic about Michigan State's chances this game. Despite having one more loss on the season than Michigan State, and both to unranked teams (the Utah loss was particularly bad), Stanford is a six-point favorite in Vegas.
I'm inclined to agree, which I'm sure will incite a few Michigan State fans. While I don't discount how devastating Michigan State's secondary was to Ohio State's offense, as led by Darqueze Dennard (the Thorpe Award winner), Ohio State still reached 273 rushing yards in the game.
In fact, it scored 24 unanswered on the best defense in college football, an honor for Michigan State that I do not contest (and will in fact loudly champion). That nation's best defense will also be without Max Bullough in this contest.
The difference for Michigan State was not its defense, but Ohio State's defense. Michigan State's offense caught Ohio State's defense in such monumental, and basic, errors that should not ensnare Stanford's defense.
You will not see Ed Reynolds, the All-American safety for Stanford, making the same type of mistake that Corey Brown made in the Big Ten Championship Game, which allowed for Michigan State's first touchdown in that contest.
I share in Vegas' optimism for Stanford this game. It may be a game that Stanford pummels Michigan State without such a pummeling truly manifesting in the scoreboard. I expect Stanford to repeat as Rose Bowl champion for the first time since 1971. The Big Ten may still be searching for just its second Rose Bowl win in ten tries since 2001.