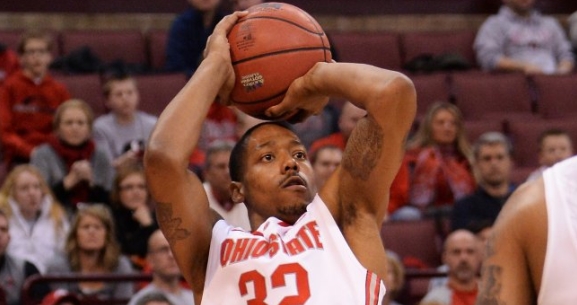 On a neutral court, trailing by eight at 58-50 with just 51 precious seconds left in regulation, Ohio State's unblemished record was primed to show off a shiny new pimple. 
The offense had long been stagnant against Notre Dame's zone defense – even going over nine minutes without a field goal at one point – and the frustrations at that end of the floor seemingly spilled over into a defensive effort that was busy surrendering an 11-1 Irish blitz. 
But then a funny thing happened on the way to the loss column. 
Lenzelle Smith Jr., Ohio State's leading scorer who had yet to score on the evening thanks to 0/4 shooting with two turnovers in 28 loss-feeding minutes, flipped the switch in a big way scoring nine points in 45 seconds on 5/5 from the line and 2/2 from the field with a both a huge rebound and crucial steal. 
With Smith Jr. taking over the role of Mr. Clutch – on this night, anyway – Ohio State was able to squeak out  a gutty 64-61 victory and remain unbeaten at a perfect 12-0.
So just how did Smith Jr. finally awake and take control of the game? Let's take a look at Lenzelle's freakishly active last minute of action which helped ensure the Buckeyes would remain unbeaten with just one non-conference game left before conference play begins. 
After a LaQuinton Ross bucket trimmed the Irish lead to 58-52, Smith Jr. was in the right place at the right time as he scooped up a loose ball at the top of the key created by a Ross and Shannon Scott double team. Smartly, Smith Jr. faked a pass to Ross and immediately drove the lane, splitting no less than three Irish, cutting the deficit to 58-54 with :43 to play. 
Scott would come up with another steal and two free throws three seconds later, but Notre Dame's Demetrius Jackson hit two free throws of his own, pushing the margin to 60-56 with :39 left and once again setting the stage for Smith Jr. 
With Ohio State racing up court looking for a triple, Lenzelle took a pass from Scott on the wing, shot faked his man in the air and got off a good look at a three, forcing Pat Cannaughton to foul. Well, maybe Cannaughton wasn't forced to foul but it was a smart play by Smith Jr. to not panic and ensure he got a good look at the rim and flashing a senior's savvy, he calmly buried all three free throws cutting the deficit to 60-59 with just 32 ticks left. 
Still forced to foul, Ohio State sent Irish freshman Steve Vasturia – a kid who had logged exactly 10 minutes over the last six games – to the line. With the stars aligned, Vasturia clanged the front end of the one-and-one and right on cue, Smith Jr. was there to corral the precious rebound.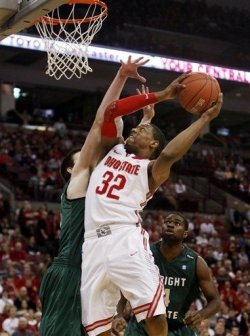 With the scoreboard still showing Ohio State down a point and without the benefit of a timeout to set up a play and just :30 left to preserve an undefeated start, Aaron Craft raced up court and into the lane. Smith Jr., creating some space for Craft, initially set up shop behind the three-point line in the left corner but as Craft made his move forcing the defense to converge, Lenzelle again showed a strong basketball IQ, abandoning an unnecessary lower percentage shot from distance and instead knifed down the baseline.
Craft, another senior who is built for these moments, saw Smith Jr. flash to the low block, hit him with bounce pass and Smith Jr. converted an easy deuce giving Ohio State a 61-60 lead with :16 to play - their first since 43-42 with 11 minutes left in regulation. 
Now playing with the lead, the game was still very much in doubt as Notre Dame's Jerian Grant hurriedly took the ball up the left side of the court. With Craft shadowing Grant, Smith Jr. stuck to his man in the corner until Grant made a move for the lane. Coming off his man, Smith Jr. reached in and jarred the ball loose which Craft then tapped off Grant's knee and out of bounds for the turnover. 
Of course, Craft got the love on ESPN for the play but it was Smith Jr. who first knocked the ball loose with a fantastic defensive effort. 
Forced to foul, Notre Dame sent Smith Jr. to the stripe and he promptly buried both giving the Buckeyes a 63-60 lead with :09 left on the clock. 
The teams would trade a made free throw apiece before Ohio State would successfully defend a desperation three to escape the Garden with a perfect record still intact.
It was truly a gritty performance by Smith Jr. under any circumstance but especially when you consider how bad he was to that point. To calmly drop in free throw after free throw, to make such a great read on Craft's drive and to continue playing such strong defense reeks of mental toughness and senior leadership. 
What's interesting is that as much as Smith Jr's final minute heroics were responsible for the win, it was his play during his previous 28 minutes of action that were even more telling in that the Buckeyes struggled to make up for his lack of scoring and the Irish defense was able to swarm Ross with an even greater focus. 
Yes, Amir Williams and Shannon Scott offered a sliver of help in picking up the offensive slack for Ohio State's current leading scorer, outpacing their average production by a combined five points, but the look of Ohio State's offense against an Irish outfit playing a ton of 2-3 zone was completely different without Lenzelle providing a scoring threat. Not only did Ross have fewer good looks with the defense focused primarily on stopping him but it put more pressure on Ohio State's middle-tier offensive threats. 
Amir just missed a season high in field goal attempts with 10 but that may not be the best plan B once conference play begins. Further, without Smith Jr.'s ability to stretch the defense in play, Scott took it upon himself to take seven of his eight field goal attempts from distance and more often than not, that won't be a winning formula. 
It's not likely Ohio State can consistently overcome bad nights from Smith Jr. against decent teams and even less likely he'll go on a scoring binge in the closing minutes like last night in the Garden so it's paramount the senior finds a way to get to the line and make defenses still account for him on nights when he doesn't have it going because this year, whether it's a bit of a stretch or not, he has to be a consistent top two scorer for the Buckeyes to have a chance at the B1G title and March success.