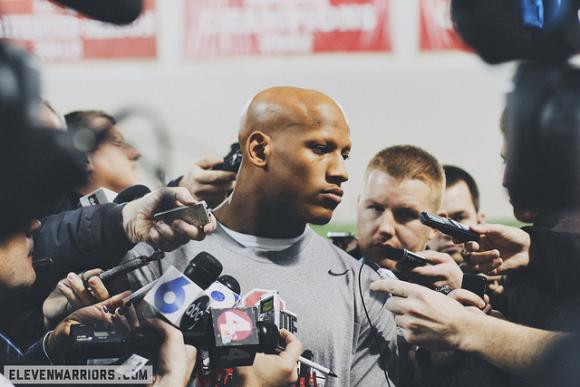 On January 3rd, Ohio State's two junior team captains will lead the team in the Orange Bowl. Thirteen days later, they have a career-altering decision to make: will they stay for a senior season, or will they go pro?
Both are surefire draft picks, and both are undecided. Ryan Shazier has said he is leaning toward staying, and Braxton Miller has said he's getting tired of taking hits. There is a third junior, Bradley Roby, but he has already declared that he will enter the draft, which puts him out of the question.
It's important for 2014 and the program's near future to know which they'll choose, and the Orange Bowl will likely answer that question.
THE TIPPING POINT
If a junior is interested in the draft but unsure how he would do in the draft, he can send paperwork to the NFL Draft Advisory Board, which exists to advise players on where they would be drafted. The board responds with an advisory opinion with ranges of where the player would be picked: in the first round, as high as the second round, as high as the third round, after the third round, not at all, or somewhere in between.
A good rule of thumb for juniors is that if they are guaranteed to be picked in the first four rounds of the draft, the draft is a good option. If they are below that, it's better to come back for a senior season and develop more.
Miller and Shazier are potential draft picks, but not guaranteed first-rounders; if they want to leave for the NFL, they can use every boost they can get. To understand how the bowl game can hurt or help them, they can look at how previous Buckeyes were affected by their bowl games.
PRECEDENT
Since 2006, twelve Buckeyes have entered the NFL Draft before their senior season. Every early entry was drafted, and all but one played in a bowl game. Here's the lucky dozen:
| Year | Name | Draft Position |
| --- | --- | --- |
| 2006 | Donte Whitner | 1st round, pick 8 |
| 2006 | Santonio Holmes | 1st round, pick 25 |
| 2006 | Ashton Youboty | 3rd round, pick 70 |
| 2007 | Ted Ginn, Jr. | 1st round, pick 9 |
| 2007 | Anthony Gonzalez | 1st round, pick 32 |
| 2007 | Antonio Pittman | 4th round, pick 107 |
| 2008 | Vernon Gholston | 1st round, pick 6 |
| 2009 | Chris "Beanie" Wells | 1st round, pick 31 |
| 2009 | Donald Washington | 4th round, pick 102 |
| 2009 | Brian Hartline | 4th round, pick 108 |
| 2010 | Thaddeus Gibson | 4th round, pick 116 |
| 2013 | Johnanthan Hankins | 2nd round, pick 49 |
There's a noticeable gap in 2011-2012 where no Ohio State juniors declared for the draft. If not for Tatgate, several players would have declared in 2011. Nevertheless, early entries have dropped off in recent years for Ohio State, an unusual trend since the overall number of early entries is growing. Jim Tressel had a history of encouraging first round draft picks to leave; perhaps that was less important in Meyer's first year.
Ohio State was a wide receiver factory in the Tressel era, as evinced by the four wideouts who left early. Whitner and Washington are safeties, Youboty is a cornerback, Pittman and Wells are running backs, Gibson and Gholston are defensive ends, and Hankins is a defensive tackle.
Unfortunately, none of these players were linebackers or quarterbacks. Shazier would be Ohio State's first junior linebacker to enter the draft since Andy Katzenmoyer, and Miller has no precedent.
QUALITY OF PLAY
Whether a player was great (Holmes, Ginn, Gibson), adequate (Whitner, Youboty, Pittman, Wells, Gholston), or terrible (Gonzalez, Hartline, Washington) in the bowl game, his play had little to no bearing on his draft position.
The great players dazzled. Santonio Holmes torched Notre Dame like no other on a fantastic 85-yard bomb; Ted Ginn started the 2007 BCS National Championship Game – ugh – with a 90 yard kickoff return to give OSU its only lead before Ray Small Roy Hall decided giving him a high ankle sprain would be fun. To round out the great performances, Thaddeus Gibson was part of a unit that was supposed to lay down for Oregon's big, bad offense in the 2010 Rose Bowl and joined the defensive line in stuffing the Ducks all day.
As for adequate performers, start with Whitner and Youboty, who blended into the background as they contained Brady Quinn for mostly harmless completions all day. Pittman would have the only decent game against Florida on the team, with 10 carries for 62 yards, and Wells had a similarly decent 16 carries for 106 yards. And although Vernon Gholston was hit-and-miss his entire career, he was at his most consistent in 2007. He had no major stats against LSU, but helped to limit LSU to 3.1 yards per carry and keep OSU in the game. It was only in the NFL that he would begin to disappoint.
A select few Buckeyes had terrible bowl games. Against Florida, Anthony Gonzalez was Troy Smith's primary receiver when Ginn left the game and could only come up with two catches for 11 yards. Brian Hartline was angry about the quarterback situation and responded with a goose egg in the 2009 Fiesta Bowl, yet he still stood out more in that game than Donald Washington, one of the less memorable starters to come through Columbus.
One would think that the players who played great games would be drafted earlier, but that is not the case: their draft performance was the same as the players who were adequate, and those who played poorly were only trailing by a little. The sample size is too small, with too little variance, to make that distinction. Whether Miller and Shazier play well or poorly, that is no indicator of where they would go in the draft.
THE RETURNEES
The twelve early entries are a minority compared to those who stayed. Since 2006, at least seventeen Buckeyes who explored entering the draft returned for their senior season. This includes James Laurinaitis, Marcus Freeman, Alex Boone, Malcolm Jenkins, Brian Robiskie, Kurt Coleman, Jake Ballard, Chimdi Chekwa, Cameron Heyward, DeVier Posey, Boom Herron, and Mike Adams.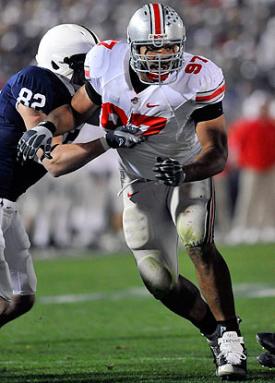 For players who chose to return for their senior year, the results have more variety. Thirteen of eighteen were drafted, and nine of eighteen were drafted in the fourth round or higher.
Cameron Heyward dominated in the Rose Bowl, came back for his senior year, dominated Arkansas in the Sugar Bowl and ended up a first round pick. He had the same result in both years, but the second bowl is what built him into a first round player. Youboty in particular fits the pattern of a player who everyone thought would be a first-rounder with another year at Ohio State. Had he stayed, Youboty might have been a first-rounder and not a third-rounder.
For some, their bowl game performance didn't help.  Jake Ballard's incredible catch in the Rose Bowl led many to believe he would be in demand, but he went undrafted.
Here's a likely explanation for the difference, though: bowl games are one of a few dozen games in a player's career, and the exhibition nature of the contests can skew the player's performance. Miller and Shazier could improve or hurt their draft stock depending on how they play, but it would be like a few points of extra credit bumping a student from a B+ to an A- or vice versa.
UNFINISHED BUSINESS
If they receive a fourth round or better grade from the NFL Draft Advisory Board, Miller and Shazier will have to decide if they want to stay or go. Here is the best way to tell which they're doing: how emotionally invested in the Orange Bowl are they?
There are two schools of thought on this, one being team-oriented and one being player-oriented. Here is Chimdi Chekwa on his decision to return for his senior season in 2010:
"I prayed about this decision and talked about it with my parents, and I know this is the right decision for me," Chekwa said in a statement. "I am looking forward to being a leader on what can be a very special defense for the Buckeyes. After the Rose Bowl win, we are working toward accomplishing more great things, including another Big Ten title and a run at the national championship."
In contrast to Chekwa is Anthony Gonzalez, who explained during his announcement that he would enter the draft in 2007 that isn't affected by bowl results:
"Basically, the best-case scenario of leaving would be maybe you sneak into the first round. The worst-case scenario, maybe you fall down some draft boards. Am I OK with the worst-case scenario there? Yes, I guess I am," he said. "The reality of the game of football is the worst-case scenario is I could show up the first day of spring ball and something terrible could happen and I may never be able to play this game and fulfill all the dreams that I wanted to," he said.

Gonzalez said the 41-14 loss on Monday to Florida in the national championship game did not affect his decision. He also said it did not matter whether other teammates in his class were coming back.

"It came down to whether I felt I was ready and whether this was the right thing to do," said Gonzalez, who had two catches -- half of Ohio State's meager total -- for 11 yards in the game in Glendale, Ariz.
We know Braxton Miller will decide after the Orange Bowl, and assume Shazier would do the same. If it doesn't affect them much, they're probably gone; if they react strongly, win or lose, they'll be Buckeyes in 2014.