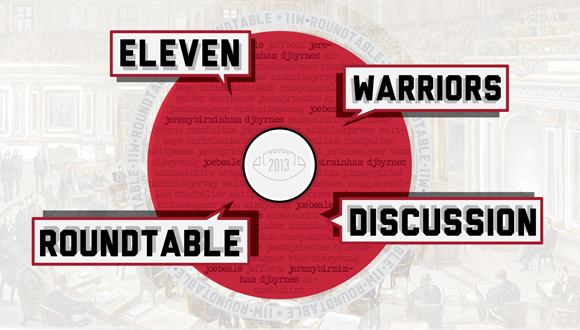 Hopefully you're in a good place on the grief spectrum after last weekend's loss. Gear up Buckeye Nation because the game against Clemson is gonna set the tone for the 2014 season. Pull yourself up by your bootstraps and get on board. This week we've got Joe, Jeremy and DJ to get you through it.
Hit it.
The game against Clemson is set. What's your initial reaction to the matchup?
Joe: My initial reaction is that it's not a particularly good matchup for where this team is right now. They are absolutely reeling on defense and Clemson presents all sorts of problems for a team that cannot defend the pass. On the other hand, Clemson probably will not be able to stop the OSU attack, and so the real challenge will be to get some turnovers so that they can win the possession game.
Jeremy: I think this is a great matchup for Ohio State, for Clemson and most importantly, for the fans. There will be a ton of offense, exciting players across the field with Tahj Boyd, Sammy Watkins, Braxton Miller, Carlos Hyde and we should get one of the bowl season's most explosive games.
It's also a huge game for Ohio State's perception nationally. I know I risk sounding a bit dramatic, but the Buckeyes have to win this game.
DJ: Ugh. I'm still not very high on it. It's a classic lose/lose for Ohio State. Beat Clemson, and it's just beating a two-loss ACC team. Lose and it's the haterz drinking Chardonnay over Ohio State's broken corpse on Twitter. Like I said: ugh.
The pass defense is this team's achilles heel. What changes if any can be made before facing Tajh Boyd and Sammy Watkins?
DJ: One thing that will help: the Buckeyes should have Christian Bryant back for the bowl game. Quarterbacks will have to go a little further on their reads than "the guy that's being covered by Pittsburgh Brown." The defense hasn't improved basically in the last two years, so I'm just hoping they don't get pillaged by Sammy Watkins — easily the best receiver they've seen this year.
Jeremy: The changes that have to be made are, unfortunately, unlikely to be made in three and a half weeks. Ohio State's issues on defense are not as simple and "switch X for O, rinse and repeat." What I'd like to see however, whether it helps or not, is a decision by the coaching staff to give Vonn Bell and Cameron Burrows a bit more run on defense. Let the young guys who've not been redshirting cut their teeth against one of the nation's best offenses in the country. It can't be worse than what we've seen from Corey Brown since he's taken over for Christian Bryant, can it?
Other than that, the other switch that can be made is the decision to consistently pressure Boyd. Bring. The. Heat.
Joe: The first thing to do is decide on what these guys do well, and then modify the scheme to fit those strengths. It also might be a good time to experiment with Tyvis Powell as the starting safety and Pitt Brown as the nickel back, which is what he was playing before Christian Bryant got hurt. It would be nice to have Bryant back, but in lieu of that I think there's nothing to lose by trying someone else in that spot.
Braxton Miller has already hinted at staying for his senior season. Will Ryan Shazier stay as well? Why or why not?
Jeremy: I've felt, like most have, that Shazier was going to be NFL-bound after this season for a while, and I still feel that way. While I do think he'd benefit from another year in college (and Ohio State certainly would benefit as well,) he's a likely first-round selection in the NFL draft and that's pretty darn tough to pass up. Shazier's been Ohio State's best defensive player all year long, and we'll see him go out with a bang playing in front of his home state during the Orange Bowl.
DJ: No. I have already written Shazier off. He has nothing to gain by posting another 100-tackle season in the mediocre Big Ten. He's undersized for an NFL linebacker but the guy can flat out play. He's had my respect since he basically played The Game in 2011 on one leg. He'll definitely prove a lot of people wrong next year. (I'd love to be wrong about him going pro, obviously.)
Joe: Probably not. It will depend on where he is projected in the draft and what his personal financial situation is. Right now CBS Sports has him projected at #18 overall, so if that holds up I believe he will go.
What coaching changes if any need to be made in the offseason to ensure continued success on the banks of the Olentangy?
Joe: A good hard look at the defensive coordinators would be a healthy start. If Luke Fickell gets the Bowling Green job, that makes it easier. One thing Meyer could do is make Fickell the linebackers coach full-time and make Withers the sole coordinator. That would at least put the onus on one person to come up with a plan, and I think we are more likely to see consistency and confidence that way.
DJ: Gosh, I don't even want to speculate on this. Basically: In Urban I trust.
Jeremy: I don't think it's fair to single out any individual coaching changes that "need" to happen. It's obvious that there's some issues within the Buckeye defense, but it's not as simple as just changing coaching personnel, and even if it is, the guys giving their life for the Scarlet and Gray deserve a bit better than rampant speculation and posturing. What has to happen first and foremost is a change by Ohio State in defensive attitude and aggression. That can happen no matter who is coaching. Change the system, if that requires changing coaches, so be it.
What has happened to the passing game over the past month?
DJ: Well, they played Michigan State for starters. I also think the lack of having a go-to beast at WR has hurt as well. Ohio State's receivers are excellent blockers, but the corps struggled at times this year getting separation. Having Sammy Watkins could have been pretty cool.
Jeremy: Looking back over the last month, it is tough to see anything but serious regression in the passing game, and Braxton Miller's accuracy. Some of it can be attributed to the changing weather of course, some to injuries (Philly Brown has been hurt a bit more than people know) and some of it can be attributed to play-calling. Ohio State has, for lack of a better term, gotten too "cute."  If you look back to the Penn State game, you saw a Buckeye offense that gave Miller a chance early and often to get confident, to feel out a defense, and then took shots deep when they were open. The last month has been "run, run, run, throw deep," and it's not working because Miller needs to get comfortable in the game before he's accurate deep.
Joe: It's hard to say. If I had to guess, I would say that Miller's confidence has been shaken. It may have started against Michigan when the coaches tapered the gameplan because the running game had been more effective. Something like that can get in the back of a quarterback's head. More than anything else, it was probably the pressure of the winning streak and the normal pressure that accompanies an undefeated season.
Other than the Orange Bowl, what bowl matchup intrigues you the most? Why?
Joe: I'm really looking forward to seeing Wisconsin against South Carolina. I want to see how the Badgers respond to being upset by Penn State, a game they might well have already counted as a win beforehand. South Carolina is not a perfect team but they play with tenacity. Honorable mention is LSU vs. Iowa. I love the history in that series and I'm looking forward to that one as well.
Jeremy: I love the Michigan State and Stanford Rose Bowl. It's two teams that are almost identical in style and attitude and they'll go toe-to-toe for 60 good minutes. It's another big game for the Big Ten as it hopes to remove the "stink" it has been dealt with all year. I guess I am just a Midwest guy who loves power football.
DJ: Auburn vs. Florida State. Have absolutely no clue what to expect. Am I cheering for Auburn? Hell, I might be. Nick Saban obviously thinks FSU is going to stomp them because he wanted them in the title game so he can steal their recruits. I have no idea how good Florida State is outside of Jameis Winston and that Benjamin bro who the Browns could totally draft.
HYPOTHETICAL ALERT: If Ohio State beats Clemson and Michigan State beats Stanford are we still dealing with a "weak B1G" narrative heading into the 2014 season? Why or why not?
Jeremy: I think most people will concede (if they take off their ESPN-colored glasses) that Ohio State and Michigan State are good football teams. Sparty has proven their toughness, the Buckeyes have not. Ohio State needs to win the Orange Bowl. Michigan State needs to play their game against Stanford and play it tight, win or lose, they've gained themselves respect. The conference's reputation falls more on the middle teams like Nebraska, Iowa, Wisconsin, Minnesota and Michigan need to go out and win games in this bowl season. 
DJ: Yes, because it's still a two-loss Stanford and Clemson. I don't think the B1G will be respected until someone wins the title. 
Joe: Not at all. I think the matchups are a bit more favorable for the B1G this season, and we might see something similar to what we saw in 2009, which stopped "the narrative" for a brief time.
Chances are Urban Meyer will have to replace an assistant or two who leave for head coaching gigs. Who would you love to see Urban bring on? Dream big.
DJ: I would love to see Will Muschamp hired as a defensive coordinator, because the open loathing between he and Urban Meyer would be great theatre. It'd be the college version of Mike Ditka-Buddy Ryan. If Drayton goes to FAU: bring on Maurice "the Beast" Clarett. 
Joe: Last year Lovie Smith was fired as head coach of the Chicago Bears. He's a former Ohio State assistant, and a top-notch defensive coach. Why can't we bring him back to Columbus to be defensive coordinator if Fickell leaves for Bowling Green? Smith is only 55, which makes him 9 years younger than Greg Mattison. Michigan had to lure Mattison away from the Baltimore Ravens, but Smith is not currently coaching in the NFL. I can't think of a better place for him to get back into the grind.
Jeremy: If we're dreaming real, stupid big here, then my "dream" would be this scenario: Nick Saban takes the job at Texas. Kirby Smart is not offered the head coaching job at Alabama, and new Bama head coach wants to bring in his own guys, so Smart becomes a free agent. Buckeyes bring on Kirby Smart to run their defense. #Dream
Do you think Ohio State could have beaten Florida State? Be honest.
Joe: Not the way they're playing defense right now. The championship game is played later, and so they would have a bit more preparation time, and Winston will be away from the team a lot making the rounds that a Heisman Trophy winner has to make. It might hurt their continuity a bit. In the end, we would need FSU to get really full of themselves, along the lines of the 1986 and 2002 Miami teams. An FSU team that is completely dialed-in and ready for the game would be too much for Ohio State, I believe.
Jeremy: I think Ohio State could beat anyone in the country. I know Florida State has wiped the floor with everyone they've played all year, and for that they deserve serious kudos, but they are by no means unbeatable. Jameis Winston, as good as he's been, is prone to a bad decision or two every game, and Ohio State's offense is good enough to capitalize on mistakes when the defense forces them. I do think Florida State's defense is underrated nationally, and they'd present similar struggles for Ohio State's passing game, but the game would be close, within a score either way.
DJ: Jameis Winston would probably face a few assault charges afterwards with what he'd have likely done to our defense. However, Carlos Hyde could have been a cell-mate because I don't think even FSU could have stopped him. I'd also have liked Urban Meyer to have a month of shoving his team's nose in the nation's disrespect for them. **Has flashback to title game in 2007 like a veteran of the Tet offensive**
I wouldn't have talked shit going into the game, but I'd have rolled with our chances. Alas, we'll never know.