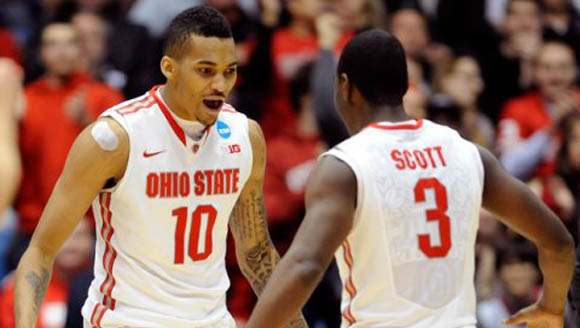 When the initial college basketball rankings were released in October and Ohio State was ranked 10th by the coaches and 11th in the AP poll, there were already murmurs of the o-word – overrated. Now the season has stretched into December and, lo and behold, the Buckeyes have climbed all the way to second and third, respectively. It's quite a leap for a team that still attracts many doubters.
After Wednesday night's 86-48 win over Bryant, Ohio State sits at 9-0 and is on its way to 13-0 unless Notre Dame trips them up at Madison Square Garden. Head coach Thad Matta thought his team might be able to go unnoticed for much of the season, but that hope has evaporated. The Buckeyes are now the top-ranked team in the Big Ten and with Michigan State and Michigan's struggles, they are perhaps the team to beat in the conference.
That circle on the front of Ohio State's jersey is not an "O" but instead a bull's-eye.
"For me personally, I think we ignore it," senior guard Lenzelle Smith Jr. said. "At this point, I think it's still early. Teams are still trying to find themselves and find their identity and find who they are. I just think we need to focus on us and keep chugging away and trying to become a better basketball team each time we step on the court."
A majority of the victories haven't come against top-flight competition, though Marquette, Ohio University, Wyoming and Maryland are all postseason-caliber opponents. The win at Marquette was particularly telling. Ohio State flexed its defensive muscle by limiting the Golden Eagles to 35 points – 19 in the first half, 16 in the second – and a 19 percent shooting percentage. Marquette made 10 field goals and just one of 18 three-point attempts.
But the Buckeyes are now having their most successful offensive stretch in five seasons. And they've already won three games by more than 30 points. It helps when the player who was supposed to lead the scoring effort finally breaks out of what was a season-long slump. 
LaQuinton Ross has scored 69 points in the past four games, including 43 in two games last week, earning him Big Ten player of the week honors. How Ross goes so go the Buckeyes. While he made only 10 shot attempts in the first five games, Ohio State shot less than 40 percent from the field. Since his stroke reappeared, the Buckeyes are converting a robust 57 percent of their shots.
"I think him being a threat of shooting the ball the way he is right now, the percentage he is shooting, definitely is opening things up," Matta said. "You've got to have a little bit more awareness of where he is, and the quick ball reversals seem to create more because he is pulling away from the bucket."
Smith has been the biggest beneficiary so far. His point output over the past five games reads: 20, 10, 12, 17, 19. Matta opted for the term "complete basketball player" to describe Smith's recent rise.
"I think the more people we can have giving us a balanced scoring threat on the court just makes it easier for everyone else," Smith said. "It just takes a little pressure offensively off a couple guys' minds."
As becomes a yearly trend, Ohio State is finding out it's name and ranking carries cachet. But they get each opponent's best shot as they carry hopes of notching a signature win. Matta's hope is it has the same effect on his team. Added incentive can sometimes be the difference between winning and losing.
"No. 2 brings a lot of pressure," Smith said. "Obviously we know just being an Ohio State Buckeye we already know that we have a target on us every time we step on the court. But definitely becoming No. 2 or whatever spot you're at, teams want to knock you off. It's more motivation for your opponent so you have to step your game up and match their intensity. You can't take days off."
From the looks of the statistics, that hasn't been an issue for the Buckeye coaching staff. Points, assists, steals and even rebounds have soared. Ohio State is now entering the end of an eight-game home stand. A trip to New York will conclude the schedule before a week off for the holidays. The lull between games is what worries Matta.
He preaches that teams either get worse or get better during the off period. Matta welcomes the former. Strengths and weaknesses overflow, but continued growth comes with a sustained effort. 
"You go into the game, you come out of the game, you get a rest, you come back in you should have more energy than when you left the game," Matta said. "I think we've shown some signs this year of having some possessions that are really, really good both offensively and defensively and striving for that. Never asking our guys to play perfect, I know we're going to make mistakes, I know we're not going to make every shot but just continuing to develop a mindset of every single possession we want something positive to happen."
At 9-0 and ranked in the top five, almost everything for the Basketball Buckeyes contains flashes of optimism.