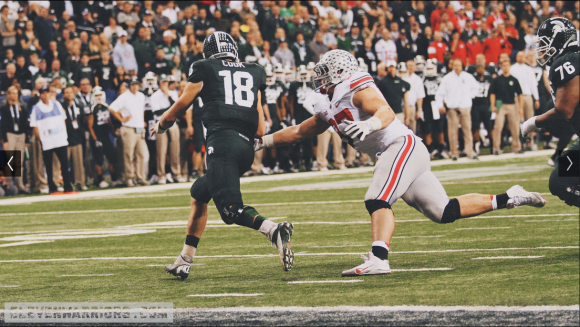 Michigan State has robbed Ohio State of a national championship yet again, making it the greatest nuisance to Ohio State's title dreams besides That School Up North, and it hurts.
This ought to provoke the worst, meanest sort of behavior; riots, dogs and cats living together, mass hysteria. Burnt couch is a traditional sacrifice to the football gods, but if any Columbus resident set fire to a couch after losing the Big Ten Championship Game then it hasn't shown up in any crime reports. None of the expected riots have come to pass. 
After a loss, one would expect angry fans to be out in force, but Ohio State fans have shown uncharacteristic grace. At a time when Buckeye fans usually blow their tops over losses, fans have been acknowledging this Buckeye team's weaknesses and praising Michigan State's strengths. Nobody is calling Michigan State a bunch of scrubs. Even the calls for Coach So-and-So to be fired, the universal constant after big losses, are quieter.
A few hours after the Big Ten Championship Game, it's painfully clear that Ohio State has fallen short of the lofty goals for this year. So why is everyone in such good spirits?
Much like the tale of Dr. Jekyll and Mr. Hyde, college football has two separate, opposing reasons for existing. The two are contradictory viewpoints, and fans internalize both to some degree. Neither of them is going away.
One perspective: college football is designed to promote sportsmanship. The ideal of the student-athlete appeals to innocence and purity. This is the perspective the NCAA and Big Ten like to promote.
Another perspective: college football is designed to make people angry. It's not enough that football is a brutal, hard-hitting sport, it's a spectator sport as well. If the boys in green maul the boys in scarlet, the crowd demands that the boys in green must be hung by their thumbs.
Ohio State showed tremendous focus and effort, which is why so few people are in the thumb hanging camp right now. Michigan State acquired a nightmarish 17-0 lead at the start of the game, but the Buckeyes showed admirable fight in retaking the lead. Coming against an opponent as fearsome as Michigan State, Ohio State's rushing attack was confirmed to be every bit the terror fans thought it was. Any residual anger has been directed at the coaches rather than the players.
If any single Buckeye has a right to be aggrieved after the Big Ten Championship Game, it's Carlos Hyde. Hyde ran over around, and through Michigan State's defense for 118 yards. His 6.6 yards per carry were triple what Michigan State's rushing defense averaged.
And yet, trailing 27-24 late in the fourth quarter, the coaches would not give him the ball. They gave the ball to Braxton Miller for two predictable and futile runs.
Ohio State went 24-1 over Mr. Hyde's junior and senior seasons. He will leave Ohio State never having won a Big Ten title.
Mr. Hyde could have screamed and shouted about the coaches neglecting him in the second half, and he would have had a decent justification for tantrum-throwing. Instead, he reacted to the loss like this:
Interviewer: What was Coach Meyer and what were you guys like in the locker room?

Hyde: People were quiet. I spoke up, and I told everybody, pick your head up and don't let this affect you that bad where you go out and make a dumb mistake or go out and make a wrong decision, so you know I just told everybody to keep their head up and we'll get ready for our next opponent.

Interviewer: Does it feel odd in some ways to have a loss? It's been so long.

Hyde: I mean, it's football. That's what happens, it's either win or lose.
Mr. Hyde knows the truth about football, something obvious that people often forget: football is a game we play for fun. Losses happen, and though any team would prefer winning to losing, some kinds of losses don't feel so bad.
The Big Ten Championship Game illustrates what it means to lose to an opponent one respects. Maybe Buckeye fans are nostalgic for Tresselball, which Michigan State plays with as much panache as possible for an intentionally dull system. Maybe it's relief that another Big Ten program is ready to bear some responsibility for the conference's fortunes.
It could be happiness for Mark Dantonio, who has affection for Ohio, or for Spartan fans who after seeing their team passed over again and again deserve this. Per Dantonio:
Spartan Nation is something special. They've been with us through thick and thin. I'm so happy for the people that have come down here. Take a boat load of people to Pasadena. I'm thrilled for the people that live out in California. We have a large fan base who live out there.

I don't know. It's just nice to make people happy I guess, simply put as that. I'm really excited for our football team. I'm excited for our players because they put in so much work. I'm excited for Mark Hollis. When he became the athletic director, he said he would not stop until we put our feet in the middle of those roses at the Rose Bowl. Now we've accomplished that. We'll be there. But just so happy for our football team, our players, everybody that surrounds the program.
Heck, it could be as simple as Ohio State and Michigan State's shared disdain for Michigan. Whatever it is, fans have found a reason to bond.
Here's another theory for why Ohio State fans aren't as glum about the loss as usual: losing relieves the pressure to be perfect.
The 24-game winning streak is one of the greatest stretches for any program in college football history, and all the while Ohio State fans had to deal with intense media scrutiny. Every game was judged for style points, every commitment studied for recruiting violations, every parcel of punishment by Meyer pored over by critics. Losing, lousy as it is, relieves the tension.
This sense of contentment will not stay intact much longer. Seeing Auburn, lucky as a dog with two d---s Auburn, in the national championship game may break the trance. Ohio State's defensive failings in this game showed the kinds of errors that lead one to suspect coaching as the root cause, and that would put the blame on Luke Fickell, Kerry Coombs, and/or Everett Withers. But those errors can be addressed after the bowl game. For now, staff continuity is crucial.
The overarching emotions I feel are pride and respect. The pride comes from Ohio State weathering the storm, coming so close to the national championship game; the grudging respect is for a Michigan State squad that showed it was the better team.
Rage may win out over sportsmanship eventually; again, they're the two emotions that will never leave college sports. But look – a number of potential bowl opponents await Ohio State, most likely Clemson in the Orange Bowl. It's an intriguing matchup, and I can't wait to see what Mr. Hyde does, win or lose.