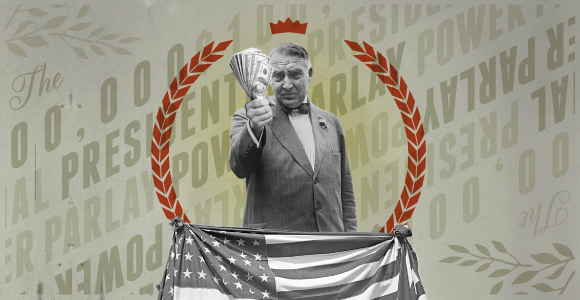 The 29th (and greatest) U.S. President, Warren Gamaliel Harding, was a renowned gambler, golfer and lover of life. As such, his sage wagering advice and stories of criminal bravado are brought here through the medieval art of necromancy. Seeing as President Harding ushered us into economic success unheard of in human history (before being tragically assassinated by his jealous wife — thus tanking the economy), his words might as well be chiseled into stone tablets. (All views and opinions presented should only be considered those of President Warren G. Harding.) 
WARNING: The content of the $1,000,000 Presidential Power Parlay is intended for mature audiences. Viewer discretion is highly advised. Seriously.
LAST WEEK: (0-2 overall) Ohio State (-5), Missouri (-3)
SEASON RECORD: (21-24-1)
THE HONEYPOT: +$1,460,000
To My Friends and Comrades in the Streets - 
Through the course of my 2013 travels, I have wrought a honey pot of roughly 1,460,000 untaxed United States dollars. Some consider that a retirement package. I call that a night's drug and alcohol bill. 
The Warren G. Harding File
Term: 3/4/1921 - 8/2/1923
Position: 29th U.S. President
Trade: Dope/Newspaper Peddler
Hometown: Marion, Ohio
School: Ohio Central College
Rivals Ranking: 5-Star
Quote: "Damn, I hate being sober."
My collegiate football gambling addiction has literally led me into previously uncharted territories of Hades. I would be lying if I said I could still see every face of every hater I had to waste this season. The truth is: the death of haterz is something I've never lost sleep over.
What if I told you, Hell isn't all its cracked up to be? I expected this to be some-sort of siesta while I plotted my next move on this immortal coil of ours. I figured Hell would be filled with the degenerate bastards I surrounded myself with during my first Presidency, but so far I have known nothing but solitude, beatings and drug injections to keep me awake.
The Prince of Darkness, Lucifer Himself, Brady Hoke says he intends to break me before he casts me into a reality of my worst nightmares.
To that I say: that buffoon can die trying. If Brady Hoke thinks the longest I've been awake and high on drugs is two weeks, well, I've got something for that squishy ass of his. Even the cells of the pits of Hell will never break me. 
1 MIL PRESIDENTIAL POWER PARLAY
STAKES: $1mil :: 75 million
FRESNO  (+6) vs. USC
BUFFALO (-3) vs. SDSU
BGSU (-6) vs. Pitt
OREGON (-14) Texas
OH ST (-2.5) vs. Clemson
SPARTY (+4.5) vs. Stanford
AUBURN (+7.5) vs. FSU
I have never bent my knee to any man or being, and I don't plan on doing so now because the Prince of Darkness has seared a few pornographic pictures of my mother into my eternal memory. The Money Train cannot stop, because as I have stated — I engineered the Money Train with no brakes.
This week, I bring my flock a 7-team Bowl Banger Fiesta. I know no other way.
The first team I like is FRESNO (+6) because I'm already trying to talk myself into the Derek Carr as Cleveland Quarterback Era. If Carr can't pick apart the secondary of a program that just saw its interim coach rage-quit the game like Marcus Hall because he didn't get the full-time job.. then he will fit perfectly into the pantheon of Cleveland Browns Quarterbacks.
The second team I like is Buffalo (-3) vs. San Diego State in a bowl game of Ohio State's OOC-foes. I like Buffalo because they have Khalil Mack and San Diego State doesn't. 
BGSU (-6) vs. Pittsburgh because Pittsburgh is the only place worse than the Hell-prison in which I currently dwell. Also, Fuck Mark May.
Oregon (-14) in what should be a hilarious exhibition of raging dumpster fires smashing into each other. Texas isn't quarterbacked by Marcus Mariota, though.
Ohio State (-2.5) because Woody Hayes couldn't swing on dude twice without catching a murder charge.
Sparty (+4.5) because damn they're a good team.
Auburn (+7.5) because it must be Ohio State to end the SEC's Reign of 10,000 Suns. 
Until next time, stay frosty.
---
Read more of President Harding's legendary exploits in The Most Hated On, also available on Kindle
.