On Monday, the Big Ten announced the media and coaches' first and second team all-Big Ten selections. Eight Buckeyes won first team honors, but since I'm incapable of smelling the roses I'm going to complain about the players who were snubbed.
The awards have an way of rewarding seniors coasting by on reputation. Chris Borland won Linebacker of the Year honors over Ryan Shazier and Michigan State's Max Bullough, which is nuts when you compare statistics and level of play in 2013. Similarly, Taylor Lewan won the Offensive Lineman of the Year award, despite clearly not having as good a year as the other first team offensive linemen.
For some reason, the coaches chose only Corey Linsley from the conference's best offensive line for first team honors. That could be because of the line's collective dominance making coaches loathe to put so many Buckeyes on top; media were more reasonable by honoring Linsley, Jack Mewhort, and Andrew Norwell.
The most surprising result is Miller not being a unanimous pick for first-team quarterback, understandable only if one of the coaches voted for Kenny Guiton instead. Most #B1G of all: two punters owning first-team honors, neither of them the dejected Cameron Johnston.
The offensive, defensive, and freshman players of the year as well as coach of the year will be announced on BTN today. If they played or coached for different teams, a Miller/Shazier/Bosa/Meyer ticket might win the ballot.
 MICHIGAN STATE PRESSERS. The regular season culminated with an emotional, heart-stopping victory over Michigan. Urban Meyer and Tom Herman are focused on Michigan State, as Monday's press conference showed (our summary here, full transcript here):
In a break from tradition, Meyer did not name any champions from the Michigan game. The staff dove into preparation for Michigan State.
Meyer said he hadn't thought about Braxton Miller's sudden Heisman hopes, but this week was an opportunity for him to show he belonged in the discussion.
Meyer gushed about Michigan State's defense: "very good players, excellent scheme, well coached." He called its offense the most improved from Week 1.

Pass defense resurfaced as the biggest problem against Michigan, as Michigan had a number of players running wide open.

Meyer had no comment on the BCS or a double standard for his handling of player discipline compared to the Jameis Winston situation.

Meyer chose Iowa as a prior opponent most similar to Michigan State for its brawn.

Unlike Meyer, Herman thought Ohio State getting away from a 50/50 balance of run/pass

playcalls

was a sign of how well OSU was running the ball.

Herman defines balance as "

being able to win the game either way dependent on how the defense what the defense is trying to take away."

There will be no major adjustments saved for the second half, as OSU will be making adjustments throughout the game.
The competitive challenge of facing defenses like Michigan State's is one of the reasons Herman enjoys coaching.
 TIS A GIFT TO BE SIMPLE. Nevertheless, the best quote from any press conference came from Michigan State's Connor Cook.
 BIG TEN ARROGANCE.  The news that the Big Ten will not suspend Marcus Hall or Dontre Wilson for the Big Ten Championship Game has circulated. Most fans think the Big Ten's reprimand is enough punishment on top of the game ejection, but not ESPN.com's Adam Rittenberg.
Rittenberg is usually great, but he's not going to make many friends by accusing the Big Ten of being too soft in disciplining Ohio State and Michigan for the fight:
Monday's response will add to the widely held belief by many Big Ten fan bases that the league goes all out to protect Ohio State and Michigan. The response will bring more heat for league commissioner Jim Delany, who still gets ripped for going to bat for Ohio State's "Tat-5" to play in the 2011 Sugar Bowl.

The championship game is a national showcase opportunity for the Big Ten, a chance to display its best product and the values it holds so dear. You'll hear a lot about honoring legends and building leaders, and big lives and big stages.

Then Wilson might return the opening kickoff, and Hall will take the field with Ohio State's starting offensive line. Are those the images the Big Ten wants to present?

"As bad as it was, we're fortunate the incident did not escalate any further," the Big Ten's SECtatement reads. "More can, and should, be done by both coaching staffs in the future to prevent similar incidents."
Rittenberg is right that Leaders and Legends are snooty names, and the Big Ten does tend to build itself up. The division names have bothered fans of Big Ten schools since day one, and the Big Ten has relented to fans on the names. 
Nevertheless, the barbs at the SEC are uncalled for. When Jim Delany wrote an open letter about how the Big Ten had higher academic standards, he was justifiably called a whiner. Remember, it was the pettiest man on the face of the planet in college football who said "I can tell you this: We at the Big Ten don't want to be like the SEC in any way, shape or form."
The premise of the piece – that the Big Ten should have punished Hall and Wilson further because it's classier than other conferences  – doesn't hold up. Considering that all four of the Big Ten's powerhouse programs are on or recently came off of probation, the Big Ten doesn't have much room to talk. For the most part, it doesn't. It's annoying to see someone give credence to the conspiracy theory of Michigan and Ohio State getting every break, a belief confined mostly to some of the worst radio callers. 
Marcus Hall's reaction to the ejection was uncalled for and merited some form of punishment, but I'm disappointed that a reporter I hold in high regard wrote something so muddled by stereotypes.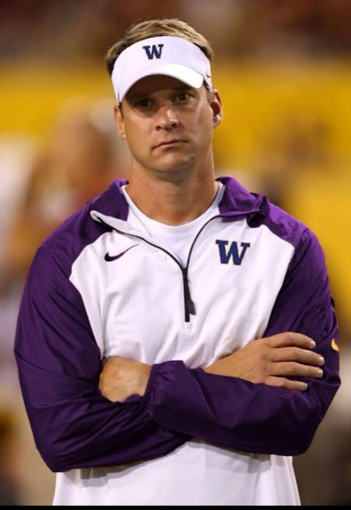 THE COACHING CAROUSEL COMMENCES. On Sunday, there were warning shocks with Wyoming firing Dave Christensen and Will Muschamp cleaning house at Florida. Yesterday, the 8.9 magnitude blast was the announcement that USC had hired Steve Sarkisian to be the new head coach, with plenty of other tremors alongside.
The move hurt feelings in Seattle and Los Angeles. Washington players were blindsided by their coach abandoning them after denying he had interviewed with USC earlier that morning. USC's interim coach Ed Orgeron felt he had earned the job with USC's turnaround and resigned in protest. Orgeron was beloved by USC's players; after finding out Orgeron would resign, several players left the team meeting crying.
Across the country, Jim Grobe announced his resignation from Wake Forest. Grobe was the winningest coach in program history and incredibly popular with fans and media, but the program's decline since its 2007 Orange Bowl appearance made his departure inevitable.
Michigan State defensive coordinator Pat Narduzzi has been trending as a top candidate for the Wake Forest job; if the speculation is accurate, it may affect MSU's focus in the Big Ten Championship Game.
Meanwhile, the Big Ten would rather keep its coaches around. Tim Beckman will return in 2014 for Illinois, rumors of Penn State firing its QB and LB coaches appear to be unfounded, and Brady Hoke sees no coaching changes forthcoming at Michigan. Hooray for continuity and mediocrity.
JIM DELANY CREATES THE FUTURE. Over the weekend, the New York Times took a look at what commissioner Jim Delany has done to make the Big Ten the most valuable entity in college sports. The result was an insightful hybrid profile of Delany and the giant the Big Ten has become.
The article retraces many of the Big Ten's famous business decisions, like Delany telling ESPN to go pound sand when it called his bluff on a future Big Ten Network in 2004. It shows how important Delany thinks the Rutgers and Maryland additions are in expanding the Big Ten's footprint:
Mr. Delany navigated the crowd as the morning's main attraction, schmoozing, shaking hands and making introductions. When his guests sat, he addressed them about the conference's East Coast expansion. "Our footprint is Colorado to the mid-Atlantic, Canada to the mid-South," he said. "We wanted to have a national slate of bowls because we're the closest thing to a national conference."
The article has a good bit of perspective on Rutgers and Maryland, for whom the decision to join the Big Ten is about maintaining the status quo with less financial burden. Unlike many puff pieces on the Big Ten's financial success, the article delves into criticism of the purpose for accumulating so much wealth:
While tuition at schools in the Big Ten and around the country has grown, most athletic department budgets remain separate from central administration. The influx in cash goes mostly to cover stadium improvements, new training facilities and rising salaries for coaches. In many states, coaches are now the highest-paid state employees. Mr. Delany made nearly $3 million in 2011.

"The hypocrisy is that money that's generated makes a few people very, very rich," [former University of Michigan president James] Duderstadt said. "Athletic directors, coaches, assistant coaches, commissioners, too. But institutions are not winning and student-athletes get very little."
Few expect the pressures to compete at Rutgers to lessen now that it's joining the Big Ten. Ohio State's athletic department spent $124 million in 2012, while Rutgers spent $64 million. "We're supposed to compete with Ohio State?" asked Mark Killingsworth, a Rutgers economics professor.
Jim Delany has turned the Big Ten into a corporate behemoth with amazing national presence. The question the New York Times asks and Delany leaves unanswered: to what ends? 
 LINKS AHOY. A Florida fan's goodbye to a lost season... Ohio State-Michigan State is the most expensive B1G Championship Game ticket yet... ESPN anchors freak out about the Iron Bowl finish... An Auburn fan dumps cremated human remains onto Jordan-Hare Stadium turf... An Alabama fan allegedly shoots someone for not seeming upset about the loss... Just to be clear, Auburn passing Ohio State is a moot point... Maryland coaches opposed the Big Ten move... Arkansas lands 2015 DT Hjalte Froholdt from Warren Harding High School... A Hook 'em Horns tree sculpture... A Zapruderesque breakdown of the OSU-Michigan fight... Appalachian State has a horrible new logo... Aaron Murray's selfless public service... Kansas State researchers are studying breast dynamics to develop better sports bras... The Denver Post hires a marijuana editor... and I hope your Thanksgiving turkey was more appetizing than this.