The final week of the regular season saw some of the best action to date. Though OSU-Michigan won all the headlines, the rest of the conference supplied quality drama in Week 14. 
The Big Ten season is over, and every team has its place. Ohio State and Michigan State are likely BCS participants, Wisconsin is the third wheel, and there's a good-to-respectable middle class (Iowa, Minnesota, Michigan, Nebraska, Penn State). Indiana, Northwestern, and Illinois are the also-rans, and the cellar team, Purdue, is significantly worse than those of the other power conferences.
What this means is that the Big Ten, despite all the mockery and abuse, is on the way back up. Major conferences can't stay down forever, and as Auburn's miraculous upset of Alabama shows, even the conference that wins seven national championships in a row can be powerless to control its championship fate if it fails to produce an undefeated team. Think of that when you hear "LOL THE BIG TEN VACUUMS" between now and next Sunday's BCS bowl selections.
We did it, everyone. 14 weeks in, we finally did it. We beat the narrative.
Penn State (7-5, 4-4) 31, #13 Wisconsin (9-3, 6-2) 24

After jumping out to a surprising 17 point lead, Penn State escaped Madison with a road upset.
Whether or not they were flukes, Penn State worked some long plays into the offense. Christian Hackenberg began with a 68-yard touchdown pass to Adam Breneman, the longest touchdown of the year against a Wisconsin defense. Wisconsin would retake the lead with a pair of Joel Stave touchdown passes, but Hackenberg threw his second touchdown to knot the score at 14-all. Bill O'Brien must have gotten to his charges at halftime because in the third quarter and early fourth quarter Penn State went on a run to take a 31-14 lead, culminating in a 59-yard touchdown pass from Hackenberg to Geno Lewis. Wisconsin chipped away at the lead with a touchdown and a partially blocked punt to set up a field goal. Stave managed one final desperation drive to Penn State's 41-yard line, but his Hail Mary pass was intercepted in the end zone.
With their biggest win of the season, the Nittany Lions finish 7-5. An 8-4 record in the first year of the bowl ban was a sign of good management, and 7-5 against a more difficult schedule shows Bill O'Brien has some chops. If the NCAA releases some of its pressure on Penn State and allows the Nittany Lions to go bowling in 2014, O'Brien will have completed the greatest salvage job since Bill Snyder's Kansas State tenure in the 1980s.
This is a bitter loss for Wisconsin, which stood in line for a BCS at-large bid if Michigan State lost in the title game. The Badgers executed horribly all day, allowing a physically inferior Penn State team to have chances to end drives and expend more play. Now the Badgers are third in the Big Ten pecking order, with a Capital One Bowl or Outback Bowl in the near future. Wisconsin's defense was exposed here, and it's up to Gary Anderson and defensive coordinator Dave Aranda to fix it before New Year's Day.
Iowa (8-4, 5-3) 38, Nebraska (8-4, 5-3) 17

With a rousing victory over Nebraska in Lincoln, Iowa ensured that Bo Pelini would be fired – until he wasn't.
Iowa chipped away at Nebraska's defense and took advantage of field position the entire game. Ron Kellogg III, making his first career start, had two horrible interceptions to set up the Hawkeyes, who scored on a 10-yard C.J. Fiedorowicz touchdown catch. After further Iowa field position dominance, Mark Weisman battered Nebraska's defense for another touchdown. The Cornhuskers strung together two great drives before and after the half to make it 14-10, but then Bo Pelini lost control of the game.
Incensed by a non-call, Pelini swore at a referee and swung his hat at him, earning an unsportsmanlike conduct penalty. (For some reason, Kirk Ferentz also had to be restrained by assistants later in the game.) After an Iowa field goal, Pelini called for a fake punt from his own 30 which failed spectacularly. On the very next play, Jake Rudock hit Kevonte Martin-Manley for a touchdown. Nebraska still had a chance after Quincy Enunwa's 15-yard TD catch with 11 minutes left, but Nebraska fumbled away further opportunities and allowed Iowa to put the game out of reach with two late touchdowns.
There is some potential bad news from the game for Iowa, as Rudock left late in the game with a knee injury. Iowa is in the same position Minnesota was a few weeks ago: unsexy, not great at anything but solid enough to go 8-4. As announcer Rod Gilmore put it, Weisman is a hammer looking for a nail, and the success he had against Nebraska is what everyone envisioned for the whole year. 
Pelini lost control of his mouth in a way he hadn't since the 2010 Texas A&M game. Bo Pelini acted like his goose was cooked in the post-game interview, blasting referees and media. He called the unsportsmanlike conduct penalty a "chickenshit call" and responded to a question about his job status like so:
"Sam, I don't coach to make a case. You guys have chosen to make a story of it all year. It's impacted our football team, and it's hurt our football team. Let's call a spade a spade. If they want to fire me, go ahead. I believe in what I've done, I don't apologize for what I've done, I don't apologize to you, I don't apologize to anybody, myself or this staff. My record, our record since I've been here speaks for itself, and this program is heading in a good direction. If you choose not to think so, that's your prerogative. All I know is myself, this staff, the people who have been associated with this program since I've been here can look themselves in the mirror and feel good about what they've done."
It would have been a fitting epitaph for his Nebraska tenure, except athletic director Shawn Eichorst announced that Pelini would return in 2013. For his own part, Pelini released a letter apologizing to media and the referees for insulting them.
It has been a disappointing year for Nebraska, which hoped for a Big Ten title in the ever-efficient Taylor Martinez's final season, but Martinez's injury has not been the only problem. The Cornhuskers had trouble moving the ball against Iowa's defensive line, and as a result Iowa had six possessions start on Nebraska's side of the field. The Blackshirts did well enough against Iowa's offense, but they tired and eventually allowed points. Ameer Abdullah grew stronger running as the day went on, but the early futility and questionable coaching decisions put UNL in a hole. Nebraska will have to find a way to improve from this four-loss plateau under Pelini, who may be headed for an NFL coordinator job anyway.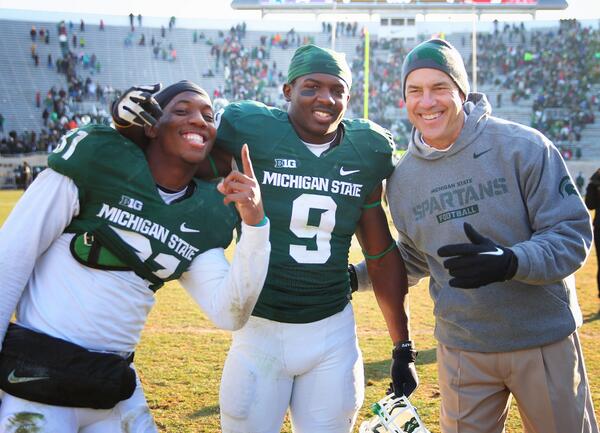 #11 Michigan State (11-1, 8-0) 14, Minnesota (8-4, 4-4) 3

Michigan State stifled Minnesota with its fearsome defense to complete its first perfect Big Ten schedule in decades.
The Spartans' first drive gave them all the points they would need. Michigan State went up 7-0 thanks to a 15-yard touchdown run from Jeremy Langford, who rushed for 134 yards on the day. Minnesota had two opportunities to tie the score, most notably when it drove to Michigan State's 1 near the end of the second quarter, but Michigan State's defense held and forced the Golden Gophers to settle for a field goal. For its own part, Minnesota's defense stalled a couple of Spartan drives with its own takeaways until Connor Cook gave Michigan State its final score with a 12-yard strike to Josiah Price in the third quarter. Minnesota's defense forced another fumble and several more three-and-outs, but their promising drives ended with missed field goals, interceptions, or fumbles.
Michigan State's run through the Big Ten is quite impressive. It's the first 8-0 record for the Spartans since the Big Ten expanded to an eight game schedule in 1971, and the first time a Big Ten team won every league game by double digits since Michigan in 1943. The Spartans look better than ever on defense, Connor Cook is maturing into a capable quarterback, and Michigan State is one game away from the Rose Bowl.
For Minnesota, this loss is bittersweet. Sure, scoring three points and losing by double digits is disappointing. On the other hand, keeping the score close against Michigan State and Wisconsin – who were supposed to be worldbeaters – after preseason predictions of 6-6 or worse shows how much they have surpassed expectations. Judging by the eye test, the Gophers are the fourth best team in the Big Ten. The stagnation of the offense is reason for concern, but Jerry Kill's program has a bright future.
Northwestern (5-7, 1-7) 37, Illinois (4-8, 1-7) 34

Trevor Siemian's brilliant quarterback play broke the hex on Northwestern in a back-and-forth victory over Illinois.
Northwestern took the first quarter 10-0, thanks to a field goal and Siemian's 27-yard touchdown pass to Christian Jones. Illinois responded twice to make it 14-10, and two Northwestern scores and an Illinois field goal made it 20-17 for the Wildcats at halftime. In the third quarter, Josh Ferguson's second touchdown run put Illinois up again, only for Siemianto throw his third and fourth touchdowns of the day to put Northwestern up 37-27. Scheelhaase led the Illini to a score with 2:23 left, but the Wildcats bled out the clock.
Illinois showed some promise that didn't translate to Big Ten play. Its defense never seemed putrid, even though the statistics indicate it was. Its offense felt refreshing, even though it often failed. Could it be that Illinois appeared rejuvenated solely because of their abysmal state in 2012? Whatever the reason, Tim Beckman loses his starting senior quarterback in Nate Scheelhaase, and his replacement must produce in 2014.
Northwestern's season was a disjointed, confusing mess. I've said enough words in sympathy of the Wildcats; to be brief: I'm glad this Northwestern team was able to close out on a high note. NU players deserved better than what they got.
Indiana (5-7, 3-5) 56, Purdue (1-11, 0-8) 36

From start to finish, Indiana dominated Purdue's defense on a record-setting day to regain the Old Oaken Bucket.
As has often been the case in Indiana games, Indiana started its first possession with a long touchdown run, a 53-yarder by Stephen Houston. After another Indiana score, Purdue got on the board in the second quarter, but the kick was blocked and Purdue never threatened. Tre Roberson threw touchdown passes on four consecutive drives to give the Hoosiers a 49-9 lead; Danny Etling led Purdue on three straight touchdown drives to make it 49-30 in the early fourth quarter, but that was as close as it got.
At last, Purdue's season of depression is at last over. It couldn't have gone much worse for Darrell Hazell; his defense allowed 691 yards to Indiana's, and being +2 on turnovers helped none at all. The Boilermakers avoided the injury bug that flattened Northwestern this year, the record is a product of being that freaking bad. Hazell needs to turn it around in year two to stay on.
Indiana ended the year about where it started: a team with an imbalance of talent, looking for a way to gain bowl eligibility and falling just short. The offense executed phenomenally, going 16-of-18 on third down conversions.The defense is to blame; with stronger, sounder play, Indiana beats Navy and fills out the bottom of the Big Ten's bowl rotation. It's on to 2014, when Kevin Wilson will attempt to make something, anything, to help the Hoosiers make the same leap Minnesota made this year.
Connecticut 28, Rutgers (5-6, 2-5) 17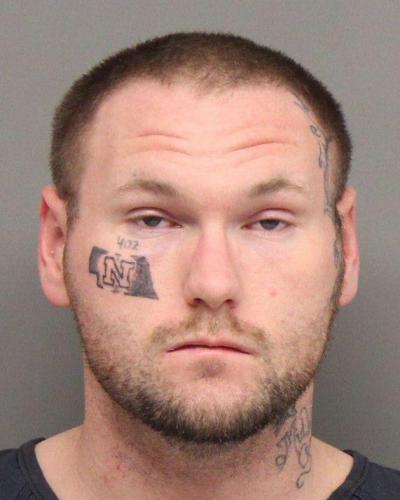 Rutgers strolled into the game against hapless Connecticut thinking it would walk out with an easy win. Instead, UConn handed Rutgers its most humiliating loss of the season.
The Scarlet Knights started off with a razzle dazzle fake field goal a touchdown pass, but the Huskies would recover to take the lead. Rutgers took a 17-14 lead into the fourth quarter only for Connecticut's backup quarterback to hit two long touchdown passes to pull the upset.
It is ridiculous that the Big Ten's leaders thought New Jersey's market would compensate for adding yet another lousy program in the Big Ten that hemorrhages money and hired eminent figures like Greg Schiano, Mike Rice, Tim Curletti and Julie Hermann. Without a win next week against South Florida, Rutgers misses a bowl game. Boo, I say. Boo.
Maryland (7-5, 3-5) 34, NC State 14

C.J. Brown led Maryland with five total touchdowns in a convincing win over North Carolina State.
The Wolfpack took a 7-0 lead on its first possession, but after that the Terrapins took control. Following the touchdown, Brown threw a long touchdown pass to Nigel king and scored on runs of 2, 3, and 49 yards to extend Maryland's lead to 34-7 in the second quarter. Maryland's final touchdown, a 27-yard pass to Albert Reid, occurred on the opening drive of the second half; all play after that was mere pleasantry.
Maryland had a whirlwind season: from 5-0 and nationally ranked to whippings from Florida State and Clemson, the four game losing streak, the upset over Virginia Tech, and now this. Maryland has responded well to injuries, yet even taking those into account, this was a schizophrenic team. The best thing Randy Edsall's squad can do in 2014 is find some consistency, so people know whether to take Edsall as a threat or a coach waiting to be fired.
So now what? Rutgers vs. South Florida is next week, as is the Big Ten Championship Game, and then we move onto figuring out the bowl questions, like who accepts the invite to the Why Do We Have To Visit Dallas Bowl.