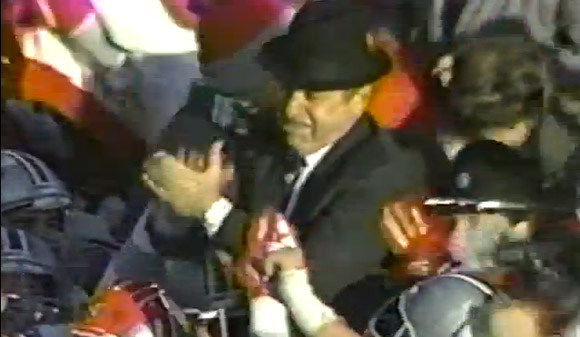 The year is 1987. Earle Bruce and his Buckeyes, fresh off a 10-3 season that ended with a Cotton Bowl win against Texas A&M, entered the season No. 4 in the AP Poll.
Ohio State took care of West Virginia in the home opener, then Oregon a week later, before a trip to Baton Rouge to take on undefeated and 4th-ranked LSU (the Buckeyes had fallen to No. 7 in the AP Poll due to a lack of style points – sound familiar?). The two teams would end up settling for a 13-13 tie, but the Buckeyes quickly rebounded with a win against Illinois the following week to move to 3-0-1.
Then Indiana came to town.
The Hoosiers broke through a halftime tie to score three times in the second half, putting away Ohio State 31-10. It was the first time Indiana had beaten the Buckeyes since 1951. Bruce's postgame press conference lasted all of two minutes and 22 seconds, with the coach saying, "Since I became a freshman at Ohio State in 1949, it's gotta be the darkest day I've seen in Ohio State football."
Losing to Indiana will cause you to say things like that.
Ohio State bounced back with two wins, over Purdue and Minnesota, to move to move to 5-1-1. That would be as good as things got.
On Halloween, Michigan State held the Buckeyes to just two yards rushing in Ohio Stadium, leaving with a 13-7 win. Ohio State lost a game by two points in Madison the following week and then dropped another two-point game, this time to Iowa at home, the week after that. A team that had started the season No. 4 in the AP Poll, now found itself 5-4-1, and the head coach was in trouble.
On the Monday following the loss to Iowa, university president Edward Jennings informed athletic director Rick Bay that Bruce's contract was being terminated and to ready an announcement for sometime after that week's game with Michigan. Bay, who had persuaded Bruce to turn down the Arizona job 10 months earlier, called a 4 p.m. press conference to announce his resignation, informing the media of Jennings' machinations.
Fans were outraged and Jennings compounded when he issued a statement saying the matter was "a personnel issue and we cannot discuss personnel."
Bruce's players quickly rallied behind their coach, entering Michigan Stadium wearing "Earle" headbands, while Bruce rocked a suit and fedora, dap as ever.
The Wolverines jumped out to a 13-0 second quarter lead, but thanks to the heroics of Chris Spielman, Tom Tupa, and Carlos Snow, they scored 20 unanswered points to storm to a lead. Michigan would tie the game late in the third quarter, but Ohio State answered with a 77-yard drive resulting in a field goal and a 23-20 lead. On the ensuing drive, linebacker Eric Kumerow recovered a Leroy Hoard fumble and Ohio State was able to bleed all but the final eight seconds off the clock, leaving Michigan with a desperation heave that went nowhere.
After the final whistle sounded, Bruce's team hoisted the coach up on their shoulders and a jubilant coach cracked a rare smile.
Bruce concluded his Ohio State career with an 81-26-1 record, including a 5-4 record against the hated Wolverines.
Following the game, Michigan coach Bo Schembechler summed things up best when he said, "I always mind losing to Ohio State but I didn't mind so much today."