Urban Meyer and a select group of ballers held their usual post-practice media session last night and with Senior Day fast approaching, Meyer took time to reflect on the fact his seniors will play their last game in the Horseshoe. 
A batch of seniors including names like Corey Linsley, Jack Mewhort, Andrew Norwell, Marcus Hall, Philly Brown, Carlos Hyde, C.J. Barnett, Christian Bryant, Kenny Guiton, Chris Fields, Corey Brown and Jordan Hall will receive a warm sendoff, something that makes Meyer proud:
"They are different. They have their own little personality to them and I think they're probably led by the offensive line and safety C.J. [Barnett]. They're kind of the ringleaders of that group. Philly Brown has turned into a guy that has earned a lot of respect around here. There wasn't a whole lot of respect in his world two years ago. Same with Carlos Hyde. This group probably has more transitional guys who have made some positive changes in their world and here they are. It's really positive to see that."
Beyond the players who will run out of eligibility, Meyer also noted Bradley Roby, a redshirt junior, will indeed be playing his last game in the Shoe, as he will elect to turn pro after this season. 
When I think about all those key senior players, especially those along what has become a dominant offensive line, I grow increasingly frustrated with Ohio State's current BCS dilemma. Too many experts dismiss the 2013 Buckeyes and point to next year as "the year" but with Meyer forced to replace four studs up front not to mention his best running back, wide receiver, corner and safeties, it's entirely possible next year's Buckeyes will not be as elite as this current squad. 
And that scenario doesn't even consider the notion both Ryan Shazier and Braxton Miller, if nothing else, refused to say they were staying for their respective senior seasons when asked about it last night. 
Shazier could certainly make the jump though Miller turning pro feels less likely from my vantage point. God love the kid but with all the NFL quarterbacks dropping like flies, especially the dual-threat guys, and Miller's own issues with struggling to stay healthy, I don't see how a team decides to take a chance on him before the 4th round. That said, if he can pull off a healthy senior season with per-game stats that rival this season's, he should be able to move significantly up some draft boards. (If The Crypt-Keeper, Al Davis, was still alive, I'd fully advocate Miller turning pro.)
Refocusing back to Saturday's tilt against the Indiana Hoosiers, Meyer noted Curtis Grant, Josh Perry, Mewhort and Joey Bosa should all be healthy enough to play. After last week's middling effort in Champaign with a banged up squad, it's hard to imagine this group not coming out on Senior Day looking to take out some aggression on the defensively challenged Hoosiers. In six league games, Indiana is yielding 42.8 points and 582.5 yards per game. 
With Guiton expected to see significant playing time in a rout and Meyer crusading for style points, he would be justified in letting the senior throw the ball around a little bit so things could get severely out of hound.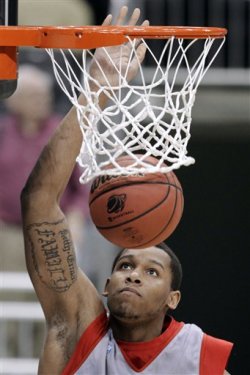 A WORK IN PROGRESS. Fresh off a huge road win in which they stopped Marquette's 27-game home winning streak, Thad Matta's Buckeyes set offensive basketball back a few years in the first half of last night's 63-52 win over American University. 
Against a Patriot League foe, Ohio State shot just 7 of 27 in the opening half, good for 26%, and missed 13 of 16 tries from distance on the night. Over the last three games, the Buckeyes have made just 11 of their 52 three-point attempts, or 21%. 
The poor shooting has been spread around pretty evenly with only Shannon Scott and Amir Williams hitting over 50% of their shots (min 10 FGA) though Sam Thompson is definitely respectable at 47%. The main masons have been Aaron Craft and LaQuinton Ross. The two combined to clank 13 of 16 shots last night. On the season, Craft his hitting only 35% of his shots and Ross is even worse at 23%. 
Craft is even turning it over a bit more than you'd expect considering the competition to date (2.8 TPG) though his assists (5.8) and steals (3.5) show he's contributing in other ways. 
Ross, however, has been across-the-board-awful save his 11 rebounds in the season opener against Morgan State. He's yet to shoot better than 36% in a game, including missing 12 of his last 13 shots, and even with whispers of a bothersome wrist, that doesn't explain his lack of ability to get to the line and a lingering aloofness on defense that has drawn Craft's ire a handful of times already this season. 
On the bright side, Thompson has been solid coming off the bench, reaching double figures in three of four outings while Scott and Williams have taken their games to the next level. 
Scott has looked like the best all-around player on the team – and arguably the best all-around defensive player taboot – shooting 54% from the floor while averaging 12.5 points, 3.5 assists and 2.8 steals per game. He's not the on-ball defender Craft is but I'd argue he's better at playing the passing lanes and quicker in converting a steal into a potential fastbreak. 
Meanwhile, Amir has looked like a different player, albeit against mostly sub-standard competition, hitting 71% of his shots (12/17) and 82% of his free throws (14/17) to average 9.5 points along with 6.8 rebounds against just five turnovers in 97 minutes. 
The Buckeyes will look to achieve extended offensive rhythm when they get back at it next Monday night against the Wyoming Cowboys (7 p.m., BTN). 
THE PLOT THICKENS. After the family of the alleged victim in the Jameis Winston case released a statement yesterday afternoon lobbing some bombs in the direction of the Tallahassee Police Department, accusing the Department of failing to "fully follow up on the rape complaint; prematurely and unilaterally alerting Winston's attorney and Florida State campus police to the situation; and painting a foreboding picture of the potential fallout from accusing a Seminoles football player of sexual assault", the TPD fired back during a presser last night. Take it way, interim TPD Chief Tom Coe:
"In February 2013, the case was classified as open, but inactive, when the victim in the case broke off contact with TPD, and her attorney indicated she did not want to move forward at that time..."

"There are many statements being made daily, some of which are factual, some are not factual. We can't go into detail on that tonight, but there will be a point in time when we can comment on those issues."

"When we can say more about this case, we certainly will. And we look forward to that day. We hope to move it forward as quickly as we can in coordination with the state attorney and bring closure to it."
At this point, who knows where this thing will end up but I continue to be amazed at the relatively minimal amount of faux media outrage this story is receiving and that FSU has seemed pretty dismissive of the whole thing. You'd think a story in which Winston's DNA was reportedly found on the accuser's underwear would generate a little more buzz. Today might be the day that starts to happen. No matter how the media reacts, I just hope the powers that be get to the bottom of things because there are some very serious allegations to sort out.
SUP GURLZ. Just a GIF of Christian Bryant rolling around Ohio State's training room in a Rascal. You're welcome.
 QUICK CLICKS. Las Vegas growth timelapse... The Entourage Movie Has a Start Date... Things split in two... A-Roid's chump-level reaches Defcon-1... Dress or skirt? (slightly NSFW)... Did you feel the earthquake yesterday?... High school photos of some notable rock n' rollers... WE WANT TACOS... The 52 US Metro Areas that have over one million people... Taylor Lewan is not an Outland Trophy semifinalist.