After several years of flashing potential but never quite realizing it, the Ohio State football program under John Cooper finally broke out and went on a run for national glory in 1993. At the beginning of the season it appeared that everything would come up roses for this Buckeye team, but it ended up as a year of both triumph and tragedy.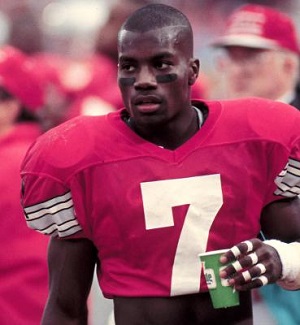 Even so, it was a turning point for the program. As a head coach who was famously "hands off" regarding the details of his team, preferring to leave most of the coaching to his assistants, Cooper had rubbed many fans the wrong way. His plain-spoken manner was refreshing to some, but the perceived hucksterism of his appearances on commercials gave the impression of a media mogul more than that of a football technician.
Results on the field matter more to Ohio State fans than perceptions and mannerisms, and the bottom line is that if you win, you can be pretty much any kind of guy and OSU fans will forge an affection for you. Cooper took a while to get that part of the formula down, but it was all coming together in 1993 with a combination of veteran leadership and young up-and-coming stars.
The brightest of the stars in the early going was wide receiver Joey Galloway. Galloway was just starting to make his presence felt in 1992 when a cheap shot from a Bowling Green defender ended his season prematurely. With that painful injury behind him, along with months of agonizing rehab, Galloway was faster than ever, and his physique was sculpted to endure the rigors of big-time college football. 
Another star on offense was a player who had been around for a while. Raymont Harris had come to Ohio State in 1989 as a versatile running back with many high school accomplishments and a lot of confidence. But things did not go as he had planned it, sitting for a year as a redshirt and then fighting for playing time behind the likes of Carlos Snow, Butler By'not'e, and Robert Smith. Now as a fifth-year senior, he was finally the starter and was making the most of it.
The OSU offense sizzled in the early going behind the strong running of Harris and the big plays of Galloway. Due to the inexperience of new starting quarterback Bobby Hoying, the coaching staff alternated senior Bret Powers in at the position, creating a platoon at the position. They also scripted the first 15 plays of each game, which resulted in consistent excellence early as the Buckeyes scored on their first possession in each of the first seven games of the season.
With all of the talk about the offense, it was easy to forget about the performance of the defense, which had been outstanding for the most part. The star of that unit was defensive tackle Dan Wilkinson, a 300-pound behemoth who terrorized opposing offenses and racked up tackles-for-loss at a steady rate. Wilkinson was a junior who was already being talked about as a prime NFL prospect if he came out early.
While 1993 represented a milestone on the way to greater things for Ohio State, for Indiana it was the opposite: the last great season before the wheels came off for the program. Coach Bill Mallory had inherited a 3-8 team back in 1984 when Sam Wyche left the program abruptly to take the reins of the Cincinnati Bengals. Malllory's first team went 0-11, but afterwards steadily improved until going 8-4 in 1987 and claiming a share of the Big Ten title. Those eight wins included IU's first victory over Ohio State since 1950.
The Hoosiers defeated OSU again the next year, and continued to be among the Big Ten's best for the next five years. In 1993, Indiana got off to a 7-2 start before facing the Buckeyes, their best start since 1969. They came into Ohio Stadium on a down note though, having lost a close one at Penn State the week before. It was their second straight road contest against a national power, and they would need a lot of energy to stay competitive against the Buckeyes. They had gone into the PSU game ranked #17, but the loss would drop them to #19. 
Ohio State began the season ranked #18, but a steady series of impressive victories would vault them up the rankings until they reached #3 in the middle of conference play. A 13-13 tie at Wisconsin dropped them to #5 heading into the showdown with Indiana, as they went to 8-0-1 for the season. A win over Indiana would stop the bleeding for the moment, and would also assure them of at least a share of the Big Ten title, their first since 1986.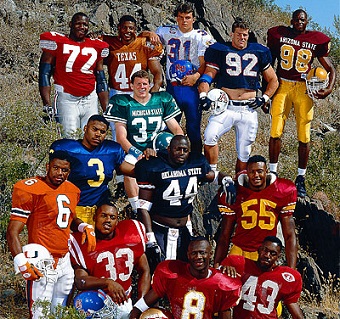 On a cold and blustery afternoon in Ohio Stadium, OSU defeated IU 23-17 behind 162 yards rushing from Harris, who went over 1000 yards for the season. Galloway caught his eleventh touchdown pass of the season, a four-yard toss from Hoying in the second quarter. Later that quarter, Powers hit Buster Tillman with another touchdown pass to give OSU the lead for good. 
The opportunity to win the Big Ten outright evaporated the next week as the Buckeyes folded at Michigan in a devastating 28-0 defeat. Wisconsin went to the Rose Bowl and Ohio State had to settle for a Holiday Bowl date with BYU. But before that game was played, tragedy struck the team off the field.
On December 11, backup defensive end Jayson Gwinn was killed in a car accident on campus in the early morning hours. Gwinn had just helped teammate Marvin "Obie" Stillwell get medical treatment after he had been shot in a local nightclub. The death cast a dark shadow over the team's preparations for the bowl game on December 30.
Nevertheless, Ohio State went to San Diego and took care of business in the game as they ran with authority over the physically outmatched BYU Cougars. Harris set a new Holiday Bowl record by rushing for 235 yards and three touchdowns to lead the team to a 28-21 victory. OSU finished the season with a record of 10-1-1 and with a ranking of #11. 
Indiana recovered from the loss to OSU by defeating rival Purdue before dropping their bowl game against Virginia Tech. They finished #21 in the final rankings, and they have never been ranked that high since. Mallory's Hoosier's slipped to 6-5 in 1994, and then finished 2-9 and 3-8 the next two seasons. After that, Mallory was fired and replaced by former IU quarterback Cam Cameron. 
---
Sadly, there's no footage of the '93 Indiana game on YouTube. Here, enjoy this mashing of Pitt, instead.