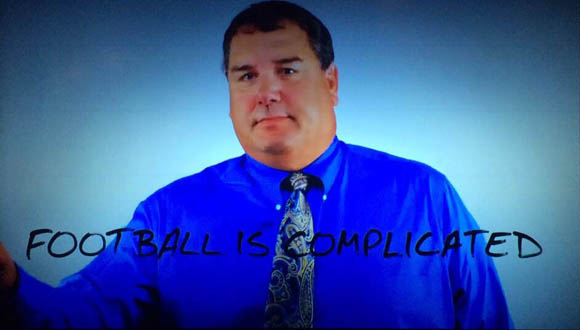 I think at one point I used to enjoy sports, and life in general. I think I did, but the truth of the matter is that I'll never be sure because the Michigan victory against Northwestern this past weekend has forever ruined my internal compass which points me to the cardinal direction of enjoyment and happiness.
Michigan won in overtime, but if you believe that the word "overtime" constitutes a well fought game or something with even the slightest hint of drama beyond whether Drew Dileo would handle both a slide and set for a literally last second field goal, then well, you're wrong. No touchdowns were scored in regulation, and though Michigan managed positive rushing yards for the first time in three games, everything else was a horrible affront to football in general.
The two teams combined for six field goals in regulation, and probably my favorite part of the game was in the 4th quarter as Michigan began a drive on the Northwestern 10 yard line, ran three plays for a total of -1 yards, and had to settle for a field goal. Mmm yes. One of those kinds of 27-19 victories. Thanks to Ace from MGoBlog for helping me create the recap version of Guernica this week.
Quarter 1
The first Michigan drive was kind of astounding. Out of a 12 play drive, nine were rushes and only two of those went for zero or negative yardage. Derrick Green got most of the rushes, and was spelled by De'Veon Smith when he needed the breather. Of course, it ended up in a field goal, and Northwestern responded with a 16 play drive that also ended in a field goal. Basically both teams were trying to invent a new shade of beige. 3-3 tie.
Johnny: Fitz Toussaint was held out due to some "injury" problems. Is this an injury situation or an "injury" situation (wink wink nudge nudge say no more)?
Ace: I'll put it this way—the coaches claimed Toussaint suffered a concussion during the week and didn't get enough practice time to play in the game, but Toussaint spent the whole game in uniform and even had his helmet on a few times. I don't doubt he got dinged up; I doubt it was serious enough to keep him from playing, and the coaches found a convenient excuse to hold him out—it was the lack of practice time, not the injury, that they cited as the reason for keeping him sidelined. The same thing happened to Thomas Gordon last week; he looked like he made a pretty miraculous recovery from whatever held him out of the Nebraska game.
Quarter 2
This quarter featured four three and outs, three of which were consecutive, and that's all I'm going to say about this stupid 15 minutes except to add that Northwestern got a field goal right before halftime. 6-3 Wildcats.
Johnny: This isn't a question, but I just want to make sure that you understand just how difficult it was to watch 95% of this game. The second quarter in particular was painful. Also there's someone on MGoBlog requesting a torrent of the game. Just thought I might bring that up.
Ace: It shows just how brutal the last couple games have been that Michigan fans are excited to re-watch a win over a winless-in-conference-play Northwestern squad that featured zero regulation touchdowns. At least we got to be happy about the defense (and, yeah, positive rushing yards) while the game was going on. I have no idea why anyone without a serious rooting interest in that game didn't change the channel.
Quarter 3
More crap. The one drive of substance was Trevor Siemian passing all over the Michigan secondary for yet another field goal, and considering the ease with which he did it, it doesn't really make a whole lot of sense why that didn't work for the rest of the game. In any event, 9-3 Northwestern.
Johnny: Jeremy Gallon actually had a really good day overall, and the offense actually gained positive yardage on the ground. What did Borges do to tinker with the offense in the last week?
Ace: Finally, FINALLY, he figured out how to work an actual constraint play into the running game: in the most epic troll move ever, Al Borges called three bubble screens, and nearly every successful run play utilized the threat of the bubble to keep Northwestern from having nine guys rampaging after the ball at the snap. This, in conjunction with Derrick Green's ability to fall forward on contact, allowed them to have something resembling a rushing offense. It only took Borges 2.5 years to figure this out. LOOK OUT, WORLD. [/blasts "We Can't Be Stopped" by The Geto Boys]
Quarter 4
Michigan had to settle for a field goal despite starting a drive from the Northwestern 10, which set up a game tying final drive that was one of the more sadly remarkable things in college football in the past several months. Here's what that two minute drill that Hoke and company directed ended up looking like: complete pass, incomplete pass, incomplete pass, rush, complete pass, incomplete pass, complete pass, incomplete pass, complete pass, sack, incomplete pass, complete pass, field goal somehow with basically no time left on the clock.
It took Michigan those first 10 plays to travel 35 yards. They added the final pass to Jeremy Gallon to get within field goal range, tie the game, and go into overtime. 9-9.
Johnny: That was pretty easily one of the worst successful two minute drills I have ever seen. More than anything I was amazed at Drew Dileo getting to his spot so quickly and easily, but everything else was a glorious mess.
Ace: The two-minute drill has been horrendous since Hoke/Borges took over; that was pretty much par for the course with the exception of it somehow working at the end. Of course, this required a receiver who ran a vertical route on the previous play somehow baseball-sliding into position as the holder while a chaotic hockey-style line change occurs to get the right unit on the field and Brendan Gibbons hitting a 44-yarder without really measuring his steps or ... well, you all saw what happened, and I've never seen anything like it in my life. The coaches deserve plenty of credit for having the team prepared to execute such an insane last-second switch-and-kick; they also deserve plenty of blame for being totally unable to orchestrate a two-minute drill or properly manage the clock in end-of-game situations.
Overtime
I think at this point it was pretty evident that Northwestern only had one more touchdown in them, and all Michigan had to do was keep pace. Which they did in overtime, as they traded body blows with the Wildcats until the third overtime, as Michigan got both the touchdown and two point conversion and Pat Fitzgerald's squad could do nothing in response. 27-19 bad guys.
Johnny: So, defensively, what's working, given that they were able to eventually do what they needed to do to seal the win.
Ace: Greg Mattison made a very nice adjustment between the Nebraska and Northwestern games in defending the option, utilizing more two-high safety looks so one—usually Thomas Gordon—could tear after the pitch man without leaving the deep middle completely uncovered; there were also some adjustments with the way the defensive ends played the pitch. Defending the option was really my one fear regarding the Northwestern offense considering the lack of Venric Mark or any downfield receiving threat; this defense has been very solid all year except when cornerbacks are getting beat on the edge or linebackers aren't getting depth when dropping in front of tight ends, and neither of those areas was something the Wildcats really had the personnel to exploit.
Also, the pass rush is slowly improving; they still haven't earned the "right to rush four" as the coaches preached before the season, but they're getting closer. They're very well-coached, the young guys are progressing nicely (especially DT Willie Henry), and the things you have to do to beat them—hit throws over the top or work intermediate routes over the middle—aren't the easiest things to execute or create a gameplan around. There's good reason they look very good against bad-to-mediocre teams and not so great against better offenses.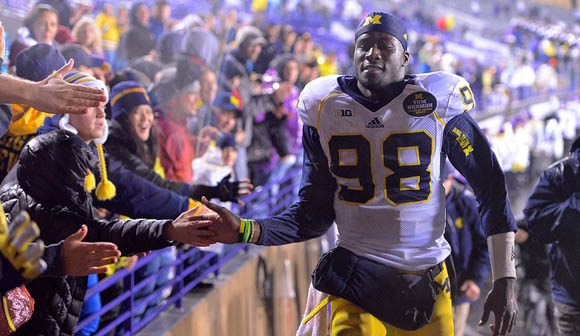 Overview
Johnny: I had expected Michigan to win this game, but I also had expected Michigan to get it together and look fairly competent against a Northwestern team in a tailspin. Instead what I got was one team being slightly less bad than another, and no touchdowns scored for the entirety of regulation.
This was a bad, bad game of football, regardless of how the final 15 minutes or so played out. One thing it did convince me of is that Michigan isn't changing. Sometimes teams will show you something new in the last month of the year, but this is not that team. Making Derrick Green a starter (which Hoke absolutely should do) is a good first step, but in preparation for 2014, not 2013. Gardner is who he is, the offensive line is who they are, and the defense is all that they're gonna be.
One final stat: the teams combined to be 9-37 on third down. Lord help me.
Ace: I was pleased with the final outcome and legitimately happy for the players, who've had to deal with way more crap than any student-athletes deserve. That said, this didn't change my opinion about the current coaching staff—something needs to change on the offensive side after the season—or Michigan's prospects against Ohio State, which are so bleak I almost can't bring myself to care that both teams are probably wearing alternates instead of their normal jerseys or, if they want to actually do something great that wouldn't elicit mass disapproval, get a waiver like USC/UCLA and both wear their traditional home jerseys. Almost.