Greetings, ladles and jellyspoons. It was a great weekend if you enjoy ugly wins, as OSU football and basketball achieved on Saturday. I'd include the Bengals' win over the Browns but reminding Cleveland fans of Jason Campbell's five dozen checkdown passes would be cruel.
As long as tornados didn't uproot you from the cellar and fling you into the night sky, read on. For those still airborne, sorry your luck wasn't thirteen ten-thousandths of a point better.
 NARRATIVE AND #NARRATIVE. It's mid-November, which means that in a couple short weeks brother will meet with brother and neighbor with neighbor to commemorate a wonderful fall harvest and share goodwill. It's also the perfect time to bitch out anyone who challenges Ohio State in the BCS rankings. For now, Baylor backers are the mortal enemy.
Ohio State remained ahead in the ESPN/USA TODAY and Harris polls and the BCS Standings. Baylor jumped ahead of Ohio State the AP Poll, which doesn't factor into the BCS. OSU fans were still salty, mostly because of stupid voters like Jon Wilner putting Ohio State seventh for asinine reasons: And whaddaya know, people have some deep feeling they want to share when you suggest being down 17-0 means you're not worthy of being No. 3:
Since beating Wisconsin by a touchdown at home on Sept. 28, tOSU has defeated Northwestern, Iowa, Penn State, Purdue and Illinois. The quintet's B1G record is a combined 6-24.

What's more, tOSU's four road wins this year are over teams (Cal, Illinois, NW and Purdue) that are 0-26 in conference play.

As noted previously in this space, I've given teams from the SEC and Pac-12 a slight ballot premium based on the strengths of the leagues.

With the Big Ten, I've taken the opposite approach. Season-long results indicate the league isn't very good.
Yes, season-long results (like the Big Ten's .500 record against other major conferences) indicate the league isn't very good, and there's a fundamental difference between beating a winless team at home and on the road. This is outright #narrative, intentional and gleefully stupid.
Until either Florida State or Alabama loses, can we all agree not to fight over who's number three? Baylor and OSU are each having great seasons and there's no point in spoiling a Big Ten title run by wringing hands over what some ill-educated voter thinks. Worse than #narrative is narrative, hashtag-free, the unintentional misconceptions that fuels professional pot-stirrers. Take the imaginary national conversation about how overrated Michigan State's defense is:
Dantonio told national storyline is MSU defense is not as good as people thought and can't stop Ohio State … Dantonio brushes it off.

— Mike Wilson (@MikeWScout) November 17, 2013
...and there's the first inkling of a national story.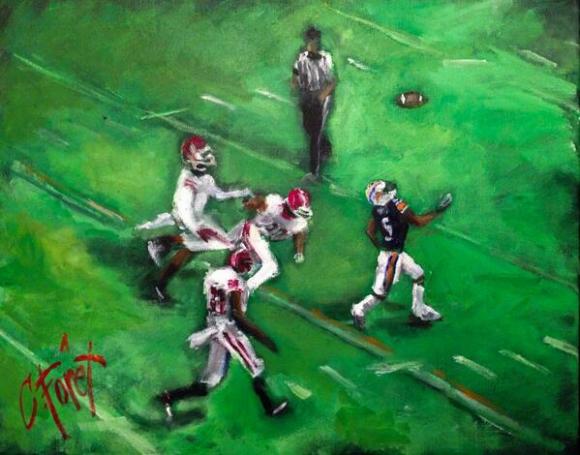 DA COACH O FOR USC. Southern California has been a team of two opposite poles. Under Lane Kiffin, USC was uninspired and joyless. Since Kiffin was fired the Trojans have flourished, upsetting No. 4 Stanford and returning to the BCS standings. Now Orgeron is in the unlikely position of being an interim coach who is hired on permanently.
Orgeron, known as much for his colorful Cajun accent as his unsuccessful coaching stint at Ole Miss in the mid-2000s, is like a different coach now, one with the tools to replace Kiffin at USC:
Orgeron explained to me last month, a few days before his first game as USC's head man, that he's learned not to chase ghosts and instead keep the big picture in mind. Gone are the days when he worked everyone into the ground and instead he would remain relentlessly upbeat and enthusiastic. He would trust his assistants and his players, and they'd lean on each other. He'd treat them like he treats his own sons. He would be the guy recruits fall in love with -- the one whose presence dominates a room. Not the one who seemed so on edge.

A few days after Orgeron took over, he hired 72-year-old Pete Jenkins, his old college coach and mentor, to join the staff. A lifelong D-line coach from the NFL and the rigors of the SEC, Jenkins knows Orgeron better than anyone. A half-hour after the Stanford game had ended, Jenkins, too, had tears in his eyes while he spoke about USC's win and about his protégé.

"I think he learned so much from his time at Ole Miss," Jenkins said. "The thing is, he learned a lot about what to do, and what not to do. Those players we have, they love that guy. And that is a really powerful thing. That's a really good line we faced, and we played them without subbing out one guy on the line all night. They're giving us everything they have and they really are so focused.

"At this point in time, [Orgeron] is the best guy for this job. Everything is about timing. I'm not saying he'd be perfect for everywhere else. Some places are different, but I believe this: he's perfect for USC. He truly loves this place and these people."
The last high-profile interim coach to become the permanent head coach was Bill Stewart – Luke Fickell's promotion was a grand fiction – and West Virginia regretted that when it fired him three years later, but Orgeron has been humbled in ways Stewart wasn't. USC is looking outside the program – Denver's Jack Del Rio, an alum, was interviewed recently – but Coach O can't be ruled out.
 DIVISIONAL DOMINANCE. Hey, this is cool:
Incredible stat from @rollerCD: Ohio teams own nation's longest win streak in DI (OSU 22), II (Ohio Dominican 15) and III (Mt. Union 25).

— Kyle Rowland (@KyleRowland) November 17, 2013
Everyone knows about the Ohio State and Mount Union dynasties, while it's Ohio Dominican's recent dominance catches people by surprise. The state of Ohio only needs FCS and NAIA schools with winning streaks to complete the set; get on the ball, Dayton/Youngstown State et al.
 ART GOUGING. Auburn's miraculous heave against Georgia is sure to be remembered in video for decades. One local artist, understanding how much Barners would pay for instant gratification, made a kitschy painting of the play WITHIN THE HOUR:
With the adrenalin from an awesome game by our Auburn Tigers tonight, here emerged a painting of the miraculous catch by Ricardo Louis. It was fueled by passion and more of my impressionistic looseness style tonight to portray the energy of that play. Hope you like it!

Make it yours! First bid will be $300. Bid by inboxing me on this page, and bidding will end Sunday, November 17th at 10pm. This is an original acrylic on canvas. 16x20. Good luck and enjoy! War Eagle!!!!
The winning bid was $675; pastel commemoration is a big deal in Alabama. The fact that an Auburn fan was willing to drop so much money on a $5 painting makes me shake my head. Still, kudos to the artist for finding a lucrative hustle.
 NEW FREE THROW DISTRACTIONS. UNC missed that free throw like a wreccccking baaaalll:
Well done, bold Belmont fan. A better nonembeddable video is here.
The Nuthouse needs an even more distracting song. Any suggestions?
 LINKS AHOY.  Frostburg State's negligence in a football player's death is infuriating... Ohio State's joyless title run... Brawls: one between JUCOs, and another between Winston-Salem State and Virginia State costs teams a playoff berth...  Cartel Brooks of Heidelberg University rushes for NCAA record 465 yards... NFL player and teammates allege verbal abuse from referee... Terrelle Pryor's backup Matt McGloin excelled in relief... Two OSU cheerleading coaches fired after a sexual harassment complaint... Siskel and Ebert's outtakes... Michigan State once beat the Harlem Globetrotters... Basketball upsets: Iowa State over Michigan, Indiana State over Notre Dame, and Belmont over UNC... the football fandom infographic... and the superlative Steiner Screwdriver.