Another weekend has passed, and with it another big win for the Buckeyes (unless you're a fan of ESPN-style propoganda, so wonderfully pointed out by friend of the show, Tony Gerdeman) and another weekend of Buckeye recruits doing big things in big games. For some, the season is already over, for others the real season — the playoffs — are getting into full swing and state championship dreams are being chased.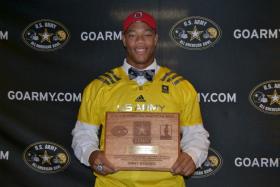 With Ohio State traveling this past weekend, there were no on-campus visitors to Columbus, but this coming week will host at least one major Buckeye target (New York JUCO offensive lineman Chad Mavety) and a host of other potential Buckeyes. 
Let's talk Buckeye 'crootin, ok?
KNOX GRABS SECOND RING
With a 42-7 win against Houston Christian in the SPC (Southwest Preparatory Conference) final, Demertrius Knox and his teammates put the capper on an incredible undefeated two year run. Now, Knox, the Springfield (Ohio) native and Buckeye commit is focused on the next step in his career: one last high school football game and then preparing like crazy for his arrival at Ohio State; he's got big plans for his freshman year.
"I'm getting ready for the Army All-American game," Knox told Eleven Warriors. "There's lots of work to be done. No time for resting on accomplishments."
Knox is hardly satisfied, despite an impressive resume. He finished his high school career with 22 straight wins and only five losses in his four years of high school, but he insists that now his only focus is getting better, and he'll do that by preparing for the All-American bowl as though it was the biggest game of his life.
"I'm really looking forward to playing against Derrick Nnadi, I think he's the best defensive tackle in the country," he said of who is looking forward to meeting up with. "He has the best speed-to-power attack I've seen he works his hands really well, playing against guys like him will make be better."
Another way Knox hopes to improve is by hitting the weight room — and the buffet table — to better prepare himself physically for the rigors of college football, and especially the hard-nosed ways of Buckeye offensive line coach Ed Warinner and strength madman Mick Marotti.
"Right now, I am 278 pounds," Knox said. "I want to get to at least 290-300 and I need to get a lot stronger. The goal is to be a freshman All-American next year and to do that I have to put in the work now."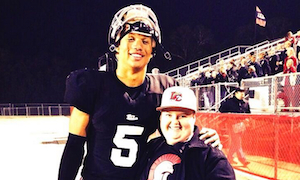 OUR OWN TOUGHEST CRITIC
There may not be a high school football player in the country who is harder on himself than Buckeye commitment Stephen Collier. This past weekend, Collier's Lee County Trojans won the schools first playoff game since 2005, and second time ever in school history, 28-6. Collier finished the game with 205 yards through the air, 135 yards rushing and three total touchdowns. In the win, he tied a school record with his 39th touchdown of the season, but it's the two interceptions he threw that were on his mind following the game.
"Awful game offensively. But we got the W 28-6. Thankful for my team for holding me up and the learning experience," Collier tweeted following the game. "On a happier note I tied the school record for TDs in a single season with 39."
Collier is a perfectionist, completely aware of his imperfections and there's few things that drive someone with his competitive fire more than when he makes mistakes. It's who he is, and he knows what he needs to do.
"We just have to keep doing what we're doing on defense," he told 11W. "On offense we really need to work on being consistent. I think this past weekend we were too tight. There were dropped touchdown passes, but there were bad decisions on my part, too. I was trying to be Superman and I didn't need to be. I just need to relax and play my game and have fun."
As Lee County prepares for its next contest, a home game against Mundy's Mill, Collier is trying to not think ahead, knowing that a potential matchup with Clemson commitment and former Buckeye target, Gainesville (Ga.) star Deshaun Watson, is looming if each quarterback can engineer a win this weekend. 
HELPING HAND?
Today is the 18th birthday of Ohio State's biggest remaining recruiting target, Hinesville (Ga.) inside linebacker Raekwon McMillan. While that means nothing, I just wanted to share it. 
OK, that's not the extent of the update.
McMillan visited Alabama a week ago for the Tide's blowout win against LSU, and as expected, he had a great time. In fact, people I've talked to close to McMillan seemed to be genuinely surprised at how much Raekwon enjoyed the trip to Tuscaloosa. This week, Alabama pulled off a coup and landed a commitment from Virginia's Da'Shawn Hand, that nation's top defensive end. McMillan has long been fascinated by the idea of playing alongside Hand, but until now that possibility wasn't really realistically discussed. Now, with Hand helping the Tide's cause, and McMillan's continued excellent relationship with Alabama's defensive coordinator, Kirby Smart, Alabama becomes a legitimate threat to the Buckeyes and Clemson in their pursuit of the country's top linebacker.
I've lamented here in the past that I thought the Big Ten's ability to land Hand and McMillan was potentially a watershed moment for the conference and its longstanding fight against an ESPN-led exodus of the nation's top players to the southeast, and Hand's decision is a bad one for the B1G. 
How bad? One source close to McMillan told me that back in the spring, he thought Ohio State's chances to land the Georgia linebacker was "100-percent," but as of this week, he believes the Buckeyes' chances have fallen significantly, and that Urban Meyer and the Buckeyes are trailing both Clemson and Alabama, citing the distance from home as an increasingly difficult barrier to overcome. I am not jumping off the McMillan to Ohio State bandwagon yet, but there's reason to worry big time if you're a Buckeye fan. Can McMillan's relationship with Urban Meyer hold off a hard-charging Crimson Tide and Nick Saban? Raekwon will make an official visit to Clemson this weekend, and it's a huge opportunity for the Tigers to gain a definitive upper-hand on Ohio State.
BAKER PUTS ON HISTORIC SHOW
It seems, for some reason, that as people talk about the class of 2015 in Ohio, Cleveland Benedictine star Jerome Baker often is left unmentioned as Eric Glover-Williams, Justin Hilliard and a handful of others nab headline after headline. Baker is a quiet superstar, unassuming and humble, but after his performance Friday night, people have to be talking.
Against top-ranked Chagrin Falls on Friday night, Baker simply went off, off to the tune of 252 yards and five touchdowns rushing, double-digit tackles on defense with an interception and a forced fumble, off. The Tigers defeated the state's top-seed 52-35 and Baker earned the respect of everyone who saw him play. The 6-foot-1, 205 pound running back/linebacker had touchdown runs of 32, 80, 31, 8 and 33 yards and according to Chagrin Falls coach Mark Iammarino, there was not much that could be done to stop him.
"You give him a crease and he's gone," Iammarino told Cleveland.com "He's an outstanding back and we take our hats off to him."
As far as Baker and Ohio State? The Buckeyes are still in very good shape to land the Cleveland star, even if they're not sure what at position he'll ultimately line up.
High school football preview
Position
Player
School
Opponent
Comment
QB
Stephen Collier
Lee County (Ga.)
Springfield Effingham (Ga.)
Won 28-6, Collier had three total touchdowns and over 340 total yards.
RB
Parris Campbell
St. Vincent-St. Mary (Ohio)
Poland Seminary (Ohio)
Won 35-7, 128 yards on 18 carries and a touchdown for Parris.
WR
Terry McLaurin
Cathedral (Ind.)
Whiteland (Ind.)
Won 56-28, 89 total yards and no scores.
OT
Jamarco Jones
De La Salle (Ill.)
at Chicago St. Rita (Ill.)
Lost to St. Rita, season over.
OT
Kyle Trout
Lancaster (Ohio)
N/A
Season over (finished 5-5)
OG
Marcelys Jones
Glenville (Ohio)
Bedford (Ohio)
Won 26-12, signed midyear financial agreement with Ohio State.
OG
Demetrius Knox
All Saints Episcopal (Texas)
N/A
Season complete, won second straight championship. 
DE
Jalyn Holmes
Lake Taylor (Va.)
Suffolk Nansemond River (Va.)
Five sacks in 35-7 victory.
DE
Dylan Thompson
Montini Catholic (Ill.)
Joliet Catholic Academy (Ill.)
Won 22-21, Dylan led the way on a game-winning two-point conversion late in the fourth quarter.
OLB
Kyle Berger
Ignatius (Ohio)
Hudson (Ohio)
Won 28-17. DNP (ACL).
OLB
Dante Booker
St. Vincent-St. Mary (Ohio)
Poland Seminary (Ohio)
Won 35-7, Booker collected 3.5 tackles in the victory.
CB
Damon Webb
Cass Tech (Mich.)
Macomb Dakota (Mich.)
Won 32-17. Interception, six tackles and three receptions.
S
Malik Hooker
New Castle (Pa.)
N/A
Season over (finished 7-3) 
ATH
Noah Brown
Pope John XXIII (N.J.)
Edison Bishop Ahr (N.J.)
Won 56-0
ATH
Sam Hubbard
Moeller (Ohio)
Cincinnati Elder (Ohio)
Won 24-0, Hubbard recorded an interception.



ATH
Curtis Samuel
Erasmus Hall (N.Y.)
Bronx Kennedy (N.Y.)
Won 38-6, two touchdowns including a 96-yard jaunt.
K
Sean Nuernberger
Oldham County (Ky.)
N/A
Season over (finished 2-9)
OT
Chad Mavety
Nassau C.C. (N.Y.)
N/A
Will officially visit Ohio State on Nov. 23. 
DL
Solomon Thomas
Coppell (Texas)
Irving (Texas)
Won 56-8, had one sack in limited playing time.
ILB
Raekwon McMillan
Liberty County (Ga.)
at Westover (Ga.)
Lost 27-7, had a 15-yard INT for a score. Season over.
S
Mike Rogers
Campbell (Smyrna, Ga.)
N/A
Season is over.
S
Erick Smith
Glenville (Ohio)
Bedford (Ohio)
Won 26-12, held to one catch.
ATH
Marshon Lattimore
Glenville (Ohio)
Bedford (Ohio)
Won 26-12. One touchdown catch among 137 total yards. 
ATH
Eric Glover-Williams*
Canton McKinley (Ohio)
N/A
Season now over