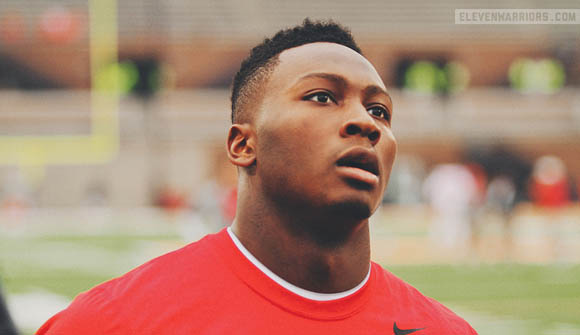 For weeks, Ohio State fans have ridden an emotional rollercoaster – overjoyed with the explosion of points on the football field, yet living in perpetual fear that Stanford, Baylor, and a handful of other teams, both real and imaginary, might jump the Buckeyes into the No. 3 spot in the BCS rankings.
Those fears may come to fruition today. Bleacher Report's Samuel Chi, who goes by @BCSGuru on Twitter and elsewhere (when ordering pizza would be hilarious), has Baylor third and Ohio State fourth in his latest set of projections.
After a lackluster victory over lowly Illinois, in which the Buckeyes led by just 12 at one point in the fourth quarter, they will be passed by surging Baylor in the upcoming BCS standings. The Bears pulled away from Texas Tech in the second half, winning 63-34 in a game played at AT&T Stadium in Arlington.

As a result, the Bears will gain enough in both the polls and computers to leapfrog the Buckeyes for the No. 3 spot. Alabama and Florida State will keep their tight grip on the top two spots, as both won without much of a struggle.
Ohio State was third with a .8926 average in the week 12 standings, while Stanford, who lost to USC was fourth, and Baylor was fifth, with a .8618 average. However, Chi believes the Baylor's 63-34 win over 7-4 Texas Tech will be enough to move the Bears ahead of the Buckeyes, who topped 3-7 Illinois 60-35.
Of course, Chi later couched his projections, saying if Baylor didn't jump the Buckeyes this week, they would definitely move ahead of them if they beat Oklahoma State in Stillwater next week.
@DyllonTooICY_ If Baylor isn't No. 3 this week, they will be if they beat OSU next week.

— BCS Guru (@BCSGuru) November 17, 2013
So, EVERYBODY PANIC! Or not.
The week 13 BCS standings will be announced at 8:30 p.m. on ESPN.