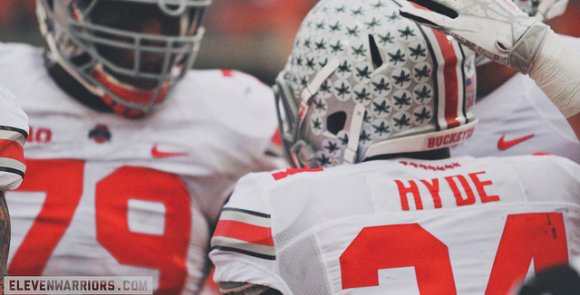 Here are some facts: Ohio State won by 25 and scored 60 points in the process. The Buckeyes had two runners top 100 total yards and 10 yards per carry, while Hyde hit 246 and five touchdowns in the third-highest rushing total in school history. The defense snagged two interceptions, with Roby returning one for a touchdown. Joey Bosa, a true freshman, recorded 2.5 sacks before being injured.
And yet, we feel a little underwhelmed. That's what 35 28 points given up on defense and missed opportunities on offense will do to you, and the numbers will reflect that slightly ho-hum feeling.
But in no way should we walk away from that mixed bag of highs and lows and be fatalistic or upset about the Buckeyes' performance; there are certainly things the staff can fix this week. So while we take a look at what the stats say the Buckeyes need to work on, let's see who deserves some Buckeye leaf stickers too.
Highs and Lows
Carlos, Hyde, everybody. Wow. Starting a review of the offense with anything but him should be blasphemy, because his effort and improvement is pretty inspiring this year. At this point he's only 51 yards away from becoming Meyer's first 1000 yardage back and he's only had two negative rushing yards this entire year.
| PPP | YPP | YPA | Turnover | Ex Play | RedZone TD |
| --- | --- | --- | --- | --- | --- |
| .708 | 11.6 | 8.2 | +1 | 9 | 80% |
Ohio State had four three-and-outs. That's generally really, really bad for an offense to squander opportunities and field position (more than two in a game significantly decreases the likelihood of victory), but the Hyde-led squad nonetheless put up 51 points.
Ohio State had nine explosive plays, and eight of them were on the ground.
Just looking at points per play you'd think that this was one of the best offensive outputs of the season. Sure, 51 points is great, but the Buckeyes only had a 50% drive efficiency. Further, PPP is so high because the scoring drives were generally extremely short drives due to explosive plays. Likewise, it was boom or bust when the Buckeyes punted as well, with four three-and-outs.
With 441 rushing yards, Braxton didn't need to be on his A-game throwing the ball, but five yards per attempt passing and only 150 total yards does limit the offense in most cases. If you're almost anyone but Illinois, a defensive coordinator can load the box and commit additional defenders to taking away inside zone and Braxton on the edge.
Hyde's runningback success rate was 71%, which is obviously excellent even if it included his first negative yardage carry of the season. The fact that Hyde was able to combine explosive plays like his two 50+ yard bursts in the fourth quarter with a 71% efficiency rate (which isn't affected by explosive plays) says a lot about both Hyde and the Illinois run defense.
The Buckeyes recorded a 52% RB Block Success Rate which was right around their season average despite not having Jack Mewhort available for many drives.
A Leakier Defense
So at this point there are a couple of possible explanations for the defense's performance:
The Illinois offensive staff gameplanned perfectly, and credit should be given to them.
Fickell and Withers are scheming poorly.
The defense simply doesn't have the talent it needs at key positions, like the secondary and the linebackers.
It was a one-game aberration and the defense has turned it around since the second half of the Iowa game. You might be able to explain it by the three starters who were out or missed significant time yesterday.
I don't know if any of these hold any merit necessarily, but I thought it was worthwhile to brainstorm possible arguments for why the defense underwhelmed. In any case, let's see what the numbers say about the defense's performance:
| PPP | YPP | YPA | Ex Play | Redzone TD |
| --- | --- | --- | --- | --- |
| .318 | 15 | 4.77 | 4 | 100% |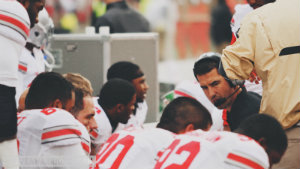 The points per play, yards per point, and yards per attempt numbers are all fantastic. The problem yesterday was in the redzone touchdown percentage (100%) and the four explosive plays (including two 20+ yard rushing plays).
The Illini managed only 128 total yards and 25 yards rushing against Michigan State (420 and 132 yesterday).
In my Illinois preview, I wasn't at all impressed by Josh Ferguson's numbers, but during the game it seemed like he had way more success than he should have had. However, his RBSR was only 40%, so he performed as expected.
Scheelhaase was the only reason the Illini made things interesting. Despite only throwing 5.8 yards per attempt and two interceptions, even that low of a YPA will begin to add up after 50 attempts.
Joey Bosa was a monster, wasn't he? With 2.5 sacks in his limited time, it's safe to say that he would have affected the game's outcome if not for his neck sprain. It's imperative that the Buckeyes get him back shortly.
Shazier had another quietly awesome day, with 16 tackles, 3.5 TFLs, one forced fumble, and 1.5 sacks. That's Lombardi/Butkus level and you can't tell me differently.
CJ Barnett had a great day as well, both in run support with 14 tackles and in the passing game with one breakup and one interception.
Each game I think more and more of Doran Grant. He might not light up the stat sheet with tackles, PBUs, or interceptions, but it's usually not too good for a corner to have many stats. It will be tough to lose Roby next season, but Grant has really stepped up his game.
The previous four points are the story of yesterday to me: lots of individually fantastic performances, but an overall slightly underwhelming effort. Maybe the defense wasn't playing as cohesively with three starters absent? Are the lack of linebackers really hurting the Buckeyes that badly in the passing game?