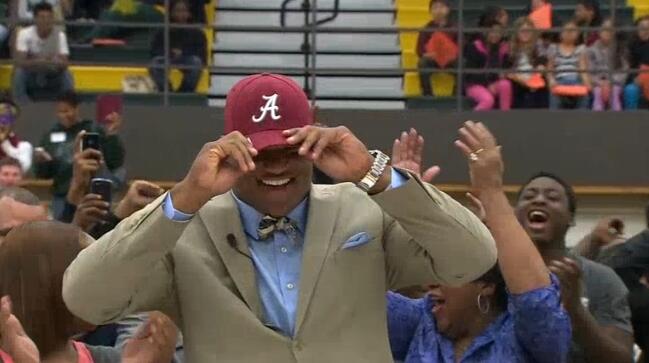 Michigan had long been considered the landing spot for the nation's #1 overall prospect, five-star defensive end Da'Shawn Hand of Woodbridge, Virginia. That was until today, when Hand chose Alabama, winner of three of the last four national titles, over Michigan, who has lost eight games in the last two years under coach Brady Hoke. 
We go now to the abyss of Twitter, to take a pulse on just how Michigan fans are reacting to the news. We start with THE GOOD:
@TheHand54 Good luck at Bama...wish you picked Michigan but this is your choice. Do work!

— Isaiah Matteosian (@IsaiahCantDance) November 14, 2013
@TheHand54 I'm definitely a Michigan fan, but best of luck to you cat. Wish you all the best.

— Garrett Stephens (@Gstephens313) November 14, 2013
@TheHand54 Good luck at Bama... would've enjoyed watching you at Michigan but can't argue with choosing the best.

— Rob (@RobGoBlue) November 14, 2013
Ok, ok. Some Michigan fans are apparently well-adjusted adults and aren't going to let a teenager verbally committing to another school ruin their day. Let's check on THE BAD Michigan fans.
@TheHand54 I Thought Academics was your first priority. But Good luck at anyway. I'm sure their academics are on point with Michigan.

— Keith Reeves (@blackboykeif) November 14, 2013
@TheHand54 Goodluck at Bama, bro #unfollowed I only follow potential, committed, or enrolled #Michigan players. Nothing personal.

— NJD〽 (@WolverineViper) November 14, 2013
@TheHand54 Good luck to you. Have fun sitting on the bench.

— Jamie Wilson (@wolverinefan69) November 14, 2013
Ah, passive-aggression: the true sign of a Michigan Man. Now, let's get to the main event; THE UGLY MICHIGAN FANS:
@TheHand54 You will regret your decision. Mattison would have made you into an NFL caliber player. Michigan will be back on top. You'll C

— Chris Johnson (@Chris12261951) November 14, 2013
@TheHand54 shoulda picked michigan have fun riding the bench at bama

— Money Manziel (@AnthonyThomas__) November 14, 2013
@TheHand54 so much for academics right? I actually took your statement seriously. Just another athlete..

— AJV (@ajvollmer) November 14, 2013
@TheHand54 how much is Bama paying you?

— Mitch Benkey™ (@MitchBenkey) November 14, 2013
@TheHand54 bout to hit the smoooooth unfollow, you are overrated anyway

— SHERBS (@Jherb905) November 14, 2013
@TheHand54 chose the easy way out..chose the safe route.Doesn't want to be the change.Bama won't last long with new playoff system. Go Blue!

— Jim (@Wolverinelover3) November 14, 2013
@TheHand54 Ha, ha, ha....how long until the photos of Hand with strippers, gold chains and stacks of cash come out? #secpayforplay

— Advocatus Diaboli (@AdvocatusDiaboz) November 14, 2013
@TheHand54 http://t.co/szrt4j0ehf

— Brett Rivard (@BrettRivard_) November 14, 2013
@TheHand54 I hope michigan plays you so Derrick green runs your bitch ass over!! #hailtothevictors

— Jonathon foster (@Jfost44) November 14, 2013
@TheHand54 look we all know by how you were dressed compared to you family your getting paid to go to BAMA!!!

— Jonathon foster (@Jfost44) November 14, 2013
@TheHand54 you probably got payed to go to Alabama. Have fun with the imbread cousin fuckers down there. #goblue #yarat

— Jake Gruhn (@FUKUPAYME_) November 14, 2013
@TheHand54 how much money did you sell your talents to Alabama for??? #joke #bust

— Forrest Ickes (@ForrestIckes) November 14, 2013
@TheHand54 how much did bama pay you

— Matt Lehmann (@MattLehmann2) November 14, 2013
@TheHand54 you're a bust all talk no game. You're a dumb shit who couldn't handle a real school. Enjoy being a member of a herd not a star

— DRosenthal (@theReal_D_Rose) November 14, 2013
@TheHand54 Michigan engineering too hard for you bro? You dumb bitch enjoy the Alabama classes you kindergartner. Cock

— DRosenthal (@theReal_D_Rose) November 14, 2013
@TheHand54 No better place to get your engineering degree than Alabama right?

— Pietro Conte (@pcpietro11) November 14, 2013
@TheHand54 youre a fucking idiot i hope you suck

— DRosenthal (@theReal_D_Rose) November 14, 2013
@TheHand54 how much is Saban paying you? Education is "most important" so you pick bama?? #notamichiganman #noclowney

— dillon kollmer (@fletchdaddy7) November 14, 2013
@TheHand54 Did u know that Alabama's Civil Engineering school is ranked #80 in the nation Michigan is #7? U were joking about the academics

— Terri Dorsey (@TerriDorsey1) November 14, 2013
This one wasn't sent directly to Da'Shawn, but it's being included for LOL purposes:
I blame Borges for losing Hand. Yeah he's a d-end.. But fuck Borges

— Doctor J(P) (@Purtelligence) November 14, 2013