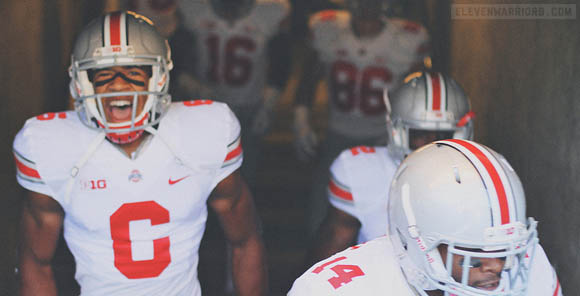 Ohio State wide receiver Evan Spencer, son of former Buckeye great Tim Spencer, is a Buckeye through and through. Maybe too much Buckeye, in fact.
Oh, Evan... RT @RyanGinnBSB: Ohio State WR Evan Spencer on Alabama and FSU: "I think we'd wipe the floor with both of them."

— Eleven Warriors (@11W) November 11, 2013
Love the confidence, kid, but slow that roll a little.
---
UPDATE 11/11 4:01 p.m.
Spencer did bracket his quote with caveats about his "bias" but the full quote did not surface until will after the storm had formed. Here's Spencer's full quote for context:
"Well I guess I'm a little biased, but I think we'd wipe the field with both of them. But that's just my bias speaking."
---
UPDATE 11/11 8:31 p.m.
Spencer and Ohio State spokesman Jerry Emig and made the following statements via Twitter:
I did not mean to disrespect any FB team today. I am confident in my team, and as is evident in the video, I was having fun ...

— Evan Spencer (@LiLSpencee) November 12, 2013
...with the media answering their questions. I should have chosen my words more wisely. There was no intent to disrespect any other team.

— Evan Spencer (@LiLSpencee) November 12, 2013
Just spoke to Evan Spencer. He said he was having fun with the media today and he did not intend to disrespect any other team.

— Jerry Emig (@BuckeyeNotes) November 12, 2013
Evan is an articulate young man who regrets his moment of over-enthusiasm. His comment was said with humor and with no intent to disrespect

— Jerry Emig (@BuckeyeNotes) November 12, 2013