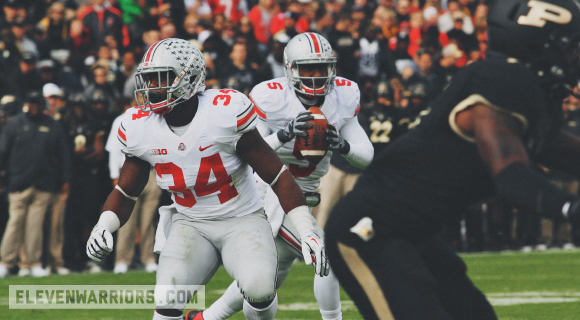 Defense might win championships, but it's Ohio State's offense that can put them in the national championship game. The 63 and 56 points the Buckeyes put on the scoreboard their past two games serve as an exclamation point for voters to fawn over. 
The final three games of the regular season – Illinois, Indiana and Michigan – give off the appearance of more of the same. Sitting third in the Bowl Championship Series standings, Ohio State must not only try and keep pace with Alabama and Florida State, but also stay a stride ahead of Baylor who's in hot pursuit.
"I feel like it's really important of us to dominate opponents, but I still feel like a win is a win," linebacker Ryan Shazier said. "You do your job and show everybody that you're doing your job. You really don't have to blow people out. They understand that you know what you're doing and you have the players and the coaching staff to do what you have to do. That's all that matters."
That line of thinking is not entirely true in a system where undefeated teams can be left out of the proceedings. A dose of spice and pizzazz could keep Ohio State relevant and a topic of conversation each week. Freshman running back Ezekiel Elliott has described the Buckeye offense as a pick-your-poison unit.
The theory that anyone who touches the ball can take it to the end zone has some merit in Columbus – 14 offensive players have scored a touchdown. The 107th-ranked offense from two years ago is now two light years away from the product Urban Meyer and Tom Herman put on the field. 
Ohio State averaged 37 points per game last season, which seemed formidable. But consider that that number has grown by 11 in 2013 and the yeomen's work put in by the offensive staff becomes even clearer.
A year ago, it was go as Braxton Miller goes. When plays broke down, he dashed forward, often gaining huge chunks of yardage, but it wasn't the resourceful offense Meyer and Herman set out to create. Nine games into the 2013 campaign, it's all coming into form.
The Buckeyes are averaging over 100 yards per game more than last year's unbeaten team and rank in the top 10 nationally in total offense, rushing offense and passing efficiency.
"That's how it should be with this type of offense," Miller said. "You don't expect many three-and-outs, just exciting plays."
Said Meyer: "The offensive line is blocking people and there are a bunch of targets. Push the rewind button to one year ago, who are you going to throw the ball to? We don't know. Now you have five or six targets that you actually want to see the ball in their hands, and they've earned that right."
In a matter of weeks, Carlos Hyde will have earned his lofty status among Meyer's all-time roster. He's currently stuck on 701 rushing yards, a number that is certain to top 1,000 barring an unforeseen issue. Seven Ohio State running backs have crossed the 1,000-yard threshold since 2001, the same year Meyer became head coach at Bowling Green. But despite all the success, he's never had a 1,000-yard running back.
When Hyde was suspended three games, not many believed he could churn out this many yards. One former scout team running back isn't surprised after witnessing the offense's potential.
"I expect this offensive group to just come out and be explosive all day," Hyde said. "Just come out and put up points and put up yards – that's what I expect from us."
The 1,000 yards is a personal goal intertwined with team success for Hyde. He wants to achieve the prestigious honor and knows if he does it translates into the entire offense playing sound.
Ohio State's backfield – Hyde and Miller – makes for a significant challenge for opposing defenses. It's why nearly every offensive playmaker has been awarded with a big game this season, from Hyde to wide receiver Philly Brown to tight end Jeff Heuerman.
"Having a running back like Carlos Hyde and a quarterback like Braxton Miller and some of our offensive weapons – Dontre Wilson, Devin [Smith], Evan [Spencer], Philly Brown – defenses have to respect all of them," Heuerman said. "Having those guys be so productive puts me in a position where I can make my block easier and it makes my route easier."
Offensive line coach Ed Warinner, who's groomed the best unit in the Big Ten, a talented yet unheralded bunch that didn't appear on many can't-miss-prospect lists, sees a backfield that's playing confident because of what's in front of them – literally, lots of green space – and the ability to feed off one another.
The Buckeyes are big on the "power of the unit" motto. Well, the offensive line is a powerful unit that stands for offensive production.
"Carlos runs over people and finishes runs and that gets the offensive line fired up, and they work that much harder to create holes," Warinner said. "It's a highly motivated group."
And the onslaught hasn't just occurred because Ohio State's weak competition played sacrificial lamb.
"It's real. It could be smoke and mirrors if you only went off the Purdue game, but I feel as long as you run the ball effectively, that's a telltale sign that those were quality wins," senior center Corey Linsley said. "It's a telltale sign that you played physical and you played hard and that this isn't fool's gold."
The only fool left in the room in November is the giant elephant of a postseason system that is destined to leave out not one but multiple teams deserving of an opportunity to win the national championship.
"People are down on us all the time. We're undefeated and blowing teams out," Wilson said. "Everybody says we don't play much competition, but we're still proving we can play good teams and blow other teams out."