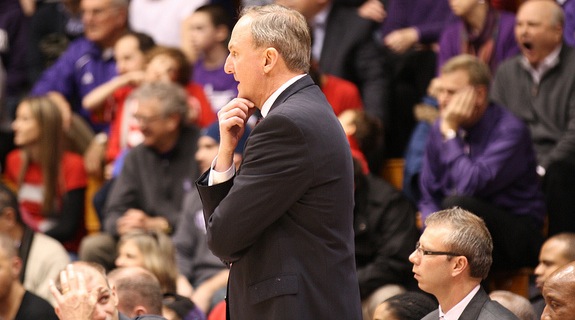 Late Sunday, March 28, 2004, Thad Matta trudged out of the Georgia Dome after one of the most agonizing losses of his career. The seventh-seeded Xavier Musketeers, 10-9 in early February, had just fallen to No. 1 Duke in an Elite Eight game they led late in the second half.
For Matta, it represented the most recent March heartbreak in a list that was already littered with close calls in college basketball's holy period. But it was also a turning point for Xavier. Long a basketball school, Matta had the Musketeers on the doorstep of the Final Four and positioned among the top mid-majors in the country.
That's why Matta rebuffed then-Ohio State athletic director Andy Geiger when he was originally contacted about becoming the Buckeyes' next head coach. Basketball is far different than football. You don't need to be one of the Joneses when it comes to the hardwood.
Jim O'Brien's final two seasons in Columbus yielded an overall record of 31-31, eighth and ninth place finishes in the Big Ten and looming NCAA sanctions. Put simply, Ohio State was struggling after reaching the Final Four in 1999.
Despite the Buckeyes falling behind Cincinnati, Xavier and even Dayton in the state's basketball prestige pecking order and Matta's own admitted disinterest in the job, he eventually opted to make the 105-mile trek up I-71 to begin a rebuilding process that a decade later has Ohio State on firm footing with the nation's elite.
The potential awaiting Matta in Columbus was why Dawn Rogers, Xavier's athletic director at the time, feared he would leave the Cincinnati-based school.
"I always had the uneasy feeling that Thad might be the next Ohio State coach," she said. "Ultimately, he did what he needed to do to be where he wanted to be as a coach."
After acquiring the job, Matta made it clear why he did so. The Hoopeston, Ill., native watched the Big Ten his entire life and was entrenched in the culture. It was only natural for him to become part of the conference and coach in locales such as Champaign and Bloomington.
"I'm a Midwest guy. I grew up in the Big Ten and think having the opportunity to get what I conceive is the best job in the Big Ten, I feel very fortunate at that," Matta said.
At his introductory press conference, Matta laid out his plans for the Buckeyes. And they were quite simple.
"I am fully aware of the state that this program is in right now and I stand before you today that I have accepted this position for one reason and one reason only – to bring Ohio State basketball back into national prominence," Matta declared.
In nine seasons, he's done more than anyone could have foreseen, even Geiger. The 10th chapter begins Saturday against Morgan State. 
The success Matta has concocted – five regular-season Big Ten championships, four conference tournament titles and two Final Fours – has threatened Ohio State's status as a football school. Urban Meyer remains undefeated, but the excitement over the basketball program grows each season.
"There's an element inside of me that knows I'm representing more than myself or the university, and that is the fans and the state of Ohio," Matta said. "I don't want to say that it's pressure, but it's a driving force to do the best that I possibly can."
Matta's won 250 total games and over 70 percent of conference games at the helm of the Buckeyes. The only thing he hasn't done is win a national championship.
"In '07, we had maybe one of the best teams ever in the Big Ten and we play Florida, who has everybody back from the team that won it the year before. That's the kind of luck I have," Matta said, tongue-in-cheek.
He'll pass Harold Olsen this season for the second-most wins in program history and eclipse the legendary Fred Taylor's 297 wins next season to become the Buckeyes' all-time winningest coach. Still, one victory during Matta's first season, a year in which Ohio State wasn't eligible for the post season, still resonates more than any other. 
On the final day of the regular season, the Buckeyes played host to No. 1 and undefeated Illinois. They'd already lost to the Illini by 19 points in January. Ohio State had steadily progressed throughout the season, though, and a team that won 17 and 14 games the previous two seasons had already topped that mark prior to the Illinois game.
The Buckeyes' resurgence was already taking shape, albeit at a slow pace. Then everything went into a sprint. Matt Sylvester's March 5th performance will forever be revered in Columbus after his game-winning three-pointer with 5.1 seconds remaining sunk the top-ranked Illini. But it was far more than just one win, it proved to Matta, his assistants, players and recruits that a turnaround was not only possible but occurring.
Shortly thereafter, Greg Oden, Mike Conley and Daequan Cook committed to Ohio State. Suddenly, the rebuilding was in full swing and the Thad Five was born.
"Looking back on it, I feel like [Sylvester's shot] was a defining moment because everything that we had preached, the environment we tried to create around the basketball program came into fruition and showed that hard work does pay off," Matta said. "There was no light at the end of the tunnel for that team. They were playing for nothing and won 20 games and just did an incredible job. I think that kind of propelled us into the future."
Rock bottom is how Matta remembers describing the Buckeyes' situation to recruits after he took the job. The basketball program had a 20-percent graduation rate and little in the way of talent. The nine-year transformation has been stunning for many across the college basketball landscape.
Ohio State holds the nation's longest active streak with four straight appearances in the Sweet 16 and seven years of having a player selected in the NBA Draft.
"There were 330 Division I programs, and we were the 330th. People forget where we were," Matta said. "It's been exciting to see this program come to fruition of where we thought we could build it."
Year 10 is foreign territory for Buckeye basketball coaches. Only Olsen, Taylor and Eldon Miller have reached such heights.
"To be here 10 years, it's like 80 in dog years," Matta said, laughing.
Perhaps the most challenging part of his Ohio State tenure is the reloading, not rebuilding from the ground up the first two seasons. Matta's dealt with one-and-done players throughout his time in Columbus only to cycle in another highly rated recruiting class. He's won with freshmen, seniors, centers and point guards.
The eye for talent Matta and his assistants have displayed, a group that includes Illinois' John Groce, Butler's Brandon Miller and Dayton's Archie Miller, is the chief reason why the Buckeyes have been able to replenish the roster with top-flight players.
"I have accepted this position for one reason and one reason only – to bring Ohio State basketball back into national prominence."
Oden is arguably the most hyped freshman to ever don the scarlet and gray. His best friend, Conley, was part of a package deal. Conley was a coveted recruit, but many believed his success was largely due to playing alongside Oden in high school and on the AAU circuit. That notion would quickly be put to rest after Conley composed an historic season that culminated in being named to the NCAA All-Tournament team.
"The only two people in the world who knew how good Mike Conley was was myself and Greg Oden. We used to laugh about it," Matta said. "I used to tell people he was the best point guard in the country and nobody would believe me. You'd just see him make play after play after play."
Just three years later, Evan Turner earned national player of the year honors, proving once more that Matta and Co. know ability when they see it. 
"Having a guy like that in your program and watching him develop into who he is as a player and a person – that's pretty gratifying," Matta said.
His players have repaid him over the years with their appreciation and adoration. On a summer day in Columbus, if you're to traipse into Value City Arena, chances are you'll catch a glimpse of former All-Americans and current NBA players scrimmaging against the current crop of Buckeyes. Aaron Craft guarding Conley, Turner attempting to find an open shot over Lenzelle Smith Jr. The assembly of former players has become normal.
This summer that gathering moved to a second venue – Matta's house.
"We had a special night," he said. "My family threw me a surprise party. It was the guys I had coached here. We had one of the greatest nights of my life.
"Those are the types of things that I'm probably the most proud of, that I can have a Sunday afternoon this summer, and James Sullinger, Je'Kel Foster and Terrence Dials spend five hours at my house. You go to bed at night saying, 'Man, we've done this the right way.'"