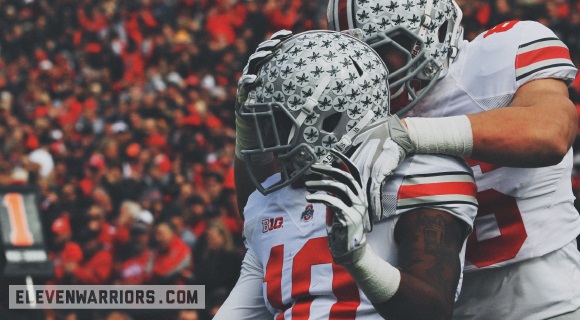 The numbers speak for themselves. In 2013, Corey "Philly" Brown has hauled in 41 passes for 547 yards and eight touchdowns. He leads the team in all three categories. That's one form of leadership: statistically, on the field.
Scratch the numbers a bit and you'll see something else: he's at his best against the best teams. Brown's weakest games have come when Ohio State gets out to a quick lead against a weak opponent and cruises from there (Buffalo, Florida A&M, Purdue). But in the four games leading up to the Purdue blowout, Brown registered 21 catches for 351 yards and four touchdowns, averaging 16.7 yards per reception. That kind of leadership has a special name: clutch.
Perhaps the strongest praise for Brown this season had nothing to do with his on-field heroics though. Near the end of a hard-fought win against Wisconsin, one of the team's captains and an outspoken locker room leader Christian Bryant went down with an injury that will sideline him for the remainder of the regular season. In the wake of this bigger-than-the-numbers-will-show setback, OSU head coach Urban Meyer went looking for leaders to step up and fill the void.
In the aftermath of the team's most difficult game, the come-from-behind triumph over Iowa, Meyer was effusive in his praise of Brown's locker room leadership. "When you lose Christian Bryant, I keep looking for that next guy and I found him, I think. It's No. 10, Philly Brown," Meyer said. "He was phenomenal today. He was picking up the slack of Christian Bryant." 
All this, for someone about whom Meyer said last season "I wouldn't walk across the street for him". That's an interesting comparison. Last season, Brown led the team on the field with 60 receptions. He's having a good season in 2013, but not keeping up his 2012 pace. For Meyer though, what does not show up in the numbers is more important. Not only that, but his example has apparently inspired the other receivers to elevate their games. That's another form of leadership: example.
Devin Smith had 30 receptions for 618 yards and six touchdowns in 2012. This year, he already has 38 receptions for 542 yards and six touchdowns with (at least) three games remaining in the schedule. Smith has not gone deep as often this season as he did last year, as evidenced by the average yards per catch, down to 14.3 from 20.6. However, one big catch he made has had an impact on every team's preparation for Ohio State ever since.
In game three against Cal, the Buckeyes had the ball deep in their own territory to start possession, due to a mishap on the punt reception. Quarterback Kenny Guiton (subbing for the injured Braxton Miller) started the possession by throwing a quick pass out to receiver Chris Fields on the edge. Then on second down, Guiton faked the same throw, then threw down the field to a streaking Smith. He carried it 90 yards to the end zone, completing the longest play of the season for Ohio State. 
Every team has seen that play on the film, and they can see how Cal was suckered by the previous play and burned badly. No team wants that to happen to them. And so, for the rest of the season, that quick pass to the edge has been continuously open; no team dares to bring their coverage up for fear of getting burned by the speedy Smith. It has become a reliable source of easy yards.
Smith hasn't been the only OSU receiver that has followed Brown's example. At 6-foot-2 and 205 pounds, Evan Spencer is Ohio State's "big" receiver, roaming the middle of the field to make the tough catches and take the hits while Brown and Smith patrol the edges. Spencer already has 21 catches for 209 yards and three touchdowns, easily exceeding his totals for all of last season. Not only that, but he has been an exceptional blocker, frequently sealing off the edge to enable players like Carlos Hyde and Jordan Hall to rip off big runs.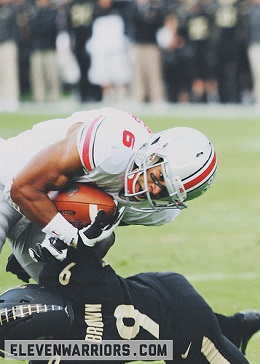 Another veteran who has elevated his game in 2013 is Chris Fields. Fields played sparingly in 2012 and caught only four passes for the season (although one of them was huge). This year Fields has caught 13 passes for 123 yards and a remarkably efficient six touchdowns. He seems to be the go-to receiver in the goal-line offense if the rushing attack fails to crack the end zone.
Many observers have noted the improvement in Braxton Miller's passing this season. His passes have more zip, he checks down more often, he stands in the pocket longer rather than taking off. All of this is true, but none of it would be possible if not for the improvement in the receiving corps. If Miller does not have confidence that his targets will secure the ball, he is more likely to just take off and try to win the game on his own.
That is not how games are won. While it is true that a team can often ride the back of one superstar player (especially a running quarterback) for a few victories, sooner or later other players will have to get involved or the offense will be squelched when an opponent game-plans carefully to stop that one player (see Michigan football, circa 2010-2012).
There is no doubt that Miller is the superstar in Ohio State's offense, but he's getting a lot of help this season. In addition to the receivers named, freshman Dontre Wilson has hauled in 18 receptions (although many of those are of the "glorified handoff" variety) for an average of 10.2 yards per catch. Add to that the 18 combined receptions for running backs Carlos Hyde and Jordan Hall, plus the 26 combined receptions for...wait for it...the tight ends.
The net result of this versatility is an offense that is harder to prepare for and more difficult to predict even after looking at film. Being able to count on his receivers catching the ball has freed Miller from feeling like he has to win all by himself. This confidence has spread to Meyer and offensive coordinator Tom Herman as well. Confidence abounds. That's what effective leadership can do for a team.
---
Enjoy this fan video of Devin Smith smoking the Cal secondary for a 90-yard touchdown (and note the Cal fan hiding his face at the 1:12 mark).