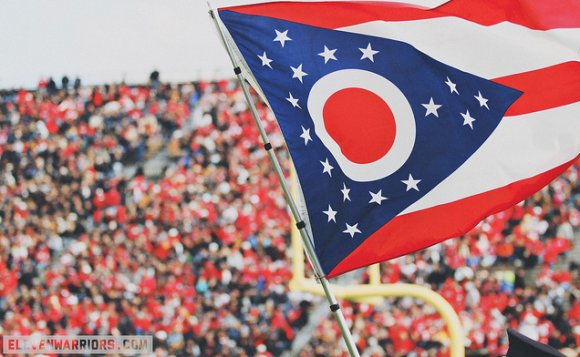 If Ohio State keeps this up, it won't be long before their games will have to be broadcast on Cinemax. 
Fresh off a 63-14 undressing of Penn State, the Buckeyes unleashed the fury on Purdue in the form of a 56-0 white-washing yesterday afternoon in West Lafayette. 
The offense blew up once more, breaking the 600-yard barrier for the 2nd straight week – the first time that's happened since 1996 – and the defense suffocated a Boiler attack that ran just 10 plays in OSU territory, never penetrating past the 37-yard line.
The win gives Urban Meyer 21 in a row since his arrival in Columbus and improves the squad to 9-0 on the season. 
With another bye week looming, let's take a few minutes to savor Five Things from yesterday's dominant performance. 
IN THE ZONE
In the third straight game in which he's been 100% healthy, Braxton Miller continued his nearly expert marksmanship. 
After completing 22 of 27 throws against Iowa (82%) followed up by an 18/24 performance against Penn State (75%), Miller was even more accurate yesterday as he connected on 19 of 23 throws, good for a season-high 83% completion rate (not counting his 2/2 against SDSU). Over the three-game stretch, he has completed a ridiculous 59/74 throws (80%) with nine touchdowns and one interception. 
Miller's completion percentage has obviously benefited from play calling that generally focuses on short throws but there's no doubt the kid is twice the passer he was a season ago. Yesterday, 16 of his 23 attempts were inside 10 yards and he owned them, completing 14, or 88%. And he's not just completing them, he's putting those throws in the perfect spot, leading the receiver perfectly so he maintain stride, or even sometimes accelerate, giving each play a chance of maximum success.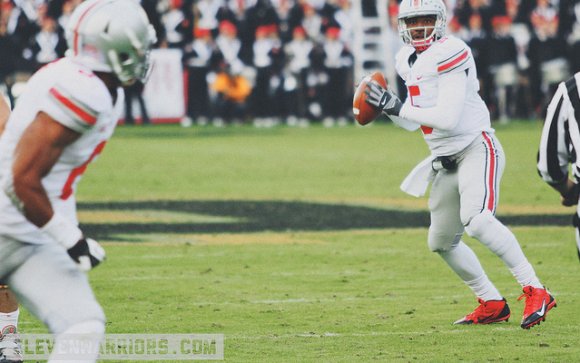 On throws of 10+ yards, Braxton connected on 5/7 for 122 yards with a touchdown and a pick. Yes, the pick was definitely a bad throw – he said as much himself – as he tried to jam the ball between a small window in Cover 2 but the rest of his downfield throws were solid attempts and decisions. 
Overall, with the line having a much better pass blocking performance than we saw last week, Miller did an outstanding job of going through his progressions, making the correct read, then delivering the ball with either the touch (see the 34-yard seam route to Heuerman on OSU's 3rd possession) or zip needed (ie: the 14-yard rocket to Philly three plays before KG hit Fields to make it 35-0) in a way that should have the rest of the country nervous. 
If Miller stays healthy, Ohio State will continue to pile up those "style points" everyone keeps talking about. Dude is in a ridiculous groove. 
DON'T JUST BEAT 'EM, JOIN 'EM
The tight end has been a weapon of choice at times against the Ohio State defense this season. In particular, Iowa frustrated the Buckeyes for 2.5 quarters of tight end goodness a few weeks ago and Penn State tried to duplicate that success last week. 
Interestingly, the Buckeye offense has begun to feature the tight end's over roughly the same timeframe and the result is an even more dynamic passing attack.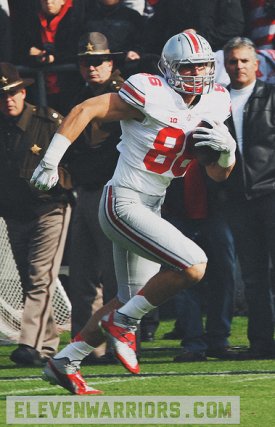 Yesterday, OSU tight ends combined for seven receptions, 137 yards and two touchdowns, accounting for 25% of the team's catches and 46% of the passing yardage. 
The day was bolstered by a career-best effort from junior Jeff Heuerman who recorded five grabs for 116 yards and a score, becoming the first tight end to eclipse the century mark since Rickey Dudley back in 1996. 
Heuerman got into the mix early, hauling in Braxton's second throw of the day for a 40-yard touchdown. On the next possession, Miller targeted him for 24 yards on 3rd and 5 though that drive would end in Miller's lone pick of the afternoon. On the following possession, Heuerman came free down the seam and Miller delivered the ball with precision for a 34-yard gain, setting up fellow tight end Nick Vannett for a touchdown grab some four plays later. 
Later in the 1st half, Miller went through his progressions and found Heuerman again, this time for 18 yards on 3rd and 8 to set up another score pushing Ohio State's lead to 35-zip. 
Heuerman has been on fire of late, recording 10 receptions over the last three games compared to just 10 over the first six games of the season. 
Hopefully, Meyer and Tom Herman continue to take advantage of the versatile tight ends as they force the linebackers and safeties to stay honest and not cheat up in an effort to stop the already lethal two-headed rushing monster of Miller and Carlos Hyde.  
DEFENSE FINDING A GROOVE?
Yesterday, the Bucks pitched a shutout with the starters looking particularly dominant in the first half before giving way to a host of reserves. 
Since halftime of the Iowa game three weeks ago, the Silver Bullets have looked like a much improved defensive unit, giving up just 21 points (one by PSU against 11 2nd/3rd teamers) in 10 quarters.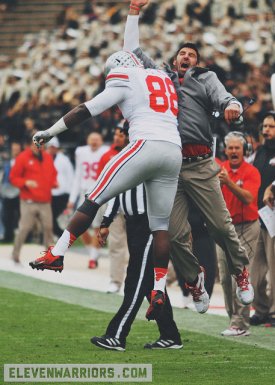 In that half, the Bullets yielded just 87 total yards and six 1st downs.
The rush defense was outstanding, as it has been for the entire season. Noah Spence, Michael Bennett and Joey Bosa again lead the charge up front with Ryan Shazier and Josh Perry doing work at the 2nd level, among others, to hold the Boilers to a miniscule 2.1 yards per carry as Ohio State built a 42-0 halftime cushion. 
Through the air, the squad continued its resurgence forcing Boiler signal-caller Danny Etling into 10 incompletions on his 17 throws (41%) in the opening half for a mere 45 yards. Better yet, Doran Grant kept his breakout season on track with a 33-yard pick-six to open the scoring on Purdue's 2nd play from scrimmage. 
In the impressive half of football, the Bullets allowed zero points on eight Purdue possessions that resulted in six punts (4 3-and-outs), the pick six, and a fumble recovery. 
For the game, to not give up a play of greater than 16 yards and to keep the opponent from breaching your 37-yard line are both impressive stats. 
Sure, we have to take into account that Purdue is an exceptionally awful football team with a freshman quarterback but I like what definitely feels and looks like improvement from this group especially in the back seven. 
SPREADING THE LOVE
I know, I know, I'm back on the topic of the passing game but it's not my fault it's glorious. 
Beyond the fact Miller has morphed into a Jedi with regard to his accuracy, his ability to quickly work through his progressions and spread the ball around has been fun to watch. 
Yesterday, Miller completed a ridiculous 19 passes in the opening half but what was most exciting about it was that he connected with eight different receivers. (Nine Buckeyes actually caught a pass over the first two quarters with Guiton hitting Fields on the jump pass for six.)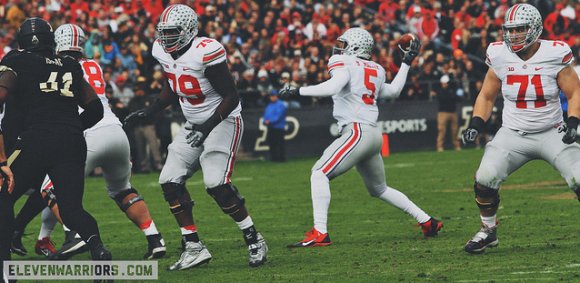 With Miller getting everyone involved, Purdue couldn't key on any particular facet of the passing game and simply had no answer for anything Ohio State wanted to do. 
For the game, OSU quarterbacks completed 28 passes with 11 different guys recording at least one reception. What really sticks out is 21 of those 28 went to guys that will be back next year. 
Seniors Hyde, Philly and Fields combined for seven grabs with the 11 going to juniors, two going to sophomore Nick Vannett, with the remaining eight finding freshmen (Dontre 4, EZE 3). 
The depth this team is taking the opportunity to develop while still handing out beatdowns can only bode well for the future. In particular, it's pretty obvious Ezekiel is going to be a star at Ohio State in the very near future. The kid had eight touches for 60 yards and a touchdown yesterday. It's scary to think of what he and fellow frosh Wilson will do to opponents both on the ground and through the air in the years to come. 
LASER FOCUSED
While it makes to temper the enthusiasm just a bit as Ohio State tramples inferior opponents, what should be noticed is how focused this team is on a game by game basis. 
Yes, Meyer talked about how he wasn't overly pleased with the pregame prep and therefore he rattled their cages in the locker room shortly after but sometimes I think that stuff is just Urban working to keep his team on his toes. The group also committed six penalties yesterday, one of which negated a touchdown but the bottom line is the players did not overlook the competition and go through the motions. 
OHIO STATE 56, PURDUE 0
They came out and immediately stepped on the neck of the opponent, and they did it under a scenario that was absolutely begging for letdown. 
The group was coming off a blowout win, at home, at night in The Shoe, they were now playing on the road, at noon, in one of the more sterile environments for college football but none of that kept the Buckeyes from focusing on the task at hand. 
This speaks to more than a talent mismatch as we've seen OSU struggle with lesser Purdue teams before but thanks to the leadership of guys like Jack Mewhort and Philly Brown, all the arrows are pointing in the same direction. 
With a bye week to get Taylor Decker and others healthy, the Buckeyes just need to focus on what they can control which is coming out and opening up a can of whoop-ass on that week's opponent.