Earlier this week I said that Purdue was one of the worst teams statistically that I'd seen in a long time. Purdue proved that the metrics weren't lying, but the Buckeyes also did their part to earn some gaudy stats. 
Braxton? 83% for 231 yards, four touchdowns, and 10.1 yards per attempt. Spence? A sack, a TFL, and a fumble recovery. Shazier? Two sacks, three TFLs, and a team-high seven tackles. 
The offense hit over 600 total yards for the fourth time this season, but this was definitely The Tight End Edition. With Heuerman and Vannett's touchdowns, yesterday was the first time two Buckeye tight ends scored in the same game since Rory Nicol and Jake Ballard in 2006. 
It was a blowout, but below we'll dig a little deeper into the dominating performances against the Boilermakers. 
Points: Lots of Them 
These numbers are just for the first half, when the Buckeyes had the first team offense out and weren't in clock-killing mode. I thought the offense had a good showing against Penn State, gaining almost a point per play (.977), but then the Braxton engineered an even more efficient scoring half with slightly over a point per play:
|   | Points/Play | Yards/Play | Yards/Point | Red Zone | Turnovers | Ex Play |
| --- | --- | --- | --- | --- | --- | --- |
| OSU Off | 1.03 | 10.3 | 10.0 | 6/6 | +1 | 4 (10) |
The first half saw four explosive plays, but the second and third string offense managed six more during the second half. Part of that is probably due to Purdue defenders getting worn out on 13 play drives, but the reality is that the Buckeyes have stockpiled explosive talent. It's not fair to unleash Kenny and Elliot as "backups."
However, the Buckeyes only scored two touchdowns in the second half with backups despite the six explosive plays. In fact, the Buckeyes had an eleven play drive with two explosive plays end with a turnover on downs. 
Herman was definitely interested in a pass-first first half, but this only made the ground game that much more deadly. No running back on the roster had more than two inefficient carries on the night: 
|   | Hyde | Guiton | Elliot | Wilson | Smith |
| --- | --- | --- | --- | --- | --- |
| RBSR | 75% | 100% | 60% | 100% | 67% |
Hyde had another monster night, gaining 111 yards on just eight carries (it almost seemed like they trotted Hyde out in the second half just so he could break the century mark), but every running back found some traction against Purdue. Guiton in particular showed that not only does he know exactly when to pitch on the option and keep during the zone read, but he also has some wheels of his own. 
Dontre rushed four times and all four carries were efficient. I thought it was interesting that three of his four carries were on first down and the final carry was on second down immediately following one of his six yard pickups. To me that suggests Herman is still using Dontre to set up defenses at the beginning of drives in order to later throw in a constraint play. 
However, Dontre has yet to break a long run for a touchdown yet – his longest gain on the ground is 26 yards. However, he got more involved in the pass game with six total targets yesterday. 
Cardale Jones attempted the first two passes of his career, finishing 1/2 for 3 yards (the pass to Rod Smith on the final drive). 

Braxton only had one carry for seven yards on the ground, meaning that the first half's offensive production was only with the threat of Miller running and because of his improved movement in the pocket to extend plays. I'm sure that has a lot to do with Herman and Meyer, but you've got to imagine that some of his improved awareness during play breakdowns is due to his time with George Whitfield in the offseason. 

The time of possession by quarter shows how the strategy changed at halftime. 1st: 5:33, 2nd: 8:01, 3rd: 10:29, 4th: 11:09.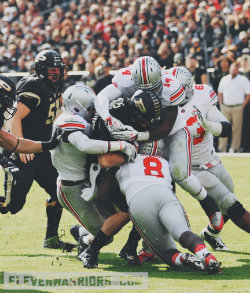 Points: None of Them
I was truly impressed by the defense this week, but it would be wrong to not preface this section with the warning that Purdue was 120th in the country in yards per play (averaging 4.24 YPP). 
That said, the Silver Bullets are rolling as of late, giving up an average of just 17 yards per game. The Buckeyes held Etling and the Boilermakers to just two yards per play and 3.1 yards per attempt passing. 
I wouldn't have caught this without the OSU Athletic Department, but the Buckeyes have an interception in every game this season and are on a ten-game streak going back to last year. 
The Buckeyes' six sacks were a season high. Spence still leads the team with six, but Shazier's two yesterday puts him at second with four.
On three-and-out watch, the Buckeyes forced five against the Purdue offense, which had a very scary drive chart. 
Curtis Grant had a more quiet day with just one tackle and one pass breakup according to the official statsheet. 
Purdue crossed the fifty yard line just three times and never entered the OSU red zone. 
No Boilermaker had more than 89 yards (Etling). 
Doran Grant and Roby are now tied with ten passes defended on the season, though Roby has three more tackles and Grant has one more interception on the season (3). Could we go from All-American corner to All-American corner?