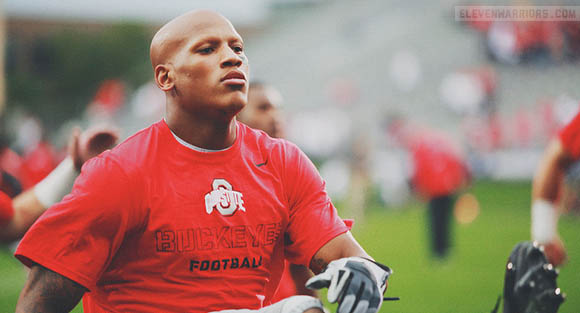 Ohio State debuted at No. 4 in the BCS rankings and as you know, won't make the title game unless they a) keep winning and b) get a little help from other teams.
Urban Meyer is piloting this rocket ship, so we'll let him handle the "keep winning" part. As for the help from other teams part, it's time to embrace chaos.
Chaos means cheering for teams to pull upsets that otherwise would have no chance of doing so. Like Tennessee, playing at Alabama today.
Butch Jones has the Vols moving in the right direction. The recruiting class he's putting together is a top-three class according to some services and results are coming on the field, perhaps earlier than some imagined. After norrowly losing to Georgia in overtime three weeks ago, Jones got his first signature win in Knoxville last weekend, knocking off then No. 11 South Carolina 23-21.
And yet, Alabama enters this game today (3:30 p.m./CBS) as a 28-point favorite, so the odds of Tennessee springing an upset are low. But, it was only four years ago that a 7-0 Alabama team, ranked No. 1 in the country, welcomed a 3-3 Tennessee team to Tuscaloosa and needed two blocked field goals from Terrence Cody, including one on the game's final play, to pull out the win.
So, yeah. Who knows?
Florida State looked pretty invincible in throttling Clemson last weekend and for that, they were rewarded with the No. 2 spot in the BCS rankings. The Seminoles get 3-3 North Carolina State at home today (3:30 p.m./ABC) and Vegas likes the Noles by 32 points, which sounds about right.
Again, thought, it was just last season that the No. 3 Noles, fresh off a big win over then No. 10 Clemson, suffered its first defeat of the season at North Carolina State. I really can't see FSU losing today, but stranger things have happened.
No. 3 Oregon welcomes No. 12 UCLA to Autzen tonight (7:00 p.m./ESPN) and the Ducks are playing so well that they're 24-point favorites in this one. UCLA is coming off a loss and—I'm not even going to pretend that they have a chance. Maybe in Los Angeles, but not on the road.
Missouri, another unbeaten, is ranked behind Ohio State at No. 5 in the BCS, but that doesn't mean we can't hope for all the bad things in life to happen to them, and only them. The Tigers get No. 21 South Carolina in Columbia tonight (7:00 p.m./ESPN2) and although the Gamecocks will be playing without quarterback Connor Shaw, Vegas only likes Missouri by three in this one. Lehhhgooo, Ol' Ball Coach.
Finally, Texas Tech is flying high at 7-0 and ranked 10th in the BCS, but travel to Norman to take on Oklahoma. The Sooners are actually favored by a touchdown in this one, so there's a good chance Kliff Kingsbury will taste defeat for the first time today. Wear your Sooner colors with pride today, Buckeye fans.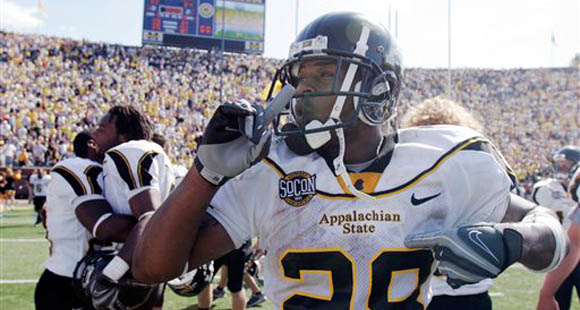 ---
THIS HAS NOTHING TO DO WITH FOOTBALL
This has absolutely nothing to do with college football and for that, I'm kind of sorry, but I just had to share this audio of LBJ ordering pants and asking for extra room in the crotch where your "nuts hang."
Carry on.
---
TODAY'S EARLY GAMES
There's no way around it: The lineup for the noon games today is garbage. Featuring classic matchups like Nebraska at Minnesota, Louisville at South Florida and Northwestern at Iowa, this is me telling you to consider getting some of the tasks you've been putting off done until the 3:30 p.m. slate hits.
Early games of note (and some are only of note because they feature B1G – or future B1G – teams):
| Kickoff (ET) | Matchup | TV | Internet | Favorite |
| --- | --- | --- | --- | --- |
| 12:00 p.m. | Houston at Rutgers | ESPNN | WatchESPN | RUT (-7) |
| 12:00 p.m. | No. 20 Louisville at South Florida | ESPN2 | WatchESPN | LOU (-20.5) |
| 12: 00 p.m. | No. 24 Nebraska at Minnesota | ESPN | WatchESPN | NEB (-10) |
| 12:00 p.m. | Northwestern at Iowa | BTN | BTN2GO | IOWA (-4) |
| 12:00 p.m. | No. 19 Oklahoma State at Iowa State | FSN | – | OKST (-12.5) |
| 12:00 p.m. | Wake Forest at No. 7 Miami | ESPNU | WatchESPN | MIA (-24) |
| 12:00 p.m. | Vanderbilt at No. 16 Texas A&M | SECTV | WatchESPN | TAMU (-17) |
| 12:30 p.m. | Georgia Tech at Virginia | – | WatchESPN | GT (-10) |
| 1: 00 p.m. | Pittsburgh at Navy | CBSSN | – | PITT (-5.5) |