Wednesday's Skull Session will offer some commentary on things happening in the world of college athletics.
Today's session will be rather eclectic. So, let's get right to it.
 NEW DEPTH CHART RELEASED. With Ohio State back in action this week for Iowa on Saturday, Ohio State fans got a new depth chart to consider and compare with the previous game week's depth chart. Turns out, there are quite a few developments in this latest release.
The big story is Joey Bosa, the true freshman defensive lineman and nephew of former Ohio State captain, Eric Kumerow. Bosa was an instant addition to Ohio State's defensive line rotation since Week 1. However, his stellar play during the past two games, including an eye-opening performance in Evanston, was sufficient for Bosa to leapfrog Adolphus Washington at strongside defensive end. He is the new starter.
This is interesting, because it's not necessarily the case that Washington is hurt. Though Washington endured a string of injuries this young season, including a groin injury in the first few weeks and had an ankle issue during the Northwestern game, Meyer said Washington is close to 100% and will be ready to go against Iowa. Rather, this change at strongside defensive end may say more about Bosa than Washington, and that Bosa is just playing better football right now.
There has also been a change at tailback. Carlos Hyde, the easy choice for player of the Northwestern game, has vaulted from off the depth chart for his start of the season against Florida A&M, to the designated starting tailback.
The change is welcome. Hyde gives us an important power back between the tackles. While he lacks some of the vision of Hall, he runs with authority and breaks through more arm tackles than Hall. Jordan Hall, who sat out the Northwestern game with an injury suffered during practice that week, is listed as the second team tailback along with Rod Smith.
Despite some solid play the past few weeks, Jamal Marcus is still listed as sharing second team weakside defensive end duties with Steve Miller. Tommy Schutt, who is ready to make his season debut against Iowa, is not listed on the depth chart.
Kenny Guiton is still the first team holder.
 THE GRIZZLY DEMISE OF BORGES BALL. Remember how much that loss against USC in 2009 sucked? Of course, you do. It sucked largely because that loss against USC seemed to underscore that Ohio State was explicitly handicapping itself on offense to preclude it from competing with the elite football programs near the end of Tressel's tenure in Columbus.
Sure, Ohio State did win the Rose Bowl that year (also lost to Purdue), but that was no real feat of the offense. Even if we qualify that USC was certainly not elite in 2009, it only makes that loss in Ohio Stadium seem worse in hindsight.
Ohio State's offense in 2010 fared much better, at 20th nationally in total offense at 448.6 yards per game. I think that was statistically the best in the Tressel era. Nonetheless, we're not allowed to talk about that season anymore, and that upperclassmen-heavy team may have been more the result of experience than coaching savvy. Ohio State's offense seemed to exemplify feebleness associated with the rest of the conference.
Now, that honor belongs to Michigan. If Ohio State's loss to USC in 2009 gave rise to that famous post from Chris Brown, of Smart Football, about the "Grizzly Demise of Tressel Ball", Michigan's loss to Penn State over the weekend gave rise to this post from Brian Cook, of MGoBlog, bemoaning that Michigan's offense executed the "dumbest play in the history of football". Given the 144-year history of the sport, and the existence of Rutgers through the entirety of that stretch, that's no small feat.
I will spare the reader a recap of every bit of the post, though I encourage the Ohio State fan to give it a read. In short, Brian answers a question I kept asking myself as I watched that game unfold. Namely, why on earth did Al Borges keep running Fitzgerald Toussaint to the boundary in a manner that was painfully obvious to everyone watching? What did he think he was accomplishing? I wanted Michigan to lose that game because I thought it would be hilarious, and even I was frustrated with that play call and Michigan's play calling, in general.
Toussaint is an impatient runner without great vision, and Michigan's offensive line isn't very good as a whole unit this year. It seemed counterintuitive to make a bad situation worse, and it resulted in Toussaint having 27 carries for 27 yards, with a long of 12. Yes. That's an actual stat line.
As Brian shows, this is largely because Al Borges cannot count, or has a weird theory of integers whereby six is magically greater than eight. See this box?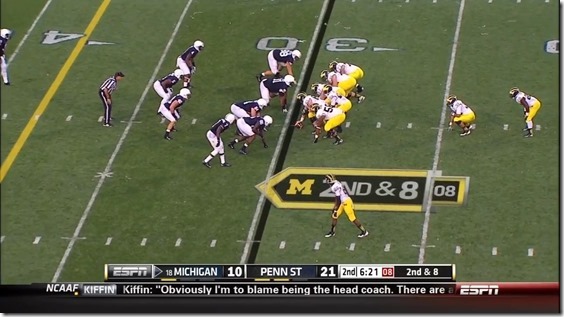 Don't run into that. Don't ever do it. That's some next level Bollmaning. Shifting the left tackle over does not help either. If anything, it just tips the play.
The good news is that, for Ohio State's inefficiencies, it gets basic math and theory right. Michigan now has that problem. Whether or not play calling gets better for Michigan as the season progresses remains to be seen. Brady Hoke was quick to affirm his support for his offensive coordinator after that loss.
However, remember when Al Borges said he would study teams like the Seattle Seahawks, San Francisco 49ers, and Carolina Panthers to see how they use their star quarterbacks in order to make the best use of Devin Gardner? Well, it is Week 8 now, and the results of that study do not appear to be present.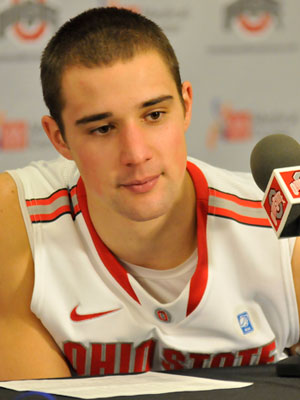 CBSSPORTS.COM TOP 100 PLAYERS. Let's shift gears toward basketball for a bit. CBS Sports released its list of the top 100 players in the country. Ohio State fans will be surprised to learn one of their own is in the top ten.
Aaron Craft, Ohio State's senior point guard, made the list at no. 8. Jeff Borzello had this to say about him.
One of the nation's premier defenders and leaders, Craft is ready to take on a bigger offensive role with DeShaun Thomas gone.
Craft was actually not the first Big Ten player mentioned. That went to Michigan State's Gary Harris.
LaQuinton Ross was the only other Buckeye mentioned on this list, registering on this list at no. 26. Borzello's comment on Ross largely underscored his potential following that NCAA Tournament run, and the need for him to do that through this season. Ross will be an important offensive weapon for Ohio State gone.
That Ross was the only other Buckeye on the list was a bit surprising. I would have assumed Sam Thompson would make this list, at least near the bottom. He is already the best athlete on the squad (at least, I think), and his jump shot keeps getting better and better. Sam Thompson with a jumper is an NBA player.
Other players of note include Michigan's Mitch McGary (no. 11), Michigan State's Adreian Payne (no. 15), Michigan's Glenn Robinson III (no. 18), and Wisconsin's Sam Dekker (no. 44). All told, 13 players from the country's best basketball conference made the list.
If you want the current state of college basketball summarized, vis-a-vis what it was 20 years ago, consider the top ten. There only three seniors in the top ten of that list (Creighton's Doug McDermott [no. 3], Louisville's Russ Smith [no. 4], and Ohio State's Aaron Craft) to four true freshmen. Those freshmen include Kansas' Andrew Wiggins (no. 1), Kentucky's Julius Randle (no. 5), Duke's Jabari Parker (no. 6), and Arizona's Aaron Gordon (no. 10).
Maybe I should not have looked ahead to basketball and reminded fans that this is going to be a season where everyone holds Kentucky's hand, strokes its hair, and tells it how important Kentucky is and how worthwhile of a presence Ashley Judd is for college basketball. It's going to be that kind of season.
 MISCELLANY. Bobby Carpenter is reporting that ESPN's College Gameday is coming to Columbus for the first time since 2010. That's not official, and won't be until Saturday (if true), but interesting... I'm not saying Pat Forde has a vendetta against Ohio State (though certainly one for Louisville), but he seems either gullible or negligent. Remember, Pat Forde once incorrectly reported the contents of an NCAA letter he never saw... Nick Mangold's sister will compete on NBC's The Biggest Loser... John Urschel might be my favorite non-Buckeye in the league, so I'll rep him here... What is Philip Rivers saying here... 45 years ago today... 25 years ago yesterday... If Les Miles thought he was being funny or charming, he wasn't and is fortunate he didn't say that while at Oklahoma State... Most things associated with Aaron Hernandez's personal circle seem destined to be heading down the river... What's it like to suffer a concussion during a football game? This Maryland quarterback describes it... Florida Gators football: ratings killer... So many sad MGoFan GIFs, so little time...