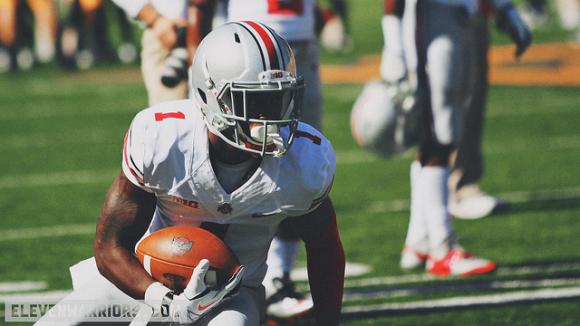 When Philly Brown arrived at Ohio State, he was coming off an All-American high school career in suburban Philadelphia that included over 3,000 rushing yards and 50 touchdowns. Brown also sprinkled in 1,500 receiving yards and ran the 200-meter dash in 21.4 seconds.
He was Dontre Wilson before Dontre Wilson. Brown was a running back with a burst of speed that attracted recruiters from near and far. And like Wilson, Brown had growing pains early in his career.
Year 1 resulted in 132 total yards and a touchdown. He was named the Ohio State's most outstanding freshman offensive player, but his stats left much to be desired.
"Dontre is in the same position I was," Brown said. "He was a running back in high school just like I was so, he has to learn. If he just works on his routes and gets in the weight room, he'll be a good player."
Those are two objectives the coaching staff has for Wilson. Follow them and he could become the dynamic player Brown has evolved into.
Through the first three games, Wilson's stats improved steadily, from 29 total yards to 57 all the way up to 107 at Cal. In back-to-back games against San Diego State and Cal, Wilson touched the ball 16 times. But in the three games since, Wilson has gained a whopping 54 yards from scrimmage. He didn't even play an offensive snap at Northwestern and has received six touches in the past three games.
Meyer, Tom Herman and Stan Drayton have each stressed that Wilson has several areas to work on before he becomes the force many expected.
"Dontre is a valuable guy," Meyer said Monday. "Problem is he's a novelty right now as opposed to a full-time player. Full-time players have to go block Sam linebackers and those kind of things, and we are not quite ready. But we are working at it. There's other ways that we can be creative in getting him involved."
Offensive coordinator Tom Herman said it's difficult to use him as a decoy because of his size and when he's in the game, the offense generally knows what's coming.
"The biggest thing is he's got to be able to go in the game and play different positions and it not be a red flag that this guy is either getting the ball or getting faked the ball," Herman said. "He's got to just be a regular guy, whether it be as a slot receiver or in the backfield. He's got to be trustworthy enough to put on the field and say he's just a guy running a route."
Wilson isn't shy at admitting the college game is more difficult than expected. Everyone's big and fast in Division I football.
Percy Harvin is the guy most often linked to Wilson's skill set, and for good reason. In a Meyer-coached offense, both unlock a key to success. They spread defenses thin and have the ability to reach the end zone every time they catch the ball. Even with Wilson's shortcomings, Meyer wants him on the field. But he pointed out that Harvin did more than make defenders miss.
"[Wilson] deserves to play. He works hard," Meyer said. "You know, this time next year, he's going to be a rocked up, 350-pound benching guy – we hope. Percy was a 400-pound benching guy that when he blocked you, he blocked you. So that's where we have to get with [Wilson]."
The diminished role has coincided with the return of Carlos Hyde, but Meyer indicated a Thunder and Lightning duo would be a welcome development.
"I think if you have a Dontre Wilson and a Carlos Hyde as a tag team back there, I think that's exactly kind of what you're looking for," he said.
Meyer expanded on that line of thinking a week before Hyde even returned. Following the best game of his career, Wilson was deemed a "breakaway talent" by his head coach. Meyer said Braxton Miller was the only game-breaker the Buckeyes had in 2012.
"Now there's some other guys that have a bit of a breakaway," Meyer said after the win at Cal. "Dontre is a guy, to have a horizontal threat in this offense, other than your quarterback, that's a must."
Most would agree, and some aren't all that concerned about Wilson's progression. They know it's inevitable. Establishing yourself is a process every player goes through. Brown has lived it and sees a future for Wilson that's limitless. 
"Dontre is going to be a ridiculous player here at Ohio State," he said. "Obviously, he has a lot of stuff to clean up and that's why he doesn't play as much as he should. But I feel like as he matures, he can potentially be one of the best players to ever play here."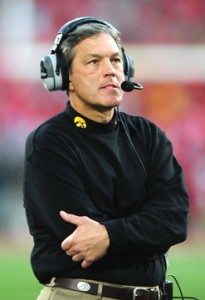 House of Horrors
Ohio Stadium is one of America's grand sporting cathedrals. Visiting coaches, players and fans often relish the opportunity to make the trip to Columbus. The same is true for Iowa, even though the Hawkeyes have a poor history in the Horseshoe.
Iowa last won in Ohio Stadium in November of 1991. Since then, Ohio State has won all six games played at home and 12 of 13 in the series. The average margin of victory in Columbus is on target with the point spread – 17.
A Hawkeye victory on Saturday would not only be the biggest upset of the season, it would represent Iowa's biggest win in the Kirk Ferentz era. The Hawkeyes have pulled off similar stunners in recent years, knocking off a top-five opponent three straight seasons, from 2008-2010.
Those pesky Buckeyes have proved elusive, though. The last Iowa win was of the blowout variety, 30-7, in 2004 at Kinnick Stadium. It was the third consecutive loss of the season for Ohio State, a team that was battling through youth and quarterback woes. The teams did play a winner-take-all classic in 2009, with the Buckeyes prevailing in overtime and clinching a Rose Bowl berth.
But all that's happened in the past is irrelevant this week. The teams are different and only a handful of players from the 2009 game remain. Simply put, 4-2 Iowa enters the game confident after a bye week.
"We're just going in optimistic," defensive lineman Carl Davis said. "We're going to keep building. We're going to keep chipping away. As a competitor, I want to be able to play the best teams. They're going to compete, and we're going to compete. That's football."
After an off week and wins over ranked opponents in back-to-back weeks, Ohio State could be getting comfortable. Meyer and his assistants scoff at the idea of complacency. Those scarlet-and-gray-clad fans filling the seats on Saturday might be sitting on their hands, though. Popular opinion points to the Buckeyes winning the next five games with little resistance.
Iowa is one of those teams that could be the "everything went wrong game." Top-five teams seem to play one every season. The Buckeyes know it all too well, nearly stumbling against Purdue a year ago. The Hawkeyes' losses are to Northern Illinois and Michigan State, two quality teams.
Catch Ohio State napping on Saturday and the college football world could be turned upside down.
"Every team is tough in the Big Ten," Davis said. "We don't look at it as a tough schedule. We look at it as an opportunity to make plays, an opportunity to get more wins."
Shazier the Scout
In a volleyball gymnasium on the campus of East Tennessee State University, one spectator sat intently watching the action. Between spikes and digs, Urban Meyer was glancing at his iPad. Penn State and Michigan were playing, and the head coach didn't want to miss a snap.
The game proved to be a classic, with the Nittany Lions prevailing in four overtimes. It sent State College into a frenzy and made Ryan Shazier one happy Buckeye. He was watching the game at Joel Hale's house in Indiana, but opted not to see the ending.
"I already knew who I wanted to lose, so that's all that matters," Shazier said. When he was asked to explain which team that was, Shazier smiled and responded: "They lost."
Brown and Hale said when they watch games live, it's as a fan. They aren't breaking down the offenses and defenses and they don't compare how Ohio State might stack up. Shazier is different, though. He watches games with a coach's eye.
"You start wondering where you stack up," Meyer said, "Then I tried to click right back into, 'Don't worry about that. Just take care of your own business.'"
But that didn't stop Meyer from doing some minor politicking, saying the Buckeyes are right there when talking about the elite teams.
Shazier saw much of the top five play and from his vantage point, they weren't much better than the Buckeyes, if at all.
"I saw a lot of good teams play and I feel like we can play with any of them," he said. "Whatever happens, happens. When the time comes, we'll play who we have to play."