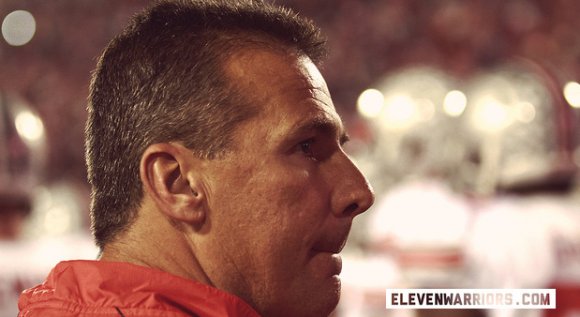 With the Buckeyes wrapping up a much needed bye week, this week's Five Things will focus on a few of the most positive happenings during Ohio State's perfect 6-0 start. 
There isn't room for all the positives such as Kenny Guiton's stellar performances in Braxton's stead, the continued improvement of the receiving corps, Miller's improving health and a national scene that saw Stanford lose and Clemson shows sings of vulnerability in an unimpressive win over Boston College, but that's a good thing. 
Today, we give some love to the guys in the trenches and on special teams in addition to looking at how both select newcomers and elder statesmen have done their part in Ohio State's quest for a national championship. 
THE MOST IMPORTANT PLAY IN FOOTBALL
Just how tickled would Jim Tressel have been if given the opportunity to coach Cameron Johnston? 
He would've probably tried a few quick kicks by now simply for the joy of it all, and so forth.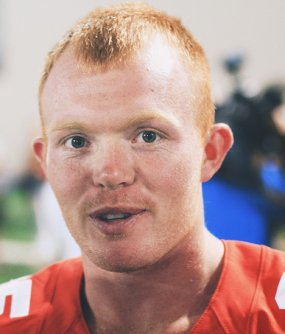 Though Meyer doesn't gush over the thought of punting the way Tress did, there's no question Meyer knows he struck gold when he was able to bring Johnston into the fold very late in the recruiting cycle. 
Pegged to be the starter from the day he signed on, Johnston's performance has been spectacular, save for maybe a questionable running-lane choice on the ill-fated fake punt in Evanston. 
Through six games, Ohio State leads the nation with just one punt return allowed, ranks 5th in the country with just only three return yards surrendered and also 5th nationally in average punt return yards given up per game at a paltry 0.5. 
Johnston has punted 21 times so far this year with 12 resulting in a fair catch (57%) and 14 finding a home inside the 20-yard line (67%). He has simply been a difference maker as a punter as evidenced by his outstanding contributions in the Wisconsin victory when all six of his punts landed inside the 20. Do work, son. 
One of the few question marks surrounding Johnston upon arrival was how he'd fare when facing pressure but between his continued improvement in getting kicks off quickly and the punt team's blocking schemes up front, the Buckeyes have not had a punt blocked. 
Johnston, based on the unit's strategy of limiting return yards, hasn't had a chance to fully show off the power of his leg though he does have a 61-yarder to his credit. 
Bottom line, Ohio State flat out has a weapon at punter and he's not going anywhere for awhile. 
OH! LINE
Coming into the 2013 slate, it was already known the offensive line would be a strength and through six games, they've been the most impressive position group on the entire team. 
Anchored by four returning senior starters, the group has flat out dominated opponents for large stretches, helping OSU's stable of ball carriers put up some gaudy stats. 
OSU OFFENSIVE LINES OF THE PAST FIVE SEASONS

| METRIC | 2013 | 2012 | 2011 | 2010 | 2009 | 2008 |
| --- | --- | --- | --- | --- | --- | --- |
| TOT RUSH YDS/G | 280.7 | 242.2 | 191.2 | 220.1 | 195.4 | 192.5 |
| AVG YARDS/CARRY | 6.08 | 5.20 | 4.42 | 5.23 | 4.52 | 4.63 |
| SACKS ALLOWED/G | 1.33 | 2.50 | 3.54 | 1.69 | 1.85 | 2.42 |
Through six games, the line is performing better than any of the last units when it comes to total rushing yards, average yards per carry and sacks allowed.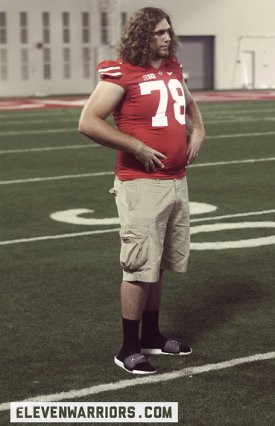 Obviously, those carrying the ball also have a lot to do with the rushing successes overall. That said, this year's top two rushers are Carlos Hyde and Jordan Hall which is quite frankly, probably the least dominant 1-2 punch of leading rushers in comparison to duos over the five years prior that featured tandems such as Miller/Hyde, Miller/Boom, Boom/Pryor, Pryor/Saine and Beanie/Pryor. 
Also, of the eight Ohio State running backs with at least 10 carries this season, six of them are averaging 6.1 yards or more per pop. 
Again, there are some talented runners in the stable but they'd be the first to tell you how much easier their job becomes when huge holes or set edges allow them to reach top speed for before encountering any resistance, most often at the 2nd level. 
Now, I suppose one could also argue the rushing stats could decline a bit as the season wears on and OSU faces conference teams as opposed to the likes of Florida A&M, San Diego State etc but I'm willing to bet the numbers will still eclipse anything we've seen those past five seasons. 
As for sacks allowed, the 1.33/game represents a huge drop from last season and while the offensive line deserves their fair share of credit, Guiton's ability to make a decision and get rid of the ball quickly, combined with Braxton's own improvement in this area has also contributed heavily to the sack reduction. 
All in all, though, I don't think it can be argued that the offensive line is the positional strength of the team through six games. 
THE KIDS ARE ALL RIGHT
Though he's a bit prone to hyperbole, Meyer has long asserted that he doesn't believe in the practice of red-shirting players. That notion was further magnified as he brought in a much ballyhooed 2013 freshman class.
Despite the hype, the reality is that it's incredibly difficult for a true freshman to emerge as a legit contributor in year one. That doesn't mean there is a dearth of talent by any stretch; the expectation is that the majority of the kids will grow into being factors for Ohio State in the coming years. 
Through six games, just two freshmen are really weekly big-time contributors with another serving as a potential wildcard for a 2nd half breakout. 
Johnston is an obvious candidate for OSU freshman of the year based on his resume that I already touched on above. 
Joey Bosa is another. 
The 5-star out of Ft. Lauderdale has been nothing short of spectacular, earning plenty of praise from Meyer.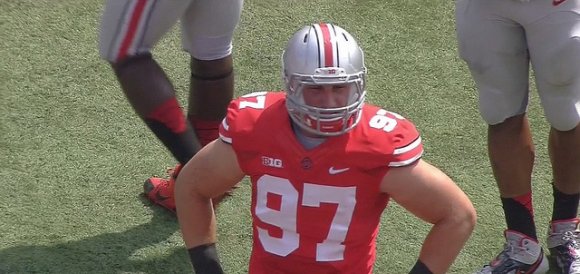 Thus far, Bosa is 2nd amongst the d-linemen with 16 stops and two sacks, 3rd in tackles for loss with 4.0 and he leads the linemen with 12 solo stops. 
The kid's motor is relentless and thanks to a strong rotation of players that keeps everyone fresh, Bosa shouldn't see any dip in performance down the stretch. How fun is it going to be to watch this guy develop over the next couple years? 
Dontre Wilson came in with the most hype of anyone in the 2013 class and thus far, he's struggled to pick up the nuances of the game, leading Meyer and Tom Herman to use him sparingly, if at all, in tight games. 
Still, he's a bit of a wildcard because if he picks up some of those nuances such as blocking in addition to hanging onto the football, he could see his touches increase. 
Wilson has only 15 rush attempts to his credit so far but he's responded with a 9.5 yards per carry. He's also caught just 11 balls, also for a 9.5 yard average. He's shown flashes in the kickoff return game, averaging 25.9 yards with a long of 51 in eight chances. 
In total, Wilson has just one touchdown in 34 total touches. I think most of us thought we'd see more of Wilson in the end zone but a myriad of factors have slowed his emergence. I'm not sure he'll perform significantly better in the 2nd half but I do feel like he's got a few more touchdowns up his sleeve if he can get a few more reps. 
SENIOR MOMENT
Every championship team needs a heaping helping of leadership and on field performance from its senior class. 
Last year's Buckeyes leaned heavily on the leadership and production from seniors like John Simon and Zach Boren. 
While those two were elite leaders, I'd argue the collection of seniors this year might even trump those of a season ago especially in the productivity department.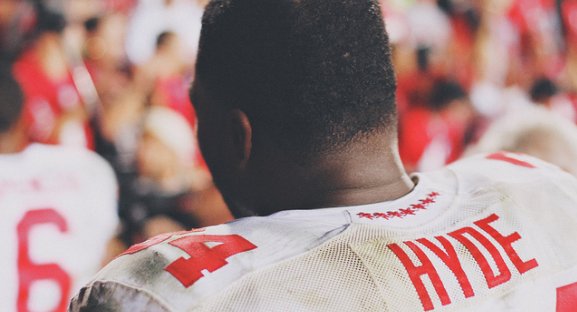 Carlos Hyde had his off the field issue but on it, he's been an abosolute beast, most recently willing Ohio State to victory at Northwestern with one of the more determined rushing nights I've seen. With 95% of his carries coming against the best teams Ohio State has faced, Hyde is averaging 98 yards per game, 6.1 per carry, and he's even shown an ability to catch the ball out of the backfield. 
Fellow senior Philly Brown has done an outstanding job of improving over the years and according to Meyer, he's also taken his leadership skills to the next level, something that has been a huge factor in turning around the collective performance of the wide receivers. 
Philly currently leads the team with 30 receptions, 63.5 receiving yards per game with five receiving touchdowns. He ranks 2nd behind Devin Smith in yards per catch at 12.7. 
We've already discussed the offensive line's dominance, buoyed but the senior performances of Jack Mewhort, Andrew Norwell, Corey Linsley and Marcus Hall. 
On defense, Christian Bryant had become the heart and soul of the unit and after being lost to ankle surgery following the Wisconsin win, fellow safety C.J. Barnett has taken on any even larger leadership role to go with his already sound production. An improved tackler, Barnett ranks 3rd on the team in stops (30), while leading all DB's. 
We've got a long way to go but I've been impressed with how the senior class has responded to the challenge set forth by last year's outgoing class. 
PUTTING IT ON THE LINE
As solidly as the offensive line has performed, the defensive line has been almost as impressive especially when you consider the entire starting unit from a season ago had to be replaced. 
Sporting a ton of depth, the Buckeyes have had the good fortune of being able to rotate guys like Adolphus Washington, Noah Spence, Joel Hale, Joey Bosa, Michael Bennett, Jamal Marcus, Chris Carter and others with Tommy Schutt expected to join the mix next weekend. 
The depth of talent has enabled the unit to stay fresh and go 100% on every snap, helping offset some issues at linebacker and in the secondary.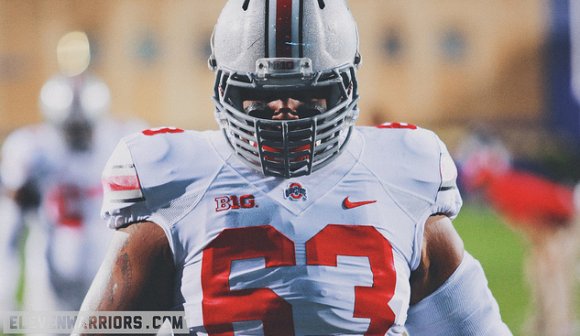 Through six games, Ohio State boasts the nation's 6th best rush defense both in yards per game (83) and yards per carry (2.69). 
Another impressive stat shows the Buckeyes rank 3rd nationally in fewest rushes of 10+ yards with 12, trailing only Alabama and Michigan State. Further, Ohio State leads the country in fewest rushes of 20+ yards with zero. Donut. 
Obviously, holding down a rushing attack is a team effort but it starts up front with the line generating a push, shutting down running lanes and keeping backside/gap discipline. 
Though we'd all like it to be higher and we must also remember the Buckeyes have played their fair of dink and dunk offenses, the Buckeyes still rank 22nd nationally with 2.67 sacks per game. 
Simply put, the defensive line has done a great job of making good teams one-dimensional and that's typically a winning formula.