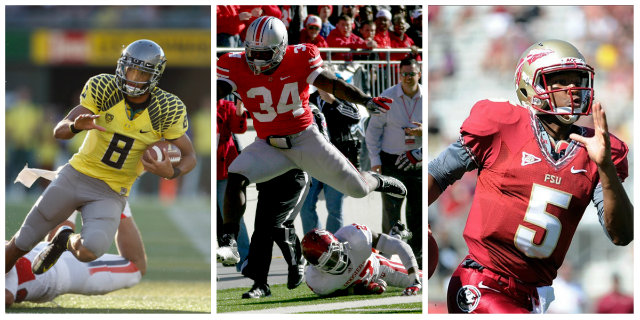 Ohio State may have been off yesterday, but the Buckeyes' rest allows us a little time to look at some stats from around the B1G and nation. Below I'll compare the other top undefeated teams, re-look at Ohio State-Wisconsin: common opponents edition, and profile the craziest numbers from around the country.
The Best Outside Ohio
Stanford, Georgia, Michigan, Oklahoma, Florida, and Northwestern were all high profile losers yesterday, but Alabama, Clemson, Florida State, and Oregon all rolled over hapless opponents (or enjoyed their bye week in Tallahassee). 
Unless Clemson pulls a Clemson and loses a game they shouldn't, Alabama falls to an SEC opponent, or Oregon sleepwalks through Stanford, we're going to hear strength of schedule arguments about how these teams compare with Ohio State and which undefeated teams deserve a spot in the final BCS national championship. That's why I think it's as good a time as any to compare their numbers: 
|   | Off PPP | Def PPP | F/+ | SOS |
| --- | --- | --- | --- | --- |
| OSU | .63 | .29 | 17.1% (16) | 36 |
| Alabama | .59 | .20 | 24.9% (6) | 17 |
| Oregon | .73 | .17 | 26.7% (2) | 7 |
| FSU | .80 | .19 | 26.1% (3) | 34 |
| Clemson | .50 | .24 | 15.3 % (18) | 35 |
So the moral of this story is that we should actually be pretty impressed by Oregon and FSU and hope that Urban and company helped the secondary during the bye week. 
According to Team Rankings' strength of schedule ranking, OSU has the easiest schedule so far (barely), but it's defensive PPP is the weakest among these top-5 teams. 
While I agree with the numbers that the Buckeyes have some work to do on defense to compete with these other elite teams, I believe they'll finish higher than 16th on F/+. They were 14th last season. 
I would not have believed that FSU would be ahead of Clemson and Oregon in offensive points per play, but Jameis Winston is a revelation as a redshirt freshman. At least statistically, FSU and Oregon are neck-and-neck for top team honors. 
Clemson is fairly surprising. After nudging past UGA to start the season, the Tigers have the worst offensive points per play out of this group. I looked through some of their numbers for the reason, but the closest thing I could find was that they are only 53rd in redzone scoring percentage, at 84.6%. 
If Ohio State were to play any of these teams right now, I would not want Oregon or FSU, but would be alright with Alabama and OK with Clemson. Alabama's offensive has looked mediocre (for Alabama standards), and Clemson's numbers are the worst, but I think their short pass game would torch the Buckeye secondary. I want none of Oregon right now. 
Wisconsin-Northwestern
I was fairly shocked that Wisconsin pummeled Northwestern like it did. While Wisconsin is ranked 21 and Northwestern 42 in Football Outsiders' F/+ rankings, Northwestern was very close to beating Ohio State last weekend. Here are some things I noticed when comparing Northwestern-Wisconsin to Northwestern-Ohio State and Wisconsin-Ohio State: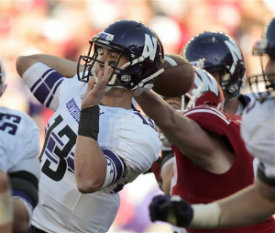 Ohio State's rush defense is really great. They are holding at 6th in the country against the run after holding Wisconsin to under 4 YPC. The Badgers had 5.6 YPC against Northwestern last night. 
Continuing that note, Melvin Gordon is a heck of back, so the defense should take some pride in holding him to 74 yards. 
Unfortunately the strength of the rush defense has made the pass defense a target. Northwestern only had 5.5 yards per pass attempt, but had 11.1 against the Buckeyes. That number isn't significantly inflated because of explosive plays either, like it was against Wisconsin.
Abbrederis is the real deal. He has averaged over 17 yards per reception since his freshman year and had a 63 and 64 yard reception against Northwestern and Ohio State respectively. This was after being unrecruited by pretty much everyone.  
Hyde only had seventeen carries at 5 yards a piece against Wisconsin, and then the Badger defense held Northwestern to 1.8 yards per rush. The Badgers may no longer be King B1G, but their defense is formidable.
Notes From Around the Country
Here are some interesting numbers I dug up from around the country: 
Baylor leads the way in F/+, and their average of 63 points per game is over ten more points than any other offense from the last six years. That includes the RG3 era as well. Conclusion: Art Briles is a daggum wizard. 
If we're talking scoring offense, however, I'll note that Texas A&M averages only one point per game more than Ohio State, with 47.8. That's with Manziel equaling or bettering his numbers from last season. Also, Ohio State's 46.8 PPG would have led the country in 2009 and 2007. 
The "Ohio State is terrible against the pass" meme is a very new thing. Even in the interim year (2011), the Buckeyes were still 14th in the country against the pass. They were 78th last year and are 77th this year. Ugh. 
Best teams with the worst turnover margin? Probably Georgia and Penn State at -4 and 106th in the country. Hackenberg is putting up big numbers despite turning the ball over a good deal (he is a true freshman after all), and you could argue that UGA would be undefeated if not for its extremely costly turnovers against Clemson and Missouri. 
Remember when we worried after Buffalo had three sacks against us? They are seventh in the country with 3.5 sacks per game and 21 overall. Khalil Mack has five sacks and eight TFLs. 
Did you know Drew Basil is one of fourteen kickers to not miss a field goal this season? Granted, he's only had five attempts.