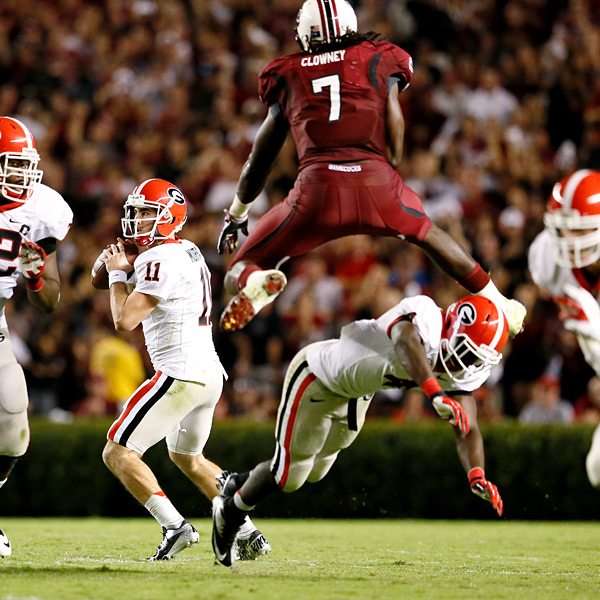 Jadeveon Clowney blindsided his coaches last weekend when he told them he wasn't fit for South Carolina's clash against Kentucky. Many speculated this was a move to preserve his draft stock; after all, the physical phenom has only been able to muster 12 tackles and two sacks during the 2013 campaign. (He criticized his coaches' use of him after a loss to Georgia and teams have went away from him all year.)
Perhaps Clowney has fresh memories of his former star teammate, running back Marcus Lattimore, whose knee was harpooned and has yet to play a down in the NFL. It was a hit that cost him hundreds of thousands, if not millions of dollars.
Clowney, however, probably won't be the last star college athlete to realize they hold quite a bit of leverage. From the Charleston City Paper: 
Right now, many are debating whether Clowney has done the right thing — to effectively remove himself from play in an effort to stay healthy for a big-money career in the pros. Granted, it's a real dick move to his coach and his teammates and all of the Gamecock faithful, but it's a dog-eat-dog world and the defensive end must look out for himself first and foremost, something that his teammate Marcus Lattimore did not do — and he paid the price for it. (Although Lattimore still got paid a couple of million bucks when he was drafted, it was certainly less than what he would've gotten before his college career-ending injury. And just to be fair, Clemson's one-time QB Kyle Parker effectively "quit" his final year after Clemson's 2010 loss to the Cam Newton-led Auburn Tigers ended Clemson's title hopes; after all, Parker had a far-more lucrative career ahead of him as pro baseball player, although it must be said that despite hopes, Parker has yet to play in the majors.)

But none of this is neither here nor there. This isn't about right and wrong. This is about the future of college football, and right now, Clowney has changed the game in a way that few before him have. And he won't be the last. Other sure-fire draft picks will do the same. And the big-spenders in the NFL aren't going to care if a college team and its fanbase are upset. They want the best regardless of their sins.

Now where will all of this lead, I don't know. The NFL might sign an agreement with the NCAA refusing to draft apparent quitters like Clowney. Some colleges may actually decide not to court future superstars like Clowney, who they fear will hang up their cleats to protect their pro prospects; the bigger programs might do this, but few will be able to resist the temptation of getting their hands on a potential big-time player. And it's even possible that the end game here is finally a decision by the NCAA to admit that college football players are professional athletes and to begin paying them accordingly. 
Don't hold your breath on the NFL "signing an agreement" with the NCAA "refusing to draft quitters like Clowney." Not when said quitters are genetic mutations. (Clowney's draft stock, for the record, hasn't slipped a bit.)