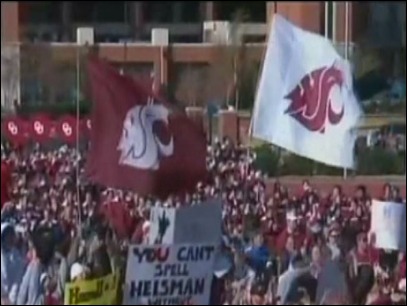 Washington State Cougar fans, due to a medieval law binding at least one of them to any sporting event happening in the world, have had a well known ritual of taking their flag to ESPN College GameDay — no matter where it may be in the country. (The process of getting it there can be seen here.)
This week, GameDay is heading to Seattle for the Oregon-Washington banger, and the dark sorcerers behind the Cougar flag have every intention of planting it in Seattle. 
The Dawg Pack, Washington's student section, tweeted out they wouldn't allow it. College GameDay, however, tweeted it would be protected. In response, the Dawg Pack tweeted this, which of course has since been deleted:
One must be rather petty to continue a feud with lowly Washington State and their popcorn guzzling fan.