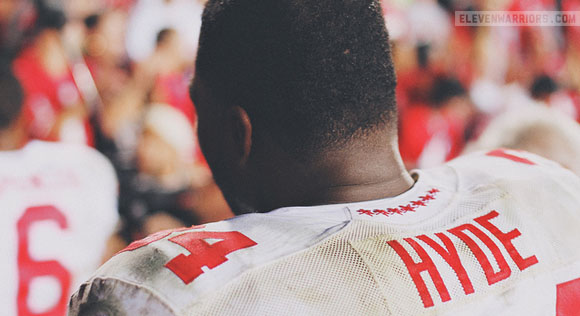 Margin of victory has become absurdly important to pollsters, to the point that a defensive touchdown on a desperation hook and ladder could have a major impact on the final BCS standings. What's seen in the box score can be deceiving, which is why Ohio State's 40-30 win at Northwestern was much closer than the final score indicated.
Other numbers in the box score that don't tell the whole story are Carlos Hyde's 168 rushing yards, 38 receiving yards and three touchdowns. He was even better than what his stats said. Hyde amassed 15 first downs, rushed for 112 second-half yards – 53 in the fourth quarter – and scored all three of his touchdowns after halftime.
Long grass and a wet, muddy field were irrelevant. Put simply, the Buckeyes are undefeated because of Hyde.
On a night when Braxton Miller made several critical mistakes and the defense continually had breakdowns in the secondary, Hyde became the answer to remaining unbeaten.
"When I'm out there I cherish every moment," he said. "I'm excited and I'm loving every moment of it. I'm hungrier than I've ever been in my career and more thankful."
Before the season, Dontre Wilson was all the rage on offense. Jalin Marshall, Jordan Hall and Philly Brown were other potential playmakers who became fan favorites. The salivating for Wilson reached a crescendo at Big Ten media day when his teammates raved and Meyer put a muzzle on the hype simultaneously.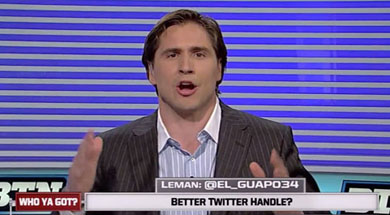 Wilson, Hall and Brown are fine players. Hall's run for career highs twice this season and scored eight touchdown, while Brown had a career-high 126 yards receiving on the same night Hyde befuddled Northwestern. Marshall, much to the chagrin of Buckeye Nation, hasn't played after suffering a concussion in fall camp. Head coach Urban Meyer said his time is coming, though.
But will he be needed? Suddenly, in an up-tempo offense that has a dynamic dual-threat quarterback and covets playmaking receivers, it's the power running back who's become the biggest weapon.
In the spring, Hyde reflected on his initial thoughts to Meyer's hiring. "I was like, I don't see no big dude running around, except for Tim Tebow. And he's the quarterback. I don't play quarterback."
Clearly, that didn't matter.
Everyone knows about Hyde's troubles over the summer, and he laid it all out there following Saturday night's victory. For more than a minute, Hyde had trouble speaking when discussing the "mistake" he made. There was remorse and humility in the tears and words. But it doesn't change the fact he put himself in a bad situation on that July night.
Now, he's putting Ohio State in line to win a Big Ten championship. During Hyde's three-game suspension, Hall solidified his hold on the starting running back job, even after Hyde rushed for 970 yards and 16 touchdowns last season. Hall was one of the top rushers in the country and the Big Ten's leading scorer in the first four games. But he received just one carry against Wisconsin before sitting out the Northwestern game with a knee injury.
Offensive coordinator Tom Herman said he fell back into old habits with his play-calling against the Badgers. It's hard to blame him, though, when you consider Miller and Hyde almost singlehandedly engineered the offense's 12-0 season. That locomotive appears well oiled once again.
"[Hyde] is the horse right now, and I think he's a great player," Meyer said. "It shows you how much I trust the kid to be able to do that."
The No. 4 team in the country has won 18 consecutive games and its gameplan is back to the basics. And all indications are it's the path of least resistance. Conference teams attempted to slow Miller and Hyde in 2012 and failed. A year later, the Buckeyes' offense has improved to 20th nationally, while the run game ranks 12th.
In the third quarter Saturday, it became clear Ohio State needed and wanted to feed the ball to Hyde. However, the Wildcats had no answer. Hyde carried the ball 26 times, averaging 6.5 yards. Marcus Hall and Jack Mewhort continually punished the Northwestern defensive line. Miller was effective running, too, averaging four yards on 17 carries. On the Buckeyes' game-winning drive, the Wildcat D-line looked like a worn down, defeated unit. A 240-pound wrecking ball had left its mark.
"I think I did wear them out. I'm built for this. I'm built to carry it that much."
"I think I did wear them out," Hyde said. "I'm built for this. I'm built to carry it that much. Coach said he was going to ride me, and he did. When a coach tells you that, you get excited."
Said Philly Brown: "He's a beast. We're so grateful to have him back."
The old hat hasn't let Ohio State down this season, but the other playmakers remain a part of the offense. A full complement of pieces – running backs, wide receivers and tight ends – turn the Buckeyes from good to elite.
"This is the Carlos Hyde Game," said Meyer, in the wee hours of Sunday morning in the bowels of Ryan Field.
Might it also be the Carlos Hyde Season?